The Dirty Talk Intro & Disclaimer: Everything in the story below was random and created on the spot while massaging my husband. No filters, no rules, no boundaries, just a story and situation created to help my husband orgasm and enjoy my experience. All dirty talk is usually pure fantasy. I use this dirty talk as mental porn while my husband's mind is totally open because of the sensations and what I am putting his body through. When a man is horny and on the edge of an orgasm, anything goes. I can almost get inside his head and control his fantasies, dirty thoughts, and talk him into an orgasm in the exact moment my story hits it's climax. It may be things I would never try or want to try, but just so kinky it pushes him to climax. Or just things in the future we would try, but it has to be right. During my stories he will ask me questions while I talk. I will include these to the best of my memory. In fact, every story is to the best of my memory, as I do not know remember all the exact details.
The stories may read a bit broken or short, but please keep in mind this is things I mumble while stroking my husband, slight details, turning myself on as I rub his dick until he cums in my mouth.
Dirty Talk: Lesbian Play with a BBW / Big Black Woman, My Co Worker
I lay my husband down in bed and we talk for about 10 to 20 minutes while I rub his penis. This is a routine for us, so it will eventually lead to dirty talk and me giving him a massage. It's after work, so this is a good release for him, and a good time for me to have him wrapped around my finger for the rest of the night.
I am actually dressed up in lingerie because we were supposed to do a photo shoot as I massaged him. Somewhere along the lines, our plans changed and we decided to go over a story I once told him about wanting to fuck a female co-worker that was always nice to me. Truth be told, any woman that treats me kindly, regardless of physical attraction, I find myself wanting to explore her. That's just the truth. I care more about a woman that treat me nicely, than the typical Barbie characteristics.
My co-worker's name is Cherice. She is a thick black woman that smells and dresses nicely. She is always smiling and she is extremely friendly. This is the type of woman I'd love to explore. She is also a perfect for a story to make my husband orgasm.
so how did flirt with her?
I just asked her if she would like to have lunch. Although I have lunch with various co-workers, I had never asked her before. She smiled and said sure. I offered to pay. She let me know that since I was paying we will take her car.
As we are driving to the restaurant, I start fanning my Barbie doll dress to get air up my crotch and thighs. She asks me if I am hot. I nod and continue to fan, exposing most of my thighs to her. I assume, my perfume and body spray aroma is spreading throughout the car. The air is literally blowing into my crotch, up my neck hole, and out into the air she is breathing. I can see her watching my legs and glancing up at me to see if I mind her looking. I don't.
what do you do?
I just smile.
what are you guys wearing?
We are both in skirts, hers longer than mine. I am in a Barbie doll dress. She is in a longer skirt with long sleeves. But it still hugs her body.
do you make a move on her?
Yes, I compliment her legs while she is driving and reach over and touch her leg. Innocently, I slightly push her skirt up and rub her leg. I let her know her legs feel so smooth.
what does she do?
She is nervous. But she doesn't move or respond negatively so I continue to slide my hand up her leg. I can see her squeezing the steering wheel. I can tell she doesn't know what I am doing, but doesn't want me to stop. I continue to lift her dress as I slide my hand up her inner thigh. She gasps as I get to her panties. She still hasn't said a word to me. I am now rubbing her crotch, careful as to make sure she doesn't want me to stop.
how do you know?
I am watching her face and eyes. She is turned on but doesn't know how to react appropriately. I may be the first girl that has ever touched her.
Her legs are thick so I can't get down to deep in her lip area, so I instead rub her pubic air, maybe around her clit area. I am doing this over her panties, so the feeling of the thick cotton in the crotch keeps me from feeling too much.
As I work my hand deeper down her thighs, I can feel the warmth. Her crotch is also starting to lather. I can feel she is starting to get leak through through her panties.
do you work your hand inside her panties?
No. I take my hand away from her crotch to see where her head is at. I slide my dress up so she can see my panties.
what color are they?
They are pink.
She looks over but still doesn't say anything. I rub my own pussy and am soaking wet. I slide my panties down off my hips so I can show her the inner crotch of my panties. They are actually soaking wet.
did I fuck you or cum in your mouth before work that morning?
You fucked me.
so your panties also have my old cum?
Yes, I am leaking your cum from the morning and my own juices from being so turned on by being able to touch her vagina.
As we pull back up to the office, I slide my soaking panties off and put them in my purse. As we walk back to the office, we don't say anything. We wait in front of the elevator, holding our salads. As the elevator door closes behind us, she slowly reaches over and touches my ass.
does she put her hand up your skirt?
No. She doesn't lift my skirt, she just rubs my ass to let me know she wants more.
We get into my office and I close my door. I lay her down on my floor and pull her panties down. She is so moist. I start eating her out.
wait…
What?
not so fast
I just want to eat her out.
Tell me about her first. What does her pussy look like?
Her pussy has about a weeks worth of hair, so its trimmed but you can see growth. Her pussy lips are thick and dark, much darker than her actual skin. Her crotch smells like warmth, a long day, and sweat. Not her insides, but just around her crotch. She is thick and her body has more of an odor than mine, but it really turns me on. I slide my tongue over her lips.
does eating pussy turn you on more than getting your pussy ate?
Yes. I love going down on a woman.
why?
I like to see what a woman smells like, what her vagina looks like, what she smells like. What she tastes like.
are you happy experiencing all this with her?
I love it. Her pussy is so good. She is so nice to me. I am so glad I get to please her.
I tease her rubbing my tongue over her clit and lips. She is moaning and I can tell she wants me to stick my tongue inside her. She wants to feel me taste her. I push my tongue in her as far as I can, she gasps and moans. I taste all of her insides.
I then move my mouth up to her clit, happy with tasting her enough to satisfy my curious urges. I suck on her clit as I stick the tip of my finger in her hole. I can tell she wants me to fuck her.
how can you tell?
At this point, I am stroking my husband hard. I make sure my hands get tight as I get closer to knowing I am going to make her cum. He is asking me questions, but his mumbles are getting quieter and I can I am in his head, creating the imagery her is going cum too.
It's just something about the way she is moving her body down onto my hand. She wants me to shove my fingers inside her. I oblige and go deep enough to feel for her cervix. I feel her little bump inside her and circle my finger around her cervix. I lick and suck her clit and can tell she is about to cum. Her vagina tightens around my finger and she raises her body off the ground. She bites her lip and holds her breath. Because we are in the office, she doesn't make a sound. But I can see her veins in her neck protruding as she strains from her orgasm. I can feel her body and lips spasming. She came so fast. She must not have had her pussy ate out in months, maybe even years. She was so ready.
do you want to pull up her panties and let her leave?
No, I want my pussy ate.
He is so close to cumming he wanted to cum but didn't know if I wanted to go deeper into my story, so he could cum with me. I can tell by his erection, he is on edge and can barely hold back.
okay, tell me more…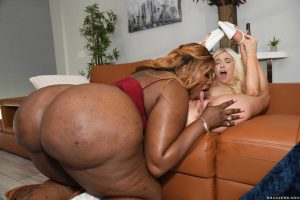 I tell her I want her to eat my pussy. She tells me she has never ate a pussy or seen another woman nude. I lift my dress up and put my pussy over her face. I can tell she loves seeing another woman's vagina. She touches it in a way she just wants to feel the texture. It's too bad I am so wet, because as she touches it, I can see my sticky froth drip down onto her face. I have a line of clear froth and your old cum stuck from my labia, to the side of her cheek. She starts rubbing my pussy harder and puts her mouth up to my body….
At this point, my story stops. My husband is now cumming. He reaches up to grab my head and puts my mouth over his penis. I can fee his aggression as he holds me down on his dick until he is done shooting inside me. Usually when I am done I will lean back and open my mouth so he can see his cum in my mouth. I will then play with his cum while he watches before I swallow. However, today he quickly asks me if I wanted to cum. I swallow and nod yes. My orgasms are not necessary, but after a dirty story, I usually always need to release. He knows this. I nod and let him know I would like to cum. I grab my toy and lay off to the side of him. His dick isn't totally erect anymore, but it's still hard enough to slide inside my body. This is when his dick is at its thickest and stretches me the most. I grab my wand and put it against my pussy. My husband whispers, "Do you love pussy more than you love dick?"
I nod. I do. I love pussy more than I love dick. But I love him more than I love pussy.
---
For other couples, it's totally okay to dive into things you may never want to really experience, with your minds. We read this a lot on relationship forums. Sometimes it creates mixed signals, sometimes it creates insecurities. So talk to your partner, let them know a fantasy is just a fantasy, and assure them it will never go beyond that. This will help everyone open up and dig into their heads further than they ever have. Or at least out loud.