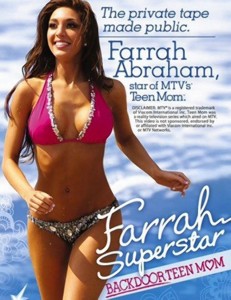 From MTV's Teen Mom to Backdoor Squirting Milf Porn Star.  You saw how she raised her child, now you can see how she makes them. Farrah Abraham released her sex tape via Vivid for sell and download, the same company that released Pamela Anderson and Tommy Lee (Pam and Tommy), Jimi Hendrix, Kim Kardashian, WWE Diva Chyna, and a number of other B / C / D level celebs that can only get your attention by fucking each other's brains out on camera…
… the same way we do!
I'm not mad at you Farrah, sex is beautiful, and doing it the way you do it is even more beautiful.   Co-star / porn actor James Deen has openly said that recording this video was just another day in the office for him.  Any claims of this being a "private" sex tape is false, as it was purposely recorded in home video fashion to create more interest.    Farrah, no need to pretend it's a home video, just tell everyone you take it in the ass and squirt all over the room, that's all the buzz you need.
Farrah Abraham just went from the most annoying D level reality star / teen mom on earth, to now just a somewhat slightly annoying milf with A level porn skills.  Her new large breasts and open-attitude towards anal sex definitely puts her a lot higher in my book.  Although her oral skills need work,  her anal, ass to mouth, ass to pussy then back to ass then back to pussy then back to mouth,  and squirting techniques will make even the most uptight executive at Viacom proud.  Good find MTV!  Your casting director and talent scouts need raises for sure.
Vivid's synopsis:
"From Iowa cheerleader to MTV Teen Mom star, midwest beauty Farrah Abraham breaks free with her most daring video ever, Farrah Superstar: Backdoor Teen Mom. Made originally as a personal 'boudoir' tape, Farrah decided to release the video to her fans due to overwhelming response once news of the tape became public for download. Shockingly explicit, she takes James Deen as you'd never imagine, in a backdoor scene you'll never forget. With her tight young body and totally uninhibited sexuality, it's no wonder why she wanted to capture this moment in time. And now you can too!" 
Continue Reading Review: Farrah Abraham in Backdoor Teen Mom Sex Tape