Things a woman should never do during sex:
Ryan: If a man pulls out his dick from your vagina and sticks it in your face, never say to him, "Ewww" or "Gross." Don't turn away and gag. It's your body, if it's gross to you, why would he want it?
Venice: Fake it till you make it ladies. Even if you are not used to your own smell or taste, shove it in your mouth and pretend its the best thing in the world. If it does happen to smell off, fake it until you make it. The next day figure out what is going on with your body. Whether that be a Ob-Gyn appointment or learning to clean yourself properly. Our bodies shouldn't be gross or smell.
Things a woman should never do during sex:
Venice: A woman should never act bored during a blow job. Oral sex is supposed to please a man. Make sure when he looks down he is in complete awe by you. A woman should take pride in how well she can make a man orgasm with her mouth.
Ryan: The best blow job in the world is 10% technique, 90% enthusiasm. You can know nothing about sucking dick and give most men the best blow job they've ever had, simply by having enthusiasm. If he sees you are having fun and enjoying his penis in your mouth, he will be putty in your hands. And if you are lucky, he will leave his putty in your mouth. Now imagine once you learn a thing or two and start flexing that 10% technique too! "I do!"
Things a woman should never do during sex: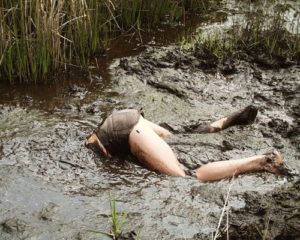 Ryan: A woman should never lift a man's legs unless she is prepared to face his unknown. Once she has decided to give him a rim job, never stop and make him feel like he did something wrong. It's his ass. Pull up your big girl panties and go to town. Stopping to pull hair out of your teeth, stopping because you weren't ready for his flavor, or just stopping because you changed your mind, is a good way to ruin the experience.
Venice: You never have to cross that rimming boundary if you are not comfortable. However, you can prepare yourself and do a smell test without him ever knowing. Oral sex, smelling his balls, feeling how hairy he is by running your hands down the crack of his ass, under his balls, and near his taint. Once you make that judgement of how fresh he is, decide on your next move. Don't ruin his experience because you jumped into his man swamp without the proper scuba gear and an alligator spear.
Things a woman should never do during sex:
Venice:
Women should never talk to a man's body part as if it's an adorable little child. "Come on, little guy! You can be the little engine that could…grow!" It's not sexy or funny. In fact, it's the equivalent of cold pool water.
Ryan: Referring to our penises as "cute," "little guy," or any other adorable nickname that you would give a kitten or a cute little bunny is never a good thing. We do not want to stand up with our swords out, and hear a woman say, "Oh my gosh, what a cute little thing you have! I just want to pinch your penis right on it's cheeks." No, never, stop.
Venice: Oh my gosh, you are going to tickle torture me with that thing little guy!
Ryan: Definitely not sexy.
Venice: It looks like 3 little tiny balls!
Ryan: Wow.
Venice: Is that a fidget spinner?!
Ryan: Yea, you shouldn't say any of this during sex you guys.
Venice: What do you want me to do with two balls and your dick…juggle? Do I look like a clown to you? Alexa, play circus theme music. *cue circus theme*
Ryan: You have really been saving these things up huh?
Venice: Yea, pretty much. I never get a chance to use them, so I am loaded.
Things a woman should never do during sex:
Ryan: Never ask a man that is already pounding your vagina to "go deeper." I mean, I get it, you want to feel a man lean his hips so far inside of you that he is trying to break his back just to crawl up inside you. However, sometimes when we are trying to bottom out and we really can't do much more, hearing "Go deeper!" can mess with our minds and moods. I mean, "go harder," "go faster," "go slower," or just "go go go go gadget dick me down until my pussy is bleeding and I can't walk for days", is okay. But going deeper? Trust me, we are as deep as we can get ladies.
Venice: This one is hard to control because sometimes we really do want it deeper. I understand though. I mean, we have to be sensitive. Sometimes our vaginas can be like a game of Minecraft I suppose. Some guys just started the game and are still working with a wooden pickaxe. They just don't have the tools to break through that obsidian at the bottom to find our diamonds.
Ryan: Yea, ladies, you probably should use that reference Venice used above. It definitely doesn't make us feel better that we are being told we are losing at Minecraft because we only have a wooden pickaxe. Hmph.
Things a woman should never do during sex:
Ryan: Let's just throw a few of the more obvious things out: Farting, burping, answering your phone or responding to a text, turning on the television, and especially don't start channel surfing if the television is on, start talking about your work day, or falling asleep.
Venice: Well you just ruined sex for about 90% of us. I'm joking! This is just a matter of being polite. As mentioned earlier, show enthusiasm and let your man know that you are really in to him while he is inside of you. Rule of thumb, give him your undivided attention while you are being intimate. Everything else should be tuned out.