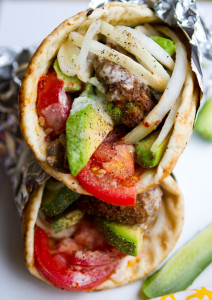 The other day I brought Ryan lunch. Nothing exciting – just a salad for him and a few eggrolls for me. We're both trying to eat healthier, lighter, and in more reasonable amounts. We each took a few bites of our meals and fed a few more to each other. He asked for one of my eggrolls and I reluctantly gave one to him. He then offered me one of his slices of Texas toast, which I took even though I didn't want it. I knew something was off for him. He put the lid back on his salad and said, "Let's go get a gyro."
"A gyro?" There was a little hole-in-the-wall Mom and Pops shop that sold hot dog, salads, and gyros, among other things. He had one several weeks ago and he raved about it. So we packed up our food and we drove down the street for a gyro.  "You know they're made with lamb meat, right?" I asked.
"If they are, this shit is good!" he said.
"I haven't seen any lamb around here in all the years we've been here. Actually, I think that hot dog shop signed an affiliation agreement with the local animal shelter," I told him.
Continue Reading Random Moments With Us – Sexy Times With Gyros