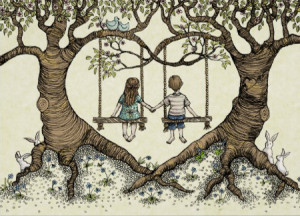 Today is our anniversary.  As I think about today, I can't help but think about the time we've spent together and how quickly it has passed.  We'd gotten married so young, but even at that young age, I knew I found exactly who I was looking for.  Like everything else, time changes things.  In the beginning, we were rough stones, awkwardly balancing against each other.  But over time, wind/water erosion, heat, cold, and weather have turned us into a beautiful work of art.  We still retain our core, but our experiences, outside forces, and awakenings have shaped us into a beautifully weathered sculpture.
Today I can say Ryan and I are far from being the rough, unrefined boulders.
As a boulder, my blowjobs were crappy.  I'm not saying that because I know what I can do NOW; I'm saying that because I've seen videos of myself many years ago.  I was lame.  If I see women now who do that to their men, I laugh, I make fun of them, and say things like, "Well, at least she's trying," or "It sounds like he likes it though."  I know it's harsh, but I just know that everyone has the potential to improve themselves, including the me today, and most definitely the me yesteryear.  I used to lay my head on his stomach or leg, unenthused, lacking passion and zeal.  I don't know exactly why.  Maybe I was tired, maybe I was lazy, maybe I was pissed off because he asked me for oral sex rather than normal sex, or he just asked me to suck him as our foreplay.  To be totally fair, Ryan has always been the type to enjoy foreplay and kissing  just as much as sex, but if I wanted to be angry on the inside I'd tell myself anything to make sense of my resentment while his dick was in my mouth.  It could have been anything.  When I sucked his dick, I would stop at the head, not giving any attention to his shaft, balls, or ass. I barely stroked or touched his dick as I sucked and I don't remember moaning or showing any genuine enthusiasm. I kept my eyes closed, never making eye contact with him – perhaps ashamed or afraid he would judge me.  I also knew that showing as little enthusiasm as possible, he wouldn't be able to orgasm.  I didn't want him to orgasm through oral, I was young minded and felt as though he was using my mouth as a sex toy.  In hindsight, I  know he deserved better.  As a boulder, I was lame.  If I were to give a class on how not to give a blowjob, I would show that video of myself.
Today (literally this day), I start by mounting my man and wish him a happy anniversary.  I breath in his body heat and kiss on his neck and ears.  I move down and lick his right nipple, the one that is pierced.  I always start there because it wakes him up to feel that tingly rush. I lift up his wrists to expose his shaven underarm, and kiss and smell every crevice he usually keeps hidden from the world.  By now, he's delirious and starts to go limp under my body.  I move across to the other side and give the same attention there.  This is the perfect warm up for his cock.  I slowly move down with my breasts rubbing against his skin.  I let each of my nipples glide across his body, from his chest to his crotch.  I stroke him gently at first, feeling him grow slightly as I tightened and loosened. I lick the base  of his dick with my warm tongue, then carefully put each ball in my mouth before letting them drop.  I do this several times, back and forth; his groaning grew louder.  I sit up, giving myself a better position to give him the best bj of his life.  I close my eyes and purr in a satisfying tone.  I love feeling the texture of his head across my tongue and roof of my mouth.  I cup his balls and the lower shaft with my left hand and use the other hand to stroke his shiny, tight balls and upper shaft, while sucking on his head.  He is almost driven to screams by the multiple levels of sensations he is experiencing.  I release his balls and suck on them a few more times.  "Show me what you can do with that dick," he tells me.
I look at him and ask him, "You really want to see what I can do?"  He nods.  I swallow his dick whole, letting my nose press hard against his stomach as his dick pokes deep in my throat. I hold him steady and plunge down several times.  I take breaths in between dives, starting with my head facing right but twisting my head up in a counterclockwise motion.  He sounds like he's about to cry with pleasure with all the moaning he's doing.  Just when I think he can't get enough, I quickly sit up, grab a hold of the back of knees, and "stack him" with his own knees to his chest.  His ass hole is exposed and right in my face.  I stick my tongue out and roll his body back and forth so that I make him tongue fuck me with his ass.  I flatten my tongue and let his entire hole get licked.  I tongue fuck him some more, making sure I dive into his outer rim.   I move up toward his dick, but not before sucking on his guiche, balls, and inner thigh.  I lick all three of his piercings, sucking his dick sideways like a hot, buttered corn on the cob. I deepthroat him again a few times before he pulls me up by my arms and gives me a kiss on my cheeks, neck, chest, and lips.   We embrace.
But this sculpture is not through being polished.  I believe I can still improve.
I didn't spend this time with Ryan this morning because it was  our anniversary, I do it every morning.  I am happy we have been together this long, but I've learned that  the "one amazing blow job (fuck or anal)  a year" policy  isn't the key to a happy marriage or a happy husband.   This will be the last amazing blow job of our 15th year, and he can expect his next amazing blow job tomorrow, to start our next 15.