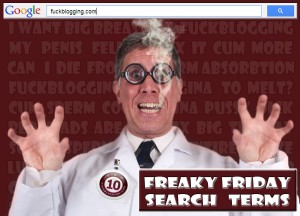 Each week we will post our most outrageous search terms of that week and share them with our readers.  Ryan and I will then share our own thoughts and hopefully entertain you guys or at least make the search term make a little less sense.
Each search term was gathered by wordpress and/or google statistics and they are all very real.
10. photos of married woman cought sucking another man's dick in a secrete place
Venice: This seems to be a popular topic
Ryan: A lot of wives caught sucking other men's dicks for sure.
Venice:  Why they end up at our site, who knows.
Ryan: If I caught you doing this, sexblogging.com would say, "404 Error, Website doesn't exist."
Venice: Oh great, now when our server goes down every follower will now think, "Well, Venice just got caught sucking another man's dick."
Ryan: They know better.
Venice: You know better.
9. girlfriend jokes about my penis size
Ryan: So large your bedroom has a speed bump?
Venice: So small you can use a cheerio as a cock ring?
Ryan: So large terrorists tried to crash a plane into it?
Venice: So small it looks like you have 3 testicles?
Ryan: I wish I had 3 testicles.
Venice: Really, why?
Ryan: So you could juggle deeeeez nuts!!!
Venice: Okay snoopy dogg dogg, relax.
8. forceful sex after senseless
Venice: I used to love that movie.
Ryan: Me too, David Spade was hilarious in it.
Venice: We just lost everyone with these comments.  Box Office sales:  2.
Ryan: …..but we sure had fun in that theater.
Venice:  Oh yes, you definitely buttered my popcorn.
7. she left me because of the size of my penis
Venice:  Sorry to hear that.
Ryan:  Well, let's think positive here.  Maybe she couldn't bear the pain of his huge cock and left him because of it?
Venice: Oh, in that case, congratulations.  Most women absolutely hate huge cocks and always leave men for them for sure.  Very common.
Ryan: I wonder if people search things like this for advice or are just searching for humiliation masturbate material?
Venice: Search terms that Make You Say Hmmmmmmmmmm.
Ryan: Thanks Arsenio.
6. does ingesting sperm through the anus increase the size of butt?
Venice: I'd have a huge ass for sure.
Ryan: Ahahahaha.
5. oh god you're going to cum in me videos
Venice: Oh dear.
Ryan: I'll pray for whoever searched for this term.
Venice:  Amen.
4. fuck my nose mouth asshole real video sex
Venice: I'd say something witty and clever here but since we really did make a video of me sniffing your entire cumshot…
Ryan: Yea, we pretty much asked for this one.
Venice: Yup.
3. wife teased me for having a small penis
Ryan: Tease her for having a large vagina.
Venice: Tell her she feels like a wet bag of potato chips.
Ryan:  Hahaha, what flavor?
Venice: Salt and Vinegar.
2. do asian women swallow cum
Venice: This one does.
Ryan: That one does.
1. how not to swallow cum
Venice: Hold it under your tongue and move your throat as if you really swallowed.  Try to talk as clear as you possibly can and let him know he tasted great.  It may sound like you are saying, "eww apetid tape" but he may not notice. Then casually stroll to the nearest sink or toilet.  If you are not near anything, fake sneeze or find one of his shoes.
Ryan: Wow, that was pretty detailed.
Venice: As he cums stroke his dick and leave your mouth on his head softly. Leave your lips loose enough so his cum can flow down his shaft and continue to stroke until his sperm lubes up his penis, balls, ass.  With it totally lubed, rub his sensitive post-cum penis head and make him hop up and say "Thanks, that felt great."  The game stopper technique.
Ryan: Really?
Venice: Hold out your hand as he cums and lather your palm with his semen.  After the majority of his load is in your palms, stick your mouth back around his dick and take your hand and rub under his balls.  Smear his semen around his ass cheeks and asshole.  Use this cum as lube so your fingers can easily slide in and out of his body.  This will feel amazing to him and keeps you from swallowing.
Ryan: Wow.
Venice: Oh, I just heard about this from some book I read.
Ryan:  Uh huh.