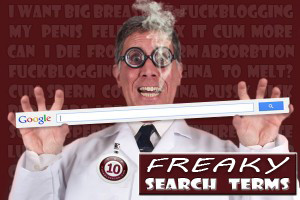 Freaky search terms, where we post our most outrageous search terms that people used to find our website.  Ryan and I will then share our own thoughts and hopefully entertain you guys or at least make the search term make a little less sense.
Each search term was gathered by wordpress and/or google statistics and they are all very real search terms.   Each search term was used by some person in the world that ended up on our page.
10. penis plug steel with sex vagina. whats problem face ??
Ryan: Oh God, I didn't miss this very much.
Venice: Can you believe the last one of these we did was in August?  That's almost 4 months ago.
Ryan: There was a reason why we stopped you know.
Venice: I don't like your attitude right now Ryan.
Ryan: No seriously, we stopped because the search words are either about husband's sucking cock or some weird pedo stuff.  Why any of these keywords lead to our blog makes no sense at all.  For the record,  I am not bisexual.
Venice: Yea yea we know Ryan…
Ryan: And…
Venice: …whats problem face with you huh?
Ryan: …
Venice: You like that?
Ryan: I saw what you did.
Venice: So you liked it?
Ryan: It was okay.  It was timed well and your delivery was good.
Venice: Whats the problem face??!?!?
Ryan: When you say that it sounds so sexy to me.  It sounds almost like you are a fresh off the boat Asian.  You think maybe tonight…
Venice:  Nope.  No more "I need my green card and I'm a  lost little Asian girl but for some reason I am taking off my clothes and on my knees sucking your dick moaning all funny sounding like your cock is leaking helium" fantasies for you Ryan.
Ryan: Dammit, that's personal and private information woman.
Venice: Oh…you no likey my problem with face?
9. how can i make my eight years old orgasm
Venice: Oh yea, so that's why we stopped doing these.
Ryan: Pretty much.
Venice: Searched 7 times?
Ryan: You'd think after the first 6 clicks they'd stop.
Venice: Sick.
Continue Reading Freaky Search Terms – watch his balls when he cums