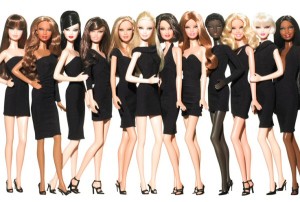 I do a lot of porn surfing.
What?  I do.
And in doing so I've come to find myself attracted to an array of women of all different types. At first, I assumed that since Ryan was Anglo, and I loved everything about him, my taste in women would resemble his background. I soon realized that I shouldn't limit myself to a certain flavor. So, after much exposure to all these lovely ladies of the x-rated Internets, I decided to compile a "wishlist," if you will, of women I would like to experience.
Rebeccah – the dark-haired stay-at-home mother of four who spends most of her free time juggling kids and planning events at the elementary school. She's very patient with children, naturally, and rarely raises her voice (not even to tell people her name ends with an H). A soccer mom, who secretly reads Fifty Shades of Grey and highlights her favorite parts. However, she is embarrassed about owning the book so she keeps it under her bed hidden from view.  Since she's a natural giver, she wants to be spoiled in bed… and she's turned to me and Ryan for that.  Everything in her everyday life is considered average.  We are her escape from reality and when she gets around us she can be the slut she has always wanted be. First I'll eat her out and get her wet before asking her if she wants to get fucked. When she says yes, I'll put Ryan's dick in her and hold her legs up and let her get fucked hard.  She does everything she is asked, no matter how dirty, and loves every second of it.
Maria – Just because she's from the old country doesn't mean she's old-fashioned. And by old country, I mean her mom was born in Cuba and her father immigrated from Colombia when he was three-years-old, but he can't speak Spanish. Monica's skin tone is similar to mine and has large breasts that jiggle in her tank top when she laughs. I love her boobs and I can't help but look at them when she's not looking. I've been with women who were C and D cups, but she claims she's a 42HH, whatever that is. I want to wear a strap and fuck her as she lays on her back while Ryan fucks me from behind. I want to see her tits bounce by the force of us getting rammed.
Paula – the natural red-head who's quiet and conservative, but get a few shots in her and she becomes slightly obnoxious when talking about her future efforts to volunteer for Habitat for Humanity. I would most likely meet her in the cereal aisle at the grocery store as she decides between Honey Nut Cheerios or Fruity Pebbles (she opts for the Cheerios). I'd like to see her fair skin juxtaposed against mine as we both suck on Ryan's dick. I'd also like to see if her lips are just as pink as the inside of her pussy. From what the Internets have shown me, I want to say it's neck and neck, but I need to judge for myself in person.
Monica – She did some nude modeling for art students in college to pay for her books (they were Chemistry books and they were really expensive). She has smooth, dark skin. And I mean really dark, like Wesley-Snipes-at-midnight dark. Like Paula, I would love to see the contrast of her skin against mine (and Ryan's) as we all play together. Additionally, I want to watch my brown fingertips slide inside her dark vagina and feel her pussy walls tighten around my fingers.
Melinda – She's a very active member of her church and it's most likely because she's trying to keep her kids active and their minds occupied from her recent divorce. Her hair is blond and always in a ponytail pulled through the snaps of her baseball cap. She wears leggings, a sweatshirt, and running shoes so I know she's either about to head to the gym or is getting back from it. Sometimes I see her in the morning jogging, and notice her sweat showing through her running outfits.  That means one thing to me: she's running so she can get in shape, stay healthy, and wants to look great naked. But honestly, the only stamina I'm interested in how long she can eat me out.  She can wear a headband if she wants.
Chainsaw – Her real name is Misty, but she doesn't go by her birth name anymore since she bought her motorcycle. Her nails are real short, but they're clean (thank God). She has a leather jacket with a small hole on the sleeve caused by a clumsy ex-boyfriend who dropped his joint after laughing at a knock-knock joke. She has a fresh tattoo on her lower back and brags that only women are allowed to see it. I want to see it. She wears a lot of eye make up and it makes her look rough around the edges. I'm hoping that she'll let me ride her like a Harley as I hold onto her hair like handlebars.
In writing this blog I mistakenly asked Ryan if he had a wish list and what types of girls he would like to experience with me.  His answer is as follows:
"Probably like, an Eskimo.  If she left her big huge Eskimo coat on somehow, with the hood real snug around her face so all you can see is her nose, part of her eyes, and her frostbitten red cheeks.  Also, if she could manage to keep a real snow flake on the tip of her nose during the entire experience, that would be really cool."
Um, wtf?  Anyway, I won't be asking him that question again.