When my wife and I first moved in together, neither of us really knew what was or wasn't appropriate. All we knew was that now that we were "adults" things would change and we could do whatever our young hearts desired. Walk around nude, have sex at any time, dance around naked playing air guitar together, and pee in each others faces for fun. Finally we got to to all the things adults do when they are all grown up! Oh boy!
I remember shopping one day and I saw male thongs at the local store. I recall thinking to myself, "I am going to look sexy as hell in these. Should I buy the slight thongs or pure thongs that look like dental floss?"
"Dental floss it is!"
I bought the thongs and rushed home to try them on. I remember looking in the mirror, unable to fully put my sac inside the thong, so half a testicle on each side was kind of hanging out. I also couldn't really properly place my penis where it belonged, so I laid my penis along the waist line hoping to cover it with the strings that wrap around my hips. Although not much coverage, I felt it still looked great and just knew my wife would love it. She was still at work and she wouldn't be home for a few hours. So I just kept the thongs on and otherwise was nude on the couch. Just wearing the thongs made me horny with excitement and I couldn't wait to see her face. Unfortunately I passed out on the couch and when she walked in, I was laying there, turned away from the door, with my ass and thong exposed to the world. Unable to put on my Zoolander look to make the thongs more appealing, my wife walked over to me and let me know she was home. I believe she was too uncomfortable to even touch me because she kind of hit/tapped me on the shoulder like you would if you were waking up a bum on a park bench. I stood up. My vision a bit foggy from still being tired, penis plump from falling asleep horny with man thongs on, each ball hanging out the side of the thong because the fabric could no longer hold half of them inside, and the floss like backside of the undies totally hidden by my ass cheeks. My wife didn't say a word. She didn't laugh, she didn't smile, she didn't blink…I am unsure if she even took a breath to be honest. After this awkward 20 seconds, which seemed like an hour, I asked her if she liked them?
My wife looked at me and responded as stoic as I had ever seen her, "Please throw those away and never put anything like those on again."
I was immediately defensive and I used the old line, "You said you loved me and I would look sexy in anything…"
She looked me up and down and responded, "I lied."
I never put on thongs again.
With that being said, I have came up with a photo list of 10 of the worst male underwear designs I have ever seen in my life. I image these are gag gifts, funny items you were once as a joke, or just underwear you put on while working just to feel totally naughty without anyone ever knowing. Whatever the reason is, don't.
Half Man / Half Thong
Good God man, no. Do you really want your package to look like you stood in front of a leer jet engine and as the thrust hit your body, half of your thongs disintegrated or blew off? This isn't even a good gag gift to be honest. It's totally confusing. Be careful to explain the actual gag to your friend if you buy it for him because he may meet you on the tennis court in a few weeks wearing this weird thong around his head because he thought it was a headband.
Leopard Thong
Please read my introduction paragraph closely. This is not only not sexy, it's an atrocity. Men should never wear string thongs no matter how awesome they think it looks. It's not awesome man. And don't let this hairless model fool you, real men have hair, blemishes, moles, stretch marks, and rough man skin. The penis filled with extra cloth to make it look like a long trunk is cool and everything, but when you remove it your lady friend will forever be haunted by the idea that your penis looked so much better with the weird leopard thongs on. Don't make this mistake fellas.
What The Fucks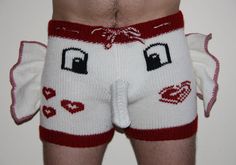 What the heck is this yarn abomination? What could anyone say that the picture itself doesn't say for itself? If you are not over 12 inches, just stay away from the elephant undies. No offense, I have never in my life seen an elephant with a 4 inch trunk, ever. More variations below: Please note that wearing underwear that gives the illusion of your penis being bigger than it is, whether it be by a weight or just fabric hanging, is a guaranteed way to let down whoever it is that is checking you out in your elephant underwear.
Below are more underwear that could have easily made the list; however, I will put all the elephants in one pen.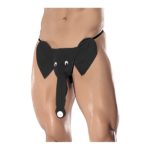 .
.
.
.
.
The Easter Egg(s) Thong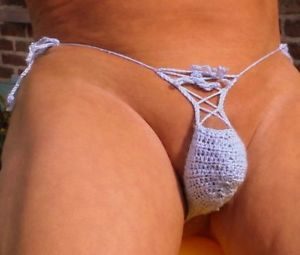 I mean, I guess if you want your package to look like a tiny colorful Easter Egg, these would be the perfect underwear. Being that they appear to be made from yarn, these look like the perfect cat toy. I mean, this isn't even an issue of a man with a large penis couldn't wear these, it appears that a man with 2 testicles and a very under average penis would still have a lot of trouble putting these things on safely. For most of us, these would look like an eye patch for our left testicles.
The Melting Ice Cream Thongs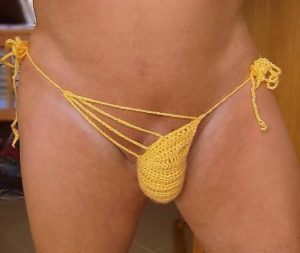 Okay, I am seeing a trend here. Yarn will never work for men's underwear. You should never wear something your grandmother made for you. I do not care if your me-ma makes you the coolest shit on earth, nothing she designs should be covering your balls. In this model's case, we apparently are looking at an ice cream cone that is melting. However, it looks like most of the ice cream has long since melted away because their isn't much left there.