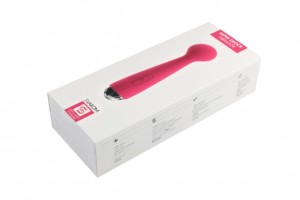 How many vibrators can my vagina handle before they all feel the same? This will probably be our last review for a while, but the good news is, we saved one of the best for last. The Mini Emma. Described as a miniature wand with the power of a full sized wand. What that means to me is, this skinny little thing is going to feel like my Hitachi Wand? Yea, we'll see.
It's not the size that matters, it's the way you use it.
As with most of the sex toys these days, the product is boxed nicely and feels like you're opening a new cellphone. Everything is in perfect order with an instruction booklet, a USB power cord, and this pink cigar shaped object that claims to be as powerful as my "never fails" wand.