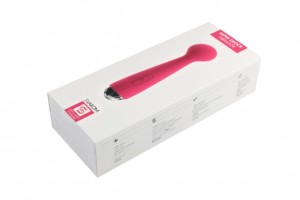 How many vibrators can my vagina handle before they all feel the same? This will probably be our last review for a while, but the good news is, we saved one of the best for last. The Mini Emma. Described as a miniature wand with the power of a full sized wand. What that means to me is, this skinny little thing is going to feel like my Hitachi Wand? Yea, we'll see.
It's not the size that matters, it's the way you use it.
As with most of the sex toys these days, the product is boxed nicely and feels like you're opening a new cellphone. Everything is in perfect order with an instruction booklet, a USB power cord, and this pink cigar shaped object that claims to be as powerful as my "never fails" wand.
I pulled the Mini Emma out of the box and decided to use it without charging. Although I know I should always hook it up to a charger, I was a bit anxious. Per my request, Ryan straddled my face and dropped his dick down into my mouth. I do not suck on it with the intent to make him orgasm, but instead for my own pleasure. Basically, I use his penis like a pacifier. It relaxes me, turns me on, and makes Ryan an important part of my orgasm. I love to orgasm with his penis in my mouth. As I play with my clit, I will roll my tongue around his head and suck on his head. As the climax builds, Ryan can usually sense the intensity change in my sucking. Most of the time, as I orgasm, Ryan's penis will be nearly erect. If not, it will definitely be full enough so that I can pull him down on my face and guide his cock down into my throat so I can't breath while I cum. This is how I like to orgasm when using a vibrator. The choking sensation of not being able to breath while a penis is shoved down my throat makes my orgasms much more intense. Also, Ryan will be sitting up so both of his hands can play with each of my nipples and breasts while he watches me play with myself.
It's not the size of the boat, but the motion of the ocean that matters.
The Mini Emma is as advertised. Although it is nowhere near the size of a wand, the vibrations are just as intense. Any woman that uses a full size wand and cums in minutes, will easily be able to use the Emma and orgasm the same, without getting carpal tunnel from holding a huge wand over your clit. The only real difference for me is, I can feel the vibrating in my hands much more than with a normal wand. With that being said, it should be noted that a lot of women are very sensitive to anything that throws them off while they masturbate or use toys. Any slight variation, including my hand going numb from holding a cigar that shakes every nerve in my fingers, may throw me off a little. But it's small and light, so that's a plus.
I reached an orgasm with very little effort. The Mini Emma is small but powerful and does what it needs to do. It's also also waterproof, so I suppose if you wanted, you could take it with you into the bathtub or shower and please yourself. I have never used a toy in the shower, as I prefer the comfort of my own bed, but to know it's possible is still cool. To top it all off, it's cheaper than the most popular wand on the market. So if you want a smaller, wireless, waterproof, and just as powerful version of a wand that has 2 hours of play time (we didn't test how long it lasted, as I didn't last long myself), then check out the link below.
---
More Information and Price:
Mini Emma by Svakom
Description:
Mini Emma is a powerful smaller version of our popular wand vibrator. It' s designed especially for women who love medium or small sized massagers but still want the power of larger sized massagers. The flexible vibrating head will stimulate your vagina nerves in all directions. Mini Emma will last for 2 hours on a single charge, and will bring you climax after climax. Mini Emma is 100% waterproof which means she is fully submergible and can go anywhere with you, even the bathtub or swimming pool.
Powerful vibration
SVAKOM Intelligent Mode

Flexible head for use at any angle

Fully submergible 100% waterproof

Environmentally friendly material

Whisper quiet

Rechargeable

Mini massager

Material: Body-safe Silicone

Charging Time: 1.5 hours

Maximum Continuous use: 2 hours

Water Repellency: 100% waterproof
---
We are not affiliated with SVAKOM and get no revenue from this review. Our goal isn't to make money promoting things in hopes you buy it, rather we are just sharing our reviews on products we have tried and want to share with our readers. We review items we buy ourselves or get sent to us as promotional products. All reviews are just our opinions and experiences.