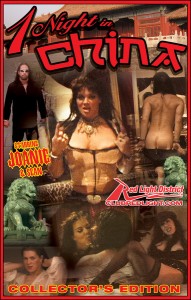 1 Night in China is a pornographic movie featuring professional wrestling personalities Sean Waltman and Joanie Laurer, which was released by Red Light District Video in 2004. While Waltman and Laurer were engaged at the time they filmed 1 Night in China, they broke up before it was released. Laurer has made several pornographic films since, beginning with Another Night in China in 2009, which is considered to be a sequel to 1 Night in China.
 For those of you who are not familiar with Chyna or X-Pac, they were both WWE wrestlers in the early 2000s.  Chyna was known to have a huge muscular body, while X-Pac was the only guy in the WWE that wasn't huge and muscular.  In fact, X-Pac used to go by the name 1 2 3 Kid, because he was a small wrestler who was known for his flying arsenal rather than power moves.  Like a real freak show match up, this 1 Night in China (Chyna) is like a female Andre The Giant vs Jake "The Snake" Roberts.
1 poor, 2 fair, 3 average, 4 good, 5 excellent
Venice's Review:
Quality:3
Entertainment Value: 3
Star Factor: 2
Skill Level: 4
The Woman: 3.5
The Man: 2
Sex Appeal: 3
It wasn't a surprise to see that 1 Night in China was a video that was intended to be for personal viewing only. I expected references to China the country, i.e. screen shots of an airplane traveling over a map of China, but to actually film on the Great Wall was taking it to the next level. This is probably the only hint I got that the play on words of her name and the country would lean to premeditation of a porn disguised as a vacation video.
This is unlike a professional porn in that Chyna and X-Pac are playful and don't hide the imperfection of their surroundings (clothes littered in the hallway, her being sexy in her dominatrix outfit but whipping herself too hard, the tiny white T.V. blasting an electro-bongo live concert in the background). For being in China for only one night, the place is filthy! What I liked about this video is how she worshiped his dick from the beginning. When I see a professional porn, the woman will suck him for a few minutes, then he will eat her out for a few more before he puts his dick in her. Pretty standard recipe. This is not that. Chyna kisses his stomach, dick, balls, legs, and feet longer than she is actually on his penis. This is a couple who were in love and she wanted to show it. However, this is offset by her lack of dirty talk and moaning, what I like to refer to as part of the enthusiasm women must show.
His penis is a nice average size, until she puts her hand on him. I'm not going to hate on that because I, too, have big hands. At one point in the video he's filming as she's on her knees. Before she strokes him and takes his whole dick in, he says, "I actually look kind of big," to which she responds, "You are big." But then she puts her giant hands on him.
This sex tape didn't seem as exciting as I thought it would be. With them being wrestlers, I thought there would be more roughness and entertainment. The build up in my mind was let down by their profession, wrestlers, not porn stars. Just a different kind of acting. After viewing it, it did turn me on some, but I was more turned on in 30 seconds of Ryan eating me out than I was watching the hour long video.
Ryan's Review:
Quality: 4
Entertainment Value: 3.5
Star Factor: 2
Skill Level: 5
The Woman: 4
The Man: 2
Sex Appeal: 4
1 Night in China is a pretty good video for an early 2000s sex tape.  The quality is pretty good with the only complaint being the camera angles.  Doing amateur videos ourselves, I can't really fault them much for the bad angles.   However, the lack of good cum shots due to X-Pac being more of a creampie kind of guy left the endings a bit anti-climactic.   As expected, the film is somewhat entertaining and cheesy, with the only real boring parts being the long oral scenes where X-Pac dives off the top turnbuckle (bed post) into Chyna.  The problem is, it really only shows his back for what seems like 30 minutes.   However, this is the reason why I rated their skill levels so high.  X-Pac knows how to please a woman with long oral sessions, and Chyna sucks dick like a true Heavyweight Champion.  I'd rather see her suck dick over a Hulk Hogan leg drop any day!  Plus, Chyna's body is amazing.  This is no surprise to those that remember her in their WWE days, she is built like a female show horse, from face to toe.   As far as X-Pac, other than his hair, there isn't much else long on him.  Not that this is a surprise, as in the video X-Pac himself laughs at the size of his own penis.  Regardless, they both seemed happy.
The real question is, did this video get me worked up.  Yes.   As the video played Venice stroked and rubbed my balls the entire time.  Although I didn't even get an erection at any point, I was still turned on.  As soon as the film ended, I got up and pulled Venice's little boy shorts off and dove face first into her vagina.  After licking her thoroughly I stuck my dick in her pussy and fucked her nice and slow.  After 15 to 20 minutes, Venice began sending signals and asking for my cum.  I then did my own version of X-Pac, cumming inside her.  However, halfway through the cum, I pulled out and stuck my head in her ass.  I then released the rest of my cum.  Still a bit worked up, I pulled my dick out of her ass and stuck it back in her pussy.  After a few minutes, I again pulled another X-Pac, and came inside her.  This time I did not pull out and switch holes.  Well, at least not while I was cumming.  When I was done, I pulled my slightly softening dick out of her vagina and squeezed the base so half of my dick was hard.  I then stuck it back inside her ass.  Although not fully erect at first, after pumping for 30 seconds, my dick was again, erect and ready to go.  Venice could feel me grow and immediately moaned, "Cum in my ass."   I fucked hard and quick, as getting my third cum is a bit harder and more friction is needed.  She squeezes her ass around my dick and this was enough to send me over the edge for the third time.  I released inside her again.   As I was almost through, I pulled  my dick out and rolled Venice over so she could see it.  I wanted to let her see some of the third cum shot, so I squeezed my cock  and spilled my last shot of cum all over her stomach.  I then scooped it off her belly with my fingers and fed it to her, which of course she loved.
In other words, for me, the sexual value of this video was high.  Although I wasn't really a wrestling fan, I do remember seeing Chyna the few times I would flip through the channels in those days.  Her body was always hot and it was exciting to watch them fuck.  Chyna sucks dick with enthusiasm and literally licked X-Pac from his cock to his toes.  I'm a "sucker" for a woman who knows how to make a man feel good, and she definitely took care of him.  I'd rather spend 1 night in china than 1 night in paris.
This is not hosted on our site and we have nothing to do with this upload.  We used the share function via Google search.