A Threesome with A Transsexual
The Dirty Talk Intro & Disclaimer: Everything in the story below is random and created on the spot while massaging and giving a handjob to my husband. No filters, no rules, no boundaries; just a story and situation created to help my husband orgasm and enjoy our experience together. We do this for intimacy and find handjobs less destructive on our bodies than having sex daily (our bodies just can't handle penetrative sex each day). All dirty talk is usually pure fantasy. I use this dirty talk as a form of mental porn for my husband while he is in a vulnerable state due to being touched and massaged. Sexual intimacy can also help reduce feelings of anxiety and depression as it triggers the release of three mood-boosting chemicals — dopamine, endorphins and oxytocin. I usually also get really wet because my own naughty thoughts push my own personal boundaries and really turn me on. This is why it's so fun. Unlike giving a blowjob or going through the theatrics of sex, you both connect thoughts together and create sexual stories in the heat of the moment. He trusts me and we both love this natural vulnerability. I can almost get inside his head and control his fantasies, dirty thoughts, and talk him into an orgasm in the exact moment my story hits it's climax. During my stories he will ask me questions while I talk. I will include these to the best of my memory. In fact, every story is to the best of my memory, as I do not know remember all the exact details.
Dirty Talk: A Threesome with A Transsexual
So we go out to dinner with the sexy girl we found on a dating app. Although she is cute, we share her photo with each other in text and there is something distinct about her face and features that seem a bit different.
Like what?
Her face is a bit longer. Something about her nose and cheeks seem different, but her body is amazing.
Okay…
We meet with her in person and you whisper to me that she is sexy as fuck. I agree. Conversation is good, we both seem to really enjoy her company. She is making us laugh and seems to be super sweet. We both like her a lot.
As dinner wraps up we ask her if she wants to come to our place for a few drinks. She is hesitant. She leans over and quietly lets us know that she is transsexual.
ummm…
---
I feel my husband's dick start to soften in my hand. Usually when his mind is on something else, or if the story has too much detail, his body responds by getting soft because he wants to discuss things rather than orgasm.
---
Relax. Enjoy yourself.
You sit back a bit uncomfortable but I can tell you are looking at her really intense, trying to see if you can tell. I don't think you can. She is almost a perfect woman. Her smile, her face, her body, and her personality.
Lets take her home
We are. We decide we would take her to our place just to see where things lead. If anything, you getting a double blow job from both of us will make your night. If anything else happens, we will see.
We get her to our place and she slides off her coat. She has amazing cleavage. Her lips are thick, so you can't stop thinking about her sucking your dick.
I can tell you want her, but you're confused. So am I. I want her too.
You do?
Yes, I want to see her dick.
Me too.
She is sitting in between us. I lean in to kiss her and quickly put my hand between her legs. Not something I would normally do, but I don't believe she has a penis. I think she is fucking with us.
What do you feel?
She definitely has a penis.
She is erect. Her dick feels hard, but is still very small. A cute small.
Yea, I'd rather her be cute and small.
For sure, I only need one man tonight. I pull her dress up and pull her panties down exposing her penis to you. She is totally shaved and her dick is a beautiful 3 or 4 inches. Thick, but tiny, exactly how I'd imagine a woman's penis would be. No flaws, no razor bumps, just exactly how a classy woman would maintain her body if she had a penis.
I want to touch it.
You reach over and cup her penis in your hand. Her head barely pokes out the top of your grip. Any slight movement will be stroking her dick. It must feel amazing to have a dick that is the perfect size for a hand.
---
My husband's dick is now rock hard. His mind is open. His balls are starting to tighten and I can tell he is really getting into the idea.
---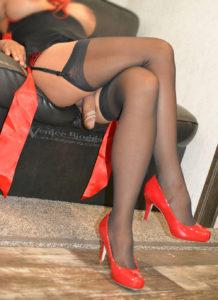 She helps me unbutton your pants and we both pull out your dick. You are swollen. She gasps, happy she has a chance to see your dick. You have everything she doesn't. A masculine bush of crotch hair, thick veins, and your balls are totally loose, hanging down between your ass cheeks. You are all man. Exactly what we both want.
She goes down on you immediately, sucking your dick aggressively. Now I can tell she is different. She sucks you exactly how you'd want to be sucked. And like me, she can easily deepthroat you. She loves dick. Not because she wants to impress you, but she just loves dick.
I can tell.
This is the first time I've ever been intimidated to follow someone after they have sucked your dick. I'm not sure I can do it as well as she can.
No one can suck me like you do.
She hands me your dick and I don't hold back. I leave you messy and shove your dick in my throat. I purposely choke myself to make sure you see I am giving it my all.
She moans as she watches me. She loves how I suck dick and can tell I am a worthy competitor.
What are you competing for?
Your cum Daddy.
She moves down to your balls and helps lift your legs up so she can eat your ass…
---
Before I can finish my sentence I can feel my husband's dick twitching. I put my mouth around his head and let him cum on my tongue. His body is jerking and he grabs my head and forces me all the way down on his dick. I hold still as he finishes in my throat.
Although I wanted to finish the story, we will have to do a follow up on this idea…if he can make it. It's just a matter of time before me and the other girl are spitroasting him with her dick and my strap on.
As I finish cleaning him up I am extremely wet from the mental erotica so I get up and sit on his face so he can taste my fluids. After a few minutes, I lay down next to him while we play with my pussy until I orgasm. Orgasm. And one to grow one. Orgasm again.
---
For other couples, it's totally okay to dive into things you may never want to really experience, with your minds. We read this a lot on relationship forums. Sometimes it creates mixed signals, sometimes it creates insecurities. So talk to your partner, let them know a fantasy is just a fantasy, and assure them it will never go beyond that. This will help everyone open up and dig into their heads further than they ever have. Or at least out loud. And remember, dirty talk is just talk.
This blog was sponsored by Trannypersonals.com: No matter where you live, Tranny Personals facilitates shemale dating hookup experiences.