Naughty Selfies – Red Panty Night
I'll try to keep these selfies limited to new outfits, panties, and ideas, rather than the exact same poses and panties every day. Thankfully, I do change my panties! Unfortunately, until I learn how to stretch and morph my body into alien-like positions, I am a bit limited at what I can do with my camera! Red Panty Night
Dear Naughty Selfie Diary: Red Panties, Heels, and A Sexy Dress.
So I threw on some sexy heels, my red panties, and a cute dress and headed to work. It's red panty night for my husband so when I get home I expect to be wine and dined and then have him go down on me and put his tongue where the sun don't shine. And if he does it right, I may let him slide something else in me.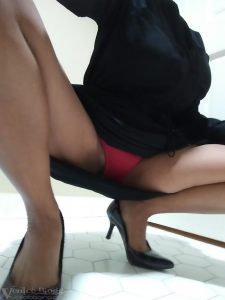 That sounded pretty tough, like I meant it huh? My husband doesn't have to do anything to tear off my clothes or panties. What my daddy wants, my daddy gets. But I was trying to sound sexy and cool.
Here are a few bathroom selfies I sent to him during the day. Red panties, heels, and a classy dress. I work in a office environment so that is usually how these selfies go.
And if you haven't heard, my husband wears my used panties the day after me. So now we have an official red panty night night. I ask him to send me a selfie each day of him wearing my panties from the night before. It turns me on. I will add his selfie on these blogs just for fun. I'm sure our ladies, and the gay and bi men readers won't mind at all.
And for those of you who do not know how the Red Panty Night meme all started, here is a refresher below!
Dang, this selfie section was just supposed to be a few cute pics and a quick blog. Now we are linking videos and sharing selfies of us both. This is why we can't have nice things!
You can check out all my naughty selfies here!