The Womanizer is not your normal woman's sex toy. When I got the product, I didn't know that, but after turning it on it didn't take me long to realize that I wasn't dealing with your average sex toy that shakes your vagina until you have no choice but to orgasm before your pelvis goes numb. The truth is, a lot of times I will use a product for a review, take mental notes on how it feels, not achieve an orgasm, and throw it to the side and ask Ryan to fuck me so I can get off. This wasn't one of those times.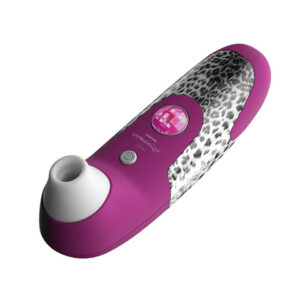 So what makes the womanizer different? Well, it has a sort of suction function that pulls your clitoris up inside the soft silicone circle area and only vibrates that exact area. In fact, when my clitoris was inside the suction area, the vibrator was almost completely silent…and so was I. It was like putting my little clit in a straight jacket, then throwing it inside a padded room and letting it bounce against the walls like an insane person. Ryan knows when to leave me alone. If my eyes close, my free hand instinctively spreads my vulva, I stop breathing, and my head drops back, it's about to be on.
So after I orgasmed within a few minutes of it touching my vagina, I decided not only was I going to try it again to take better notes on it, but I would also pack it for a cruise we were scheduled to take. Ryan didn't really understand my need to really research the Womanizer on the cruise because to him it seemed simple
enough. I tried to explain to that I didn't want to miss any details about the toy. I felt like the more I use it, especially for each night (and morning, sometimes afternoons as well) we were on the cruise, the more I would get a better understanding of it. The waves lightly pounding on the side of the ship, the visuals of the ocean outside of our cabin window, the slight intoxicated feeling from drinking Rum from the Bahamas, and my vagina being sucked into this vibrator as it bounces my clit against its soft walls. Ah yes, research.
The Womanizer is as advertised. It's a different sensation totally. For me it created quick orgasms and was the vibrator I decided to take on vacation with me…and I had a lot of vibrators to choose from. It also has a great variety of colors and designs. The one we bought was called the "Purple Snow Leopard". You can check out the website below for all the different colors and designs.
I will not get into the specific details of the buttons or materials the product is made from, as it bores me to even think about typing it, so I can imagine it would bore you to read it. The Womanizer doesn't deserve that type of typical review fluff treatment. If you want the bullet points on the product, as always, I added them below.
---
More Information and Price:
Womanizer by EPI24
Description:
The Womanizer: the first ever PleasureAir sensual product available. A revolution in pleasure makes it possible to stimulate the clitoris without direct contact for the first time creating an unprecedented orgasmic experience. Over stimulation and discomfort are a thing of the past. Enjoy effortless orgasms while improving intimate health and overall well being. The Womanizer 100% pleasure, 100% passion, one time, multiple times, every time.
The world's most advanced clitoral stimulator.
PleasureAir touchless stimulation
5 adjustable levels of intensity
Produces fast often multiple orgasms
An incredible new feeling of pleasure
Material: ABS, phthalate free
Material stimulation head: hypoallergenic medical silicone
Size: 160 x 50 mm
Weight: 150 g
Splash proof
Advanced rechargeable lithium-ion battery
Includes womanizer®, zipper box, spare heads, USB charging adapter, USB charging cable and operating manual
---
We are not affiliated with EPI24 and get no revenue from this review. Our goal isn't to make money promoting things in hopes you buy it, rather we are just sharing our reviews on products we have tried and want to share with our readers. We review items we buy ourselves or get sent to us as promotional products. All reviews are just our opinions and experiences.