The War of Two Dildos
To vibrate or to not vibrate, that is the question.
After so many years of doing reviews of various sex products, it can get boring. In fact, so boring that we stopped doing reviews altogether and retired our bodies from being silicone guinea pigs for the masses. After taking years off from dildos, we decided to unretire and test out two products and compare them.
Let's cut right to the pros and cons of each dildo.
---
The Erocome Hydrae Remote Controlled Realistic 8″ Dildo Pros and Cons
Pros:
It's outer skin is extremely soft with a hard middle. This is probably the most realistic dildo I have ever felt in comparison to an actual 100% erect penis. When I say 100% erect, I mean a penis in the hardened state of right before it cums.
It thrusts and is literally a sex machine. Put a pillow against it and it feels the same as any sex machine would feel, thrusting in and out of your body. The cheapest sex machine on the market, by far.
It isn't too thick, which I love. I personally do not like thick dildos. However, it goes from what appears to be about 6″ compact to nearly 8″ as it lengthens. This thing can hit the p spot / bottom of any woman.
It actually warms up and gives you the feeling of a real-life penis filled with fresh new blood.
Cons:
Although it is the most realistic dildo I have felt in comparison to a 100% erect penis, it has no give. Much like an erect penis. Unfortunately, while sitting up using this dildo and giving my husband a blowjob, it was uncomfortable because you cannot angle it inside your body. It's unforgiving. Because of the technology behind the thrusting, the mechanism in the middle is solid.
You have to charge it.
---
The Pros and Cons of the Honeysx Ultra-Soft Liquid Silicone Dildo
Pros:
It is thick enough to stretch your vagina (but not overly thick) and long enough to hit the deepest spots. Due to the size, the lower 2 inches did not fit inside my body so instead it bends and rubs against my clitoris. A perfect storm of sensations. Thick, deep, and clitoris stimulation.
Extremely easy to clean.
It bends so it is much more forgiving than the thrusting dildo.
No need to charge.
Cons:
The outer skin is not nearly as soft as the thrusting dildo and does not feel as realistic.
---
Now that we have the pros and cons out of the way, I just want to clarify we thoroughly enjoyed both products. In fact, my husband enjoyed the thrusting dildo just as much as me, especially since it had a very realistic feeling. He has now lost his anal virginity twice, once to my finger, and once to the thrusting dildo I stuck inside him while giving him a blow job. He loved it. He did not try the other dildo, since the outer material seemed a bit harder and it was too thick for his liking. However, I did try both and enjoyed the different sensations. Believe it or not, I had a more orgasmic experience with the plain dildo. This is probably because my husband wore it like a strap on and I sat on his lap while we kissed and made out. I rode the dildo until I was extremely high from sex and orgasmic. It was enjoyable. With the thrusting dildo, my husband also wore it like a strap on but also inserted his own penis inside my vagina while the dildo automatically thrusted. This was my first experience with double vaginal penetration. God it hurt! But I am glad I did it. Ryan said it was an amazing sensation because the thrusting of the dildo inside my vagina was actually massaging the underside of his cock while he was inside me. He came all over me and it.
Later I used the thrusting dildo solo and it relaxed me more so than made me feel like I was going to have an orgasm. Personally, I have never been a huge fan of dildos, but if I did use one, I would prefer it to relax me. I enjoy a proper massage to my inner walls.
I'd recommend both products, as long as they are the sizes you are looking for.
---
More Information and Price:

$89.99
Buy Erocome Hydrae Remote Controlled Realistic 8" Silcione Dildo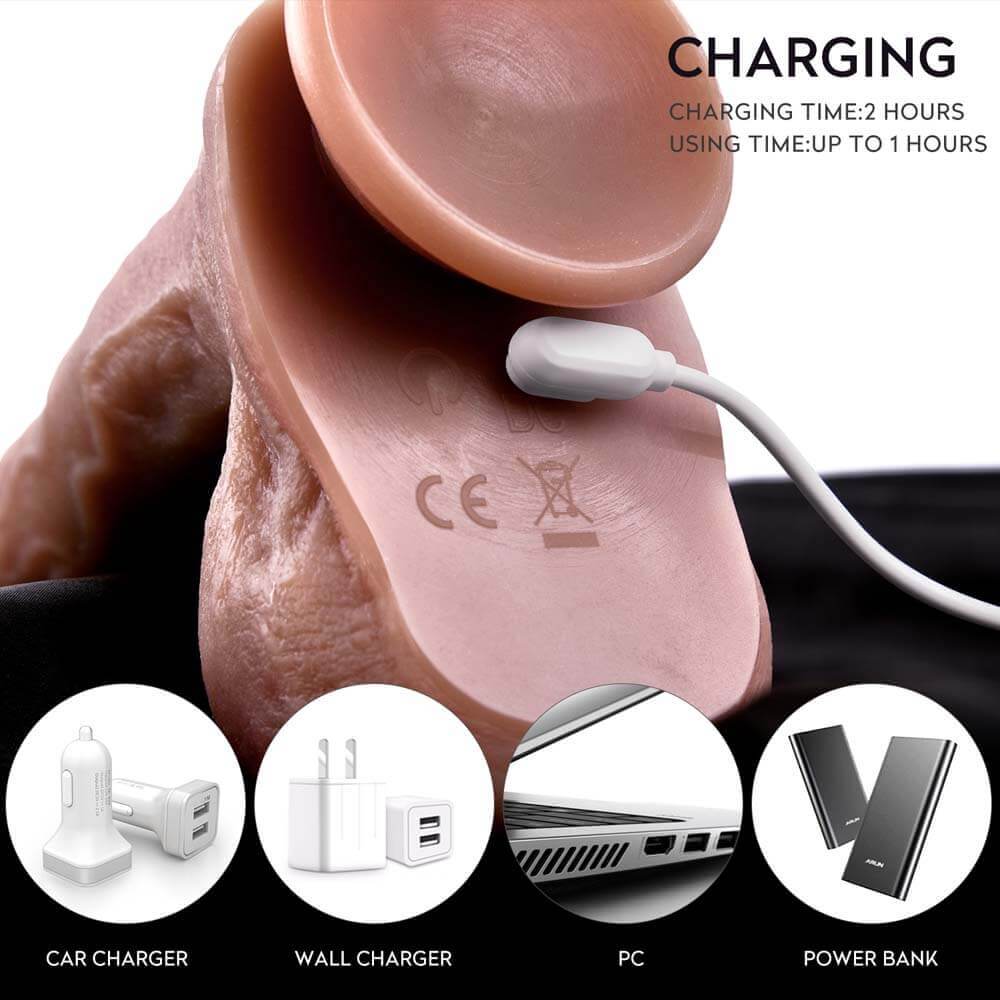 Website product Description:
We are introducing an automatic vibrating and thrusting dildo of Erocome hydrae with balls to offer you a package of pleasure. It uses a new technology design and has a distinctive linear motor that will push by itself. The motor of the dildo is potent, and it will thrust 560 times in a minute. We can say that the motor of the dildo was pushed nine times in a second. The motors of the toy are potent and durable. The maximum distance at which the thrusting motion will move is about 5cm. It has a boost button to help you reach a heaven of pleasure. The hydrae has a head that will rotate, and it will make sure that it is hitting all your excitement spots.
The Erocome Hydrae is available in beautiful vanilla skin color. It is designed in an improved size to offer excitement. It will fulfill all your wishes without extending the user out too thin. It provides heating functions also. The heat of up to 42-degree Celsius is very stimulating. It copies the natural body temperature for ideal functioning. It is boilable as it takes temperature to 100 degrees Celsius, and you can carry it with you anywhere. The shaft will take care of the internals, and vibrations will calm your body to some extent. The balls will strike your clitoris to give pleasure. It is an all-around toy. The hydrae toy contains body-safe silicone and ABS plastic material. It has an insertable length of 170mm or 6.69 inches.
It has a powerful base design of suction for giving hands-free play. The powerful suction cup base will stick to the soft surface of your wish. The wireless remote-control feature will provide you with more chances for play. You can control the remote or pass it over to someone else. The Erocome hydrae has a rechargeable battery and a waterproof design. You can enjoy it whenever you want.
Specifications
Color: Vanilla
Material: Silicone, ABS Plastic
Weight (Product): 450 g (15.8 oz)
Length (Product): 220 mm (8.6″)
Insertable Length (Product): 170 mm (6.69″)
Diameter (Product): 37 mm (1.4″)
---
More Information and Price:

$36.99
Honeysx Ultra-soft liquid silicone dildo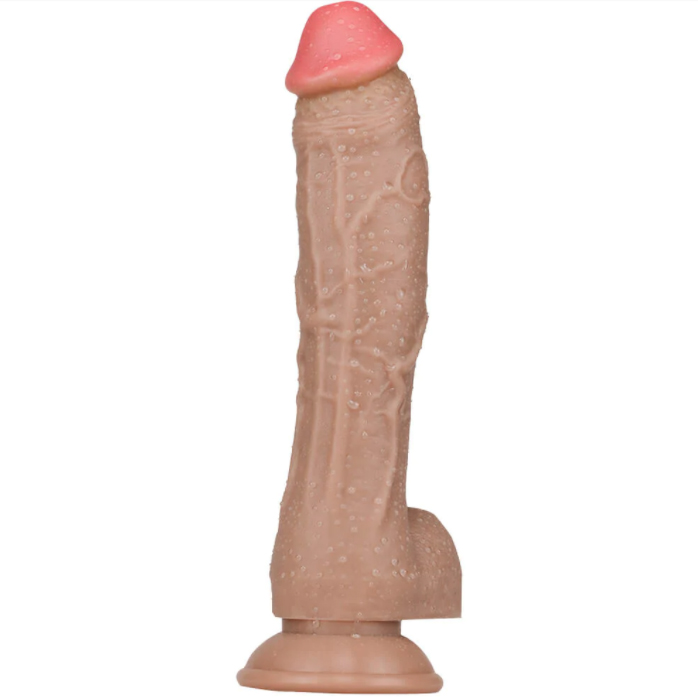 Website product Description:
Perfect size for most females / length 9.44", width 1.65"
Super strong suction cup, hands free play
Raised veins, squeezable balls, distinct glans,
Soft material and can bend at will without deformation
It can be cleaned with water and soap, without using silicone lubricant
100% waterproof and can make bathing more enjoyable
Specifications
Total length: 9.44 inches /24 cm
Insertable length: 7.08 inches /18 cm
Diameter: 1.65 inches/4.2 cm
Weight: 465g
---
We are not affiliated with Honeysx and get no revenue from this review. Our goal isn't to make money promoting things in hopes you buy it, rather we are just sharing our reviews on products we have tried and want to share with our readers. This item was sent to us as a promotional product under the terms and condition that if we did not enjoy the product, we are not obligated to write or publish a review. All reviews are just our opinions and experiences.