When I think of novelty goods, I immediately think that quality will be compromised. Why?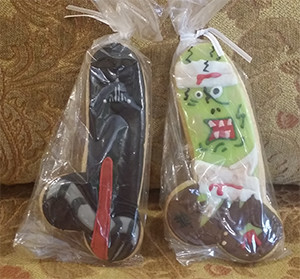 Because of Emotion Lotion. Emotion Lotion was a brand name of personal lubricant that you can use alone or with a partner. "Gets warm when you rub it, gets hot when you blow on it — tastes great!" It boasted. A long time ago, my kid brother asked me to buy a bottle for him. At the time I believe they were sold at Frederick's of Hollywood and of course, he didn't want to be seen going into a ladies lingerie shop to buy it. So I bought him a bottle of Pina Colada Emotion Lotion (or was it Cinnamon?) the next day. Easiest $5 I ever made. But before I gave it to him, I asked if I could rub a little drop on my hand to see if I would be a victim of human combustion. That, and to see if it did, in fact, "taste great."
Not surprisingly, I neither caught on fire nor did it have a delectable concoction of pineapples and coconut lingering on my tongue. I came to believe the sex industry and the world of food were just not meant to collide. Why couldn't Nabisco make a quality edible condom? Why couldn't Sara Lee make a massaging lotion so good that it'll make me want to slap my mama? WHY? Soon after I stopped pondering over the edible panties. Sorry Spencer's Gifts – you're only good for The Walking Dead bobbleheads, 3-foot birthday cards, and 16-month naughty firefighter calendars.
Which brings us to ( cock cookies ). Who wouldn't like to get cock cookies? Like many times before, I assumed it would just be another cookie cutter cookie, pun completely intended. The first thing I noticed was the intricate attention to detail: the colors, the artistry. It's very easy to see that each one is made meticulously by hand. Clearly, they take pride in making a product that they can be proud of and that will make any first-time customer a repeat customer. I think the biggest surprise was how good these were. I expected a Royal Dansk Danish Butter Cookie taste – very crumbly, dry, and stale. Instead, it's a firm, shortbread that melts in your mouth when sucked on. How do I know? Because I sucked on the Speedo wearing co(o)ckie until it was a tiny little mound of wet pastry on my tongue.