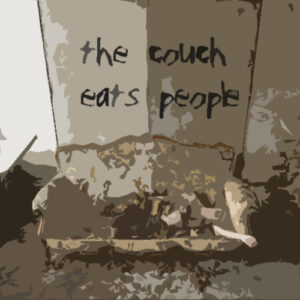 I've recently learned that two of my friends, let's call them Crystal and Milhouse, have unexplained external knee injuries, which they are calling "war wounds." I, being the concerned friend that I am, am worried about this situation. The only real evidence I have gathered is that Crystal and Milhouse were together at the time of these injuries and they were both caused by two separate couches. I know this may seem vague and sketchy to most of our readers, but I, being a pretend forensic scientist, think I have puzzled together this mystery. Gathering as much evidence as I could, below I will describe what I think happened the night Crystal and Milhouse ended up with knee injuries (which both look somewhat like rug burn).
It was a dark, rainy night and Crystal was outside sitting in her car with a flat tire and no cell phone reception. As she put her head on her steering wheel trying to figure out her next move, she sees a house with a dimly lit window in the distance. Although she is wearing a thick coat, she decides taking it off would make more sense, because the rain water will make it much too heavy. Unfortunately for her, she wasn't wearing a bra and her white undershirt was skimpy with the words, "Yes, These Babies Are Real" on the front, and "YOLO" on the back. She knew she had no choice, so she removed her jacket. Quickly she jumped out of the car and ran as fast as she could to the house with the dimly lit window. The ground is extremely slippery and Crystal loses her footing and falls knee first to the ground, sliding about five feet. As she slides, her thick pants slide off her waist. She gets up, pants down around her knees and nipples poking through her soaked wet shirt. She rubs her knees. Checking herself for injury, thankfully the pockets of her jeans had slid down to her knee area almost creating a knee pad-like protection. Not a mark.
Her pants, however, were ruined. The button was bent and the hip area now had holes. Crystal thought quickly and knew she couldn't run around holding up her pants, so she wisely removed them and headed to the house with the dimly lit window. Soaking wet, with a see through white shirt that says "Yes, These Babies Are Real", the back, "YOLO", and Mickey Mouse panties, she makes it to the front patio. She knocks on the door and a man holding a light saber in one hand and a Canon camera around his neck answers. He looks Crystal up and down and introduces himself as Milhouse. Crystal, soaking wet explains that she has a flat tire and no cell phone reception. Milhouse understands and invites her in.
As she walks in the living room she notices a few couches, one by the fireplace, the other near the window. Milhouse asks if she wants to build a couch fort, but Crystal declines. She says she just needs to use the phone. Milhouse grabs the phone and tries to hand it to Crystal. However, his light saber accidentally cuts off her white shirt that says, "Yes, These Babies Are Real" with "YOLO" on the back. He apologizes profusely and offers to leave the room so she can make the call. She nods and Milhouse turns around to exit the room. However, his foot got tangled in the phone cord and he spins out of control. In fact, he spun so hard his pants and shirt flew off. He hits the floor hard, knees first. Thankfully his underwear slid down just low enough to cover his upper thighs and knees so he didn't hurt himself. Now nearly nude, Milhouse excuses himself from the room. Crystal calls her husband and explains to him the situation. While she is on the phone, she notices the couch begins to rumble and move. Frightened, she pulls off her panties and throws it at the couch. The couch gobbles them up. She screams and hangs up the phone. Milhouse runs into the room and asks what's wrong. Before he can get an answer, he sees his couches, both of them, alive, possessed. He yells for Crystal to get out as he himself charges the couches. Milhouse dives, jumping on the couch like it was a live alligator. Wrestling with the first couch, he stabs it with his light saber, tearing the cushions into shreds. The second couch is chasing Crystal, who is now totally nude. She screams and falls to the floor for no reason before she can get to the door. Milhouse turns around and throws his camera at the couch, but misses and hits Crystal on her chest, more than likely leaving a bruise. He hops off the first possessed couch that he just killed and runs to the second. He takes off his underwear and tries to strangle the second couch, but it throws him across the room. Millhouse lands onto a wooden chest, which pops opens causing dildos and pussy pumps to fly across the floor. He gets up dizzy, also nude, and tries to grab Crystal. Both of them, struggling, crawl to the doorway, hoping to escape. The couch grabs them, both of their feet are now stuck in the cushions. They scream, their knees scrape against the floor, now bleeding, pulling with their hands to get away. Crystal kicks as hard as she can and the couch shrieks in pain letting them go. They both get up and make it outside safe. Nude, yes, but safe, with nothing but a war wound on their knees.
In my humble, forensic scientist opinion, this is probably how these "war wounds" occurred.
However, there are other options, such as they had sex and got couch burns/rug burns. But I'd say that is a bit too far-fetched.
If anyone else can help with any sort of explanation, please feel free to reply.