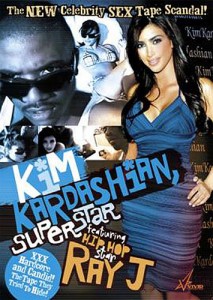 The tape that made Kim Kardashian famous and the only thing we will ever remember what's his name for.
In February 2007, a pornographic home video with The Sinbad Show child actor, Ray J, made with former girlfriend Kim Kardashian in 2003 was made public. Kardashian sued Vivid Entertainment for ownership of the tape. In late April 2007, Kardashian dropped the suit and settled with Vivid Entertainment for $5 million.
Ray J mysteriously ended up with 5 new cars and a mansion yet had nothing to do with selling the tape to Vivid to begin with.   It must have been all that big UPN money he made with his sister Brandy on Moesha.  I also think Ray J did some sort of music once, but most of us remember him from his role as the foster son in The Sinbad Show, and everyone knows he got that Sinbad money.  Our point?  Ray J, you may have "Hit It First" — after a long line of guys that hit it before you that weren't getting that sister's coattail money, but that's your legacy.   Let's see how much we can mentally erase you from each scene as we try to watch Kanye West's baby momma, Kim Kardashian, get busy.
Continue Reading Celebrity Sex Tape Reviews: Kim Kardashian and Ray J