Amateur Couples Aren't Having Sex Better Than You Can
The internet has changed the world. No longer do you need your Dad's old hustler magazine stashed away under your bed. No longer do you need to study the Sears catalog lingerie section to get masturbation material. Sex is everywhere. And not only is sex everywhere, as an amateur couple you can help other lonely souls struggling for fap material.
The days of buying a 30 year old storage unit and accidentally finding a random VHS tape labeled "mommy and daddy time" just to see real couple sex is over.
Oh, this is 2019, me using the term VHS is probably a bit confusing to our 30 and under couples browsing…
VHS (short for Video Home System) is a standard for consumer-level analog video recording on tape cassettes. Developed by Victor Company of Japan (JVC) in the early 1970s. It was released in Japan on September 9, 1976 and in the United States on August 23, 1977.
Amateur Couples Sex And Being Filmed Before The Internet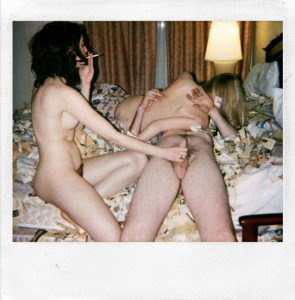 Back in the old days, VHS tapes gave amateurs the ability to record themselves having sex. The good thing was, as long as you were able to afford a video camera, you didn't have to take your videos anywhere to get them developed. However, the amateurs recording in those days couldn't compare at all to the professional porn. There was also no way to really share.
Prior to video cameras being affordable, an average amateur couple really just had still photography. Because we couldn't develop our own photos (unless we had a dark room), we had to take our film to be developed at a photo lab. Only a true voyeur would dare leave the photo technician with a roll of homemade amateur smut. The way around being overexposed to your entire local Kodak photo lab staff was owning a Polaroid camera. To this day I still have a stash of Polaroids Venice and I took in our teenage days!
Again, still photography on Polaroids just couldn't compete with the professional porn at the time. In fact, they couldn't compete with anything. Other than sexy memories with bad lightening, it was more of a way for you to you have pictures with horrible filters (not filters back then, just the way the photos looked), for memory sake, much like people have Instagram accounts now. So when people said, "Oh sex isn't like porn, that's fake." They were actually correct. Professional porn was nothing like real amateur sex.
Times Have Changed: Time for Professional Counselors, Sex Therapists, and Reddit Advice Givers to Give Up Those Stale Clichés
In 2019, professional porn tries their hardest to imitate amateur porn. Authenticity is much more sexy than watching actors fuck for money. It's also more believable.
Continue Reading Amateur Couples On Webcam ( Porn ) Aren't Having Sex Better Than You Can