Amateur Couples Aren't Having Sex Better Than You Can
The internet has changed the world. No longer do you need your Dad's old hustler magazine stashed away under your bed. No longer do you need to study the Sears catalog lingerie section to get masturbation material. Sex is everywhere. And not only is sex everywhere, as an amateur couple you can help other lonely souls struggling for fap material.
The days of buying a 30 year old storage unit and accidentally finding a random VHS tape labeled "mommy and daddy time" just to see real couple sex is over.
Oh, this is 2019, me using the term VHS is probably a bit confusing to our 30 and under couples browsing…
VHS (short for Video Home System) is a standard for consumer-level analog video recording on tape cassettes. Developed by Victor Company of Japan (JVC) in the early 1970s. It was released in Japan on September 9, 1976 and in the United States on August 23, 1977.
Amateur Couples Sex And Being Filmed Before The Internet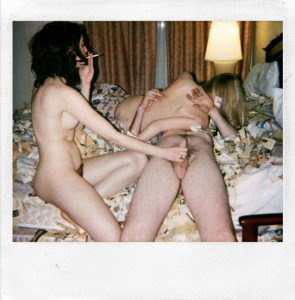 Back in the old days, VHS tapes gave amateurs the ability to record themselves having sex. The good thing was, as long as you were able to afford a video camera, you didn't have to take your videos anywhere to get them developed. However, the amateurs recording in those days couldn't compare at all to the professional porn. There was also no way to really share.
Prior to video cameras being affordable, an average amateur couple really just had still photography. Because we couldn't develop our own photos (unless we had a dark room), we had to take our film to be developed at a photo lab. Only a true voyeur would dare leave the photo technician with a roll of homemade amateur smut. The way around being overexposed to your entire local Kodak photo lab staff was owning a Polaroid camera. To this day I still have a stash of Polaroids Venice and I took in our teenage days!
Again, still photography on Polaroids just couldn't compete with the professional porn at the time. In fact, they couldn't compete with anything. Other than sexy memories with bad lightening, it was more of a way for you to you have pictures with horrible filters (not filters back then, just the way the photos looked), for memory sake, much like people have Instagram accounts now. So when people said, "Oh sex isn't like porn, that's fake." They were actually correct. Professional porn was nothing like real amateur sex.
Times Have Changed: Time for Professional Counselors, Sex Therapists, and Reddit Advice Givers to Give Up Those Stale Clichés
In 2019, professional porn tries their hardest to imitate amateur porn. Authenticity is much more sexy than watching actors fuck for money. It's also more believable.
Our Amateur Sex Film Career in a Nut Shell
When we started our blog we had a huge archive of amateur sex videos that we would upload. Over the years we have gradually removed almost all our videos, but our whole blog started with step by step tutorials of how we fucked with videos that verified what we had written! We were silly little horny fucks.
Sorry for all those that have visited our amateur webpage with promises of videos going along with our blogs only to be met with [DELETED]. The power of never being famous and making mediocre quality videos is that when they disappear, no one notices! They used to tell us, "Don't upload your sex videos because it's online forever!" In this day and age, don't flatter yourself. Your porn isn't online forever if you aren't deepthroating a dildo the size of your entire arm. Not these days. No one cares, and we aren't as unique as we'd like to believe. There is just too much amateur porn floating around for anyone to care about yours. Rather than fapping, saving to the hard drive, and revisiting it later. It's more about, go to the amateur videos on Pornhub, masturbate to the first 10 videos before you finally cum, and tomorrow there will be 10 more new ones waiting for you on the front page. And no one really caring anymore is a good thing. Because people caring too much about what you do in your sex life was the biggest thing that kept amateur couples all over the world from uploading their random videos and sharing their sex sessions with the rest of us.
And the result?
The realest sex we will ever see in porn.
The Sex You See In Amateur Porn Is POSSIBLE For Everyone
The biggest criticism of the porn industry, especially with marriage counselors, "Porn sex isn't real. You can't have sex like you see in porn." Well now you can. And couples do. And there are 1000s of couples out there fucking on camera for free, showing you that not only do they fuck each other with enthusiasm, but they fuck each other just as good as any porn you have ever seen…if not better. The sweat is real. The moans are real. The effort is real. The orgasms are real. There are not cut scenes or breaks between position changes. Money isn't being exchanged for enthusiasm. The dicks are better. The women are natural…yes even with our beautiful flaws and everything. It's just real sex being recorded. And the only thing slightly exaggerated is we tend to do our best while a camera is recording. And that's a good thing! Fuck like a camera is recording. What's even better? No weird gaussian blur that makes sex look like a lifetime movie. Amateur couples are the real MVPs. Salute to all the amateurs out there contributing to the idea that sex can be better than professional porn, if you want it to be.