Sex Toy Review: Animal Tail Butt Plug
Hey guys! Today we are putting the foxy into foxy lady…literally, with the Fox Tail Butt Plug. What better way to make sex more animalistic by adding an animal tail into the mix!
As some of our readers know, we have a long history with dealing with butt plugs.
His perspective on Anal Butt Plugs.
Her perspective on Anal Butt Plugs.
We have always been a strong advocate of butt plugs, done various photo shoots with both of us wearing them, and was one of the first sex blogs online to really embrace and be so open about our "hidden treasures."
With that said, this animal tail butt plug is a great item that can be fun to wear for photo shoots, role play, or just feeling sexy. Obviously I will not be walking around the office with a fox tail shoved up my booty, but nonetheless, I really enjoy this thing. A big thank you to bestvibe.com for always having great service. As always, just a reminder that we are not sponsored or affiliated with any sellers, nor do we sell any products online.
The insert itself is small with a soft black coating so it fits comfortably inside your anus. For me, the size is perfect. Another plus is that you can wear this butt plug while having sex. Butt plugs do make the vagina tighter, because the plug takes up "body" space. Regardless if the plug is in your anus, all butt plugs make the space of the vagina much tighter. If ya don't know… now you know.
Drop some Big Poppa on 'em.
Look at me turning my sex toy review into a rock concert!
The Big Bonus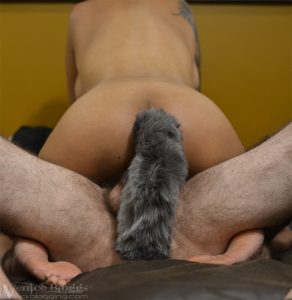 With the tail attached, the animal tail butt plug can also be a ball, ass, and taint tickler while you ride him. Personally, I have never heard of this benefit, but it's real. The tail actually can be shaped (it has a rod that bends inside so you can shape it for photo shoots or sexual positions) so as you ride him you can curve it so it rubs against his taint and ass while you are on top of him. That, along with less space in your vagina, makes for a happy husband.
You're welcome fellas!
Fluffy Fox Tail Butt Plug – $20.79
---
We are not affiliated with bestvibe.com and get no revenue / commission from this review. We are just sharing our experiences with our readers. This item was sent to us as a promotional product, with a disclaimer from us, that if we did not like the product, we will not review it.