We have decided to add erotic photography of us to our blog each Wednesday, now known as Snapshot Wednesday. These won't be low quality candids or shots taken from our cell phones, these will be photographs we love from our own little photo shoots. Hopefully these pictures will come out more like tasteful erotic art rather than amateur pornography. We will update the gallery each week with a new photo to share with our blog followers.
This week we have named our photo "Dirty Girl." I am definitely that. Unfortunately fellas, not only is there not much of a story here, but the focal point is a big man hole. For the dirty girls like me though? You're welcome.
We purposely set this shot up to look just like this. The only real problem we had during this photo shoot was I kept putting my tongue on or over his ass hole and my face would cover up too much of the photo. I had to be reminded more than once to move my face and tongue away from Ryan's hole so we could get a clear shot. Too bad I don't have a longer tongue.
As an extra bonus, I am going to include the photo that inspired this shot.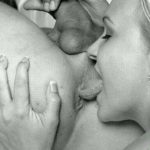 Well, as you can see her tongue is clearly on his ass hole, why couldn't mine be? Hmph. Anyway, we had to zoom in a bit more to get less face, more ass, and really didn't have room to show Ryan's cock. Although I was holding it for him in the photo, it would have been our own version of the same concept. We were inspired by this photo but we wanted to add our own touches.