7 Years – Our Christmas Past and Present (s)
Santa's Sex Workshop
It all started in December 2012 with our 25 day photo shoot we did leading up until Christmas. It was actually a bigger task than we thought it would be. But we had fun and 25 days of memories. Now, in 2019, we are going to try and do a more comedic approach maybe. Maybe sexy. We will try to reverse roles and see how the pictures turn out. I assume silly as hell, but it should be fun…
Let's stop the intro there for this one….
Look closely at the picture above. Because we did try a role reversal photo. We set up a smaller tree, the train tracks, and even had a yo-yo, although a different color. And let me just say, the panties were no longer pink, but more of an off grey with a touch of pink. Yes, we still had the same panties! The ass was that of an old hairy man with skinny legs (me?!), and the bulge was an actual hairy ball sack. In my mind, it could have been great. If I was young with a sublime ass. If I was still shaving and perfectly trimmed. If I had been doing squats for the last 10 years and my body was a perfect sculpture of the statue of David. Alas, this photo shoot wasn't meant to be published. If you are on social media and happened to click in, you are welcome. If you just came by the blog for the first time, you are welcome too! But thankfully it's the spirit of Christmas here at our blog, and it's the thought that counts!
What I did do last night for the first time was put on a pair of my wife's old panties. This isn't something I ever found sexy to look at, but I did get a strong feeling of connection. So much so, that I suggest I start wearing her used panties the next day after she wore them. I know, I am embarrassed even typing that. A bit emasculating, but my response from her was pretty intense. My wife said, "That would be so hot. Like almost complete pussy and body worship." So we will see what happens with that.
Otherwise, let me add to our previous blog. Here is our favorite little hidden gem we found last year when we were making a lo fi Christmas playlist. Our new tradition for our December 1 blog: We LOVE the movie National Lampoon's Christmas Vacation.
*edit: We added the photo from the 2019 photo shoot. This is your last warning. lol. Do not scroll down unless you want to see old man ass in pink panties!
Christmas Past – December 2, 2012
Christmas Past – December 2, 2019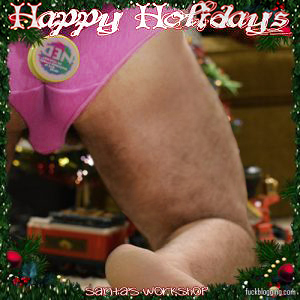 Sorry guys, Venice made me post it! I warned you!