Naughty Selfies – Peekaboo or Peak at a Booty
I'll try to keep these selfies limited to new outfits, panties, and ideas, rather than the exact same poses and panties every day. Thankfully, I do change my panties! Unfortunately, until I learn how to stretch and morph my body into alien-like positions, I am a bit limited at what I can do with my camera!
Dear Naughty Selfie Diary: Saying goodbye to 2019
Don't let the door hit me on the way out!
Peekaboo, or peak at a booty. Selfie I took at work in the bathroom for my husband. Please, no backhanded jokes you guys. This is pretty self explanatory…with no real back...story here…
Butt…if you look real close at my ass cheeks maybe you can see a back story?
Okay, let me just be up front with you, I decided that a cool way to hang out with you guys on this post was to just make a bunch of back jokes. Now that I am forward looking, I am looking forward to ending this blog properly. No pun jokes… just me being very serious and saving face. I just need to stop letting it all hang out and hold myself to higher standards sometimes.
---
As of late, I have started sharing my husband's selfies of him the following day wearing my used panties! This is something we both enjoy.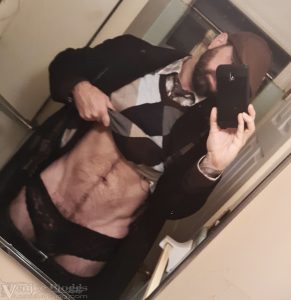 ---
You can buy these used panties if you like. Click here to find out size and your special request! Want to see some other designs? You can check out all my naughty selfies here!