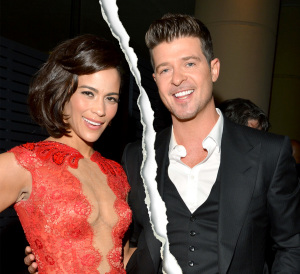 Venice: It comes to no surprise to me that actress, Paula Patton, wife of singer Robin Thicke, has finally filed for divorce. I'm not going to go on about "she was too good for him anyway" the way the Ricky Smiley morning radio show did this morning, because she's not. Paula Patton and Robin Thicke are two beautiful people whose relationship was enviable because of the length of time they'd been together (since they were 14 years old), which is right up there with Denzel & Pauletta Washington (married 31 years) and Kevin Bacon & Kyra Sedgwick (married 26 years). That is the primary reason I had for going "Aww" every time I saw them in a picture together. I'm sure there are other couples who've been together longer, but these are the ones that come to mind from my generation. Celebrity or not, you gotta love relationships that (may or may not) outlast their careers.
Ryan: I've never heard of either of them.
Venice: Anyway, so upon hearing the news about Robin & Paula's divorce, I was kind of ehh about it, as if this was something to be expected. Why? There had been rumors about them having threesomes and even being in an open relationship. While I don't think monogamy or open relationships have anything to do with having a successful marriage, I do believe that their communication has at some point been askewed. I refuse to make a blurred lines joke. It's been reported that during their two-year threesome affair with a female massage therapist, Paula caught the other woman and her man together. Is this true? Who knows. Only three people in the world know the answer to that. He threatened to sue the magazine for slander because he claims that was a lie. He may drop case completely or even settle quietly in the background because who wants to be remembered as a cheater? Not him. 'Cause how you gonna make song after song about being in love with a woman (also your baby's mama) and then cheat on her? You lost all your proverbial street cred, Robin.
Ryan: Oh is this the guy that did the twerk thing on VH1 with Billy Bob Thornton's daughter?!
Continue Reading Open Relationships (Threesomes) In Hollywood – Robin Thicke and Paula Patton Divorce