Vagception – Inserting a Fleshlight Sleeve into My Vagina and Then Having Sex
Years ago my husband and I had a lot of spare toys laying around that we weren't going to use again. We either reviewed them once and threw them to the side or just never opened them. One of the spare things we had laying around was a Fleshlight sleeve. A great idea we had was for me to try to slide this thing inside my vagina and let him have sex with it inside me. This would create an intense tight sensation for him, as well as an extreme full sensation for me. This process has been dubbed, Vagception.
Inserting a Fleshlight Sleeve into My Vagina Experiment:
My Hypothesis:
Inserting a Fleshlight into my body may give my husband the tightest sensation possible. It will also be a neat sensation for me since my vagina will be double stuffed.
The Procedure:
Putting this damn thing inside me was like putting a wet water balloon inside of a keyhole. After about 10 minutes of this thing flopping around like a wet fish, we decided to cut off about 1/3rd of the length. This way it wasn't as long and the tip would be open so his penis head could slide through and actually feel the back of my vagina. To be honest, using my fingers and feeling inside my own vagina, I have about 4 inches of space before I bottom out. The bottom of a vagina in the back can stretch, but I wouldn't want this sleeve to stretch me. Cutting the sleeve would also allow my husband to cum and have his semen actually shoot inside me.
After about 10 minutes of this thing flopping around like a wet fish…
Now that the sleeve was much shorter, it was easier to control. This gave me the ability to squeeze the tip and slide it inside my body. I could then use my fingers in the sleeve hole to push the sleeve totally inside my vagina.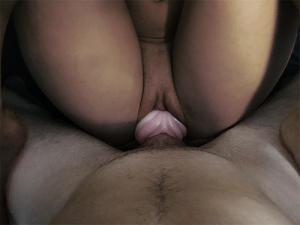 Once inserted, my husband lubricated the flashlight sleeve and stuck his penis inside. I didn't feel any friction, just this full balloon feeling. As his penis slid inside the Fleshlight sleeve, the entire thing expanded inside me. This feeling was intense, but more intense in a science project way than sexual. I guess you can say, it was as intense as smuggling contraband into a prison in your vagina. A "that's neat" intense. Or a "dang, you can really use this hole as luggage compartment if you had too" type neat.
Either way, my husband tried to fuck me but because the sleeve was being held by a wet vagina, it would come out with his penis. In a sense, the insert became more of a thick condom. Except this condom wasn't going to go back inside me. So instead, my vagina became a blocker that would push the sleeve down on his penis (instead of inside me), as his head could now only penetrate a few inches. It didn't take long for my husband to pull this damn thing off and fuck me with his actual dick.
Conclusion:
Do what makes you happy. Enjoy sex and your bodies like it is a science project. This is what drove us when we were young. Curiousity and wondering what something will be like, is why we were so damn excited about having sex in the first place. It's why we dreamed about it before we ever did it. The unknown creates excitement. And if it isn't as good as you thought it would be, no big deal.
Because the idea was more exciting than the actual experience, we wouldn't really do this again. However, it was something fun to try.
---
Follow up question for Vagception: Inserting a Fleshlight Sleeve Into My Vagina Experiment
After two children I was not as tight as I was and my husband was having difficulty because there was not enough friction for him. I felt guilty because I can easily cum with a vibrator so I bought my husband a fleshlight and he uses it while I use my vibrator and that's great but I miss the intimacy of having him on top of me cumming in me. So one day I'm looking at the fleshlight insert and it's really soft and it occurs to me that it probably would fit into my vagina and surprisingly it did. The insert is big but it's really squishy and it actually felt good inside. Best way to describe it is feeling "full". That night I told my husband I had a surprise for him and asked him to get on top of me and enter me vaginally and told him my vagina was going to feel different. When he put his penis into me he was like wow! I then told him I had the fleshlight insert inside my vagina and that it felt good for me when he fucks it because it makes it expand inside me. He was a little hesitant at first but I told him he was making me feel so full and begged him to fuck me hard and in no time he said he was going to cum. I told him to go ahead and he came harder than I think he had in 10 years. He asked me afterwards if it had really felt good to me and I told him it felt like he was as big around as a Coke can. I asked him if it was better than holding the fleshlight and he said yes! And I told him that from now on, he wouldn't have too.

Our only concern is, is this safe? I would think that the insert would be non-toxic.
If it is safe for his penis, it's safe for your vagina.
---
Disclaimer: The original blog was posted in 2014-2015 and had a video w/ pictures that have since been deleted.