Question for Women: I Just Had The Worst Sex Of My Life, TWICE. How do I deal with this?
Oh my god. The pain. RIP vagina.
I'm 26 and the guy I'm sleeping with is 22. Initially, I was worried because of the age difference (especially in bed per sexual experience) but we've been friends for years and there's always been a lot of sexual tension between us. So I invited him over to hang out and next thing I know I'm being jackhammered.
Now I'm not here to insult anyone who enjoys being jackhammered, and I am going to mention some rough sex is really good when it's right. HOWEVER, this was undeniably the most painful and worst sexual experience I've ever had… twice..
First of all, this guy has a big package. Girth and length, so I knew it would take some easing into. Second of all, I could immediately tell how awfully desensitized he was when there was little to no reaction to my hands/mouth. And third, he didn't even orgasm after an hour of sex and an hour of pounding me. I'm so incredibly shocked and disturbed by the entire ordeal I had no idea where to get it out but here.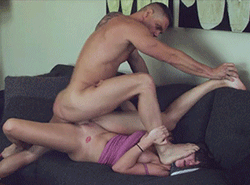 The first time we had sex he went wild. He was ripping me around the bed, licking my butthole, putting fingers in every hole possible, choking me, jackhammering me. (Talk about boundaries?!) I was so shocked by it all I was barely able to communicate properly. I was so uncomfortable. I mentioned to him "do you ever have slow sex?" "woah relax" but he was not taking any hints. I actually had to stop him after 45 minutes because my vagina was so raw and he was not even close to climaxing. I chalked it up to him being young and nervous and just trying to impress me by doing anything he can think of but I was so wrong.
I figured I would mention it to him if we ended up in bed again. The second time when we were making out I made a joke that I was scared to sleep with him because he's A) huge and B) crazy (not in a good way) he needs to slow down.. So he spent extra time touching me, going down on me, was slow to jump into sex, but when we did get into sex he was insane. He had no reaction to me riding him, NONE. Instead, he fucked me even harder than the last time and the only way he could cum was by literally jackhammering me forever. It was fucking horrible and so painful.
Here's the thing. We were good friends before all of this and it's safe to say I never want to sleep with him again, but he is really into me. He texts me to hang out all the time, takes me on nice dates, spends hours talking to me.. but the sex is just terrible.. I know he's going to ask what's up when I tell him I'm not interested in sleeping with him and I want to lay it all out for the poor guy before he goes into his prime 20's thinking that's how women want to be fucked. He's clearly got a major death grip/porn addiction and it's disturbing. So how do I navigate this?!!
Venice's response
to worse sex of my life
Interesting story. This is extremely simple to navigate… tell him.
Because sexual experiences are subjective and some women find getting their brains fucked out by a 20 year old stud as great sex, I don't think he will be ruined by your preferences. Just make sure he knows, it's not all women, but your preference. It also may be because who wants to be jackhammered and have your pussy fucked raw by a guy you see as an adorable pal that you chit chat with but never really wanted to fuck in the first place?
Just let him know your deal.
On another note, I find it unusual you can tell he has a "death grip/porn addiction" based off being jackhammered by a young stud that wants to fuck your brains out.
Ryan's response
to worse sex of my life
I agree with Venice. Although the story is fun, this is an extremely easy one. Tell him.
As far as riding him and being able to tell he has death grip? Huh? Being rode is a much different sensation than doggy, missionary, or any type of penetration where the man can control how his penis pistons inside a woman. In fact, I'd say being rode gives the least sensation simply because it kind of just stirs the penis inside the women, just rubbing around her insides, rather than pistoning in and out. It's a good sensation, but a lot of guys will flip you over and really fuck you down before we orgasm. And it's not because of death grip or a porn addiction. It's because that stirring sensation really gets us horny but not quite enough sensation to get that release. Frustrated, we really take it out on a woman's pussy when we get on top of her.
The same can be said for the hand or mouth, as a lot of men just can't orgasm from oral sex. A mouth feels amazing, but just can't compare to a tight vagina.
Otherwise, good luck navigating this friendship. I'd say you got in over your head with a guy that had been dreaming of fucking your brains out, while you saw him as a casual friend that you probably don't desire. And you really don't want your brains fucked out by a guy you have little desire for. Probably a bit embarrassing to get your back blown out by a guy you kind wanted on the side as you found a real love interest.