31 Days of Swallowing Cum Shots
Our 31 day cum shot challenge that went viral and inspired various articles from mainstream magazines and websites. With all that attention we got cold feet and removed the photos. The gift and the curse. However, things have calmed down and we have re-added a few of our favorites.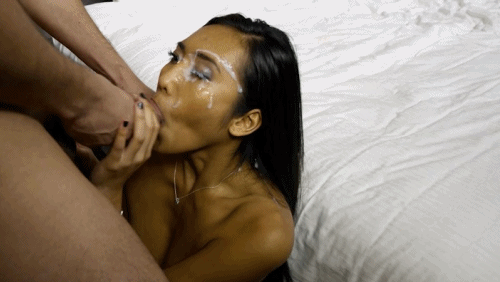 After our "Merry XXXmas" photos, I knew I had to think of a new theme for the upcoming new year. And what better way than to have "31 Days of Swallowing Cum Shots" for the month of January. Although his aim isn't always the greatest and some may end up on my chest, lips, chin, nose, cheeks, hair, or eyes, I am hoping to drink my husband's cum for 31 days.
The Plan: 31 Days of Swallowing Cum Shots
What I've perfected is making sure my husband's balls are emptied out on a daily basis, sometimes twice. And because I ensure he cums, it seemed like a neat idea to share the different cum shots. Maybe I'll even come up with new creative ways to swallow his cum. I never get tired of making my husband cum. As silly as it sounds, for me, it's like a mini adventure getting him to orgasm. And depending on where he is going to cum (e.g. my mouth, ass, or pussy) my dirty talk varies. For these 31 days of swallowing cum shots, I anticipate he will go from pussy to mouth or ass to mouth as he cums. This means if he's going to have to move pretty quickly! And if he's face fucking or if I'm deepthroating him, I have to keep myself from holding him down in my mouth and letting his cum shoot straight into my throat. Why? Because it wouldn't be a very good photo shoot blog if we just had pictures of me and his dick totally dry because all of his cum is in my stomach right?
The History: 31 Days of Swallowing Cum Shots
To be honest, I didn't always eat cum with such a positive attitude. I did it just to do it, but I didn't have a strong interest or desire for it. I understand why women don't want to swallow their man's cum because they don't like the taste of semen. But in my opinion, it's like smoking a cigarette. If you've ever smoked a cigarette, (even once and then never again) you coughed, gagged, maybe even spit up, maybe even so much so that you vowed to stay away from cigarettes once and for all. Or you may have tried it again and again, succumbing to peer pressure and the need to fit in until eventually you develop an addiction to it. My addiction has been one that came from the mutual understanding that my husband and I worship each other's bodies. I view everything about him as a temple. The vitamins in his semen are a meal for me. He keeps me alive. Don't feel sorry for me ladies. I am not brainwashed. My husband has a tattoo of my name on his penis, wears my used panties daily, and devotes himself and his time to me. It's how our circle works. We have even made a cocktails with our bodies and drank a wonderful mix of each others' body fluids.
Sick huh?
Love sick maybe. And that's just the tip of the iceberg.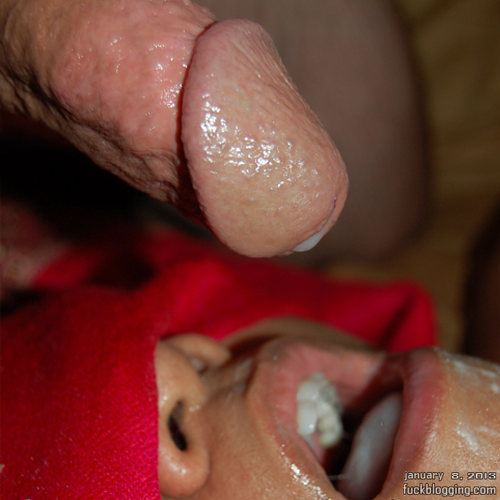 This state of mind has given me a new outlook on swallowing my husband's cum. Because now it turns me on knowing my man's juices are sitting in his body ready to explode inside me. Before, when I was "normal", I couldn't even tell him I wanted to taste his cum. I had too much pride. I didn't want to seem slutty or show excitement. I can't explain why. But now I will beg for him to feed me his fluids. I love his reaction when I tell him I want my breakfast to be whatever is in his ball sack. I love the thrill of going wild over his cum – rubbing it all over my breasts, gargling it, and letting it drip out of the corners of my mouth and down my neck while he watches me.
So let's see what swallowing him for an entire month does for us.
31 Days of Swallowing Cum Shots
Cum shots never get old. I will show you 31 reasons why.
After the 31 days I will do a quick update here on how the month went, how it was to drink him for a full month, and all the little bloopers I am sure we will go through along the way.
The Conclusion: 31 Days of Swallowing Cum Shots
Since this project, we have turned our life into a intimacy project. I make my husband cum twice a day, as a intimacy ritual. We call this Our Circle. Since this post, as of December 2019, we have been intimate twice a day, every day, since the publishing of this original blog in January 2013. How is that for a challenge? A 7 years of swallowing his cum twice a day challenge? Although a bit of an exaggeration, we alternate where my husband cum goes. By the way, obviously we do not participate in No Nut November.