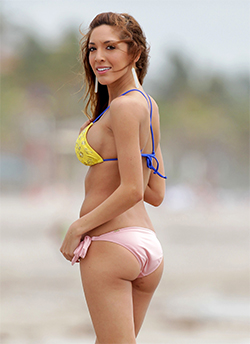 Farah Abraham
2013: The MTV personality announced that she had filmed a sex tape with porn star/actor James Deen. She claimed the video is a celebration of her body and nothing more.
More about Farah Abraham:
Farrah Lynn Abraham (born May 31, 1991) is an American reality television personality. Born in Omaha, Nebraska, and raised in Council Bluffs, Iowa, she came to prominence after being cast in the reality television series 16 and Pregnant in 2009, which documented the pregnancies and first months of motherhood for several young women. Later that year she was cast in the spin-off series Teen Mom, and appeared in each of its four seasons until its conclusion in 2012. That August she released her debut studio album and first memoir, both of which were titled My Teenage Dream Ended. The book made it onto The New York Times Best Seller list, while the album was named the 32nd best album of 2012 by The Guardian, which called it "the weirdest record you've heard this year. A truly bizarre mix of generic Guetta-pop beats, drilling sounds, and Abraham's abrasive AutoTuned vocals".
In 2013, Abraham gained worldwide notoriety after the release of the 'sex tape' Farrah Superstar: Backdoor Teen Mom, in which she appeared with adult-film star James Deen; its sequel Farrah 2: Backdoor and More included unused footage from the first shoot and was released the following year. In 2014, she appeared on the fourth season of Couples Therapy individually; in doing so, she became the first cast member to participate without a partner. In 2015, she returned to Teen Mom with the spin-off series Teen Mom OG.
Farrah Abraham Sex Tape Review
---
Pamela Anderson
1998: The honeymoon Pamela and her then-husband Tommy Lee was captured on camera by the couple and later leaked online by Internet Entertainment Group. It's one of the first online celeb sex tape scandals. 2005: A DVD of Pamela and Bret Michaels was released.
More about Pamela Anderson:
Pamela Denise Anderson (born July 1, 1967) is a Canadian-American actress. In addition to her acting career, she is also a model, producer, author, activist and a former showgirl, known for her roles on the television series Home Improvement, Baywatch and V.I.P.. She was chosen as a Playmate of the Month for Playboy magazine in February 1990. For a time, she was known as Pamela Anderson Lee (or Pamela Lee) after marrying Mötley Crüe drummer Tommy Lee. Anderson is a member of the animal rights movement and has conducted campaigns condemning the commercial fur industry and promoting veganism through the animal rights organization People for the Ethical Treatment of Animals (PETA). In 2006, she was inducted into Canada's Walk of Fame.

Pamela Anderson Sex Tape Review
---
Tyson Beckford
2012: The model jerked off in a chat room that was captured on camera and subsequently shopped around. But no one bought it.
More about Tyson Beckford:
Tyson Beckford (born December 19, 1970) is an American fashion model and actor, best known as a Ralph Lauren Polo model. He was also the host of both seasons of the Bravo program Make Me a Supermodel.

---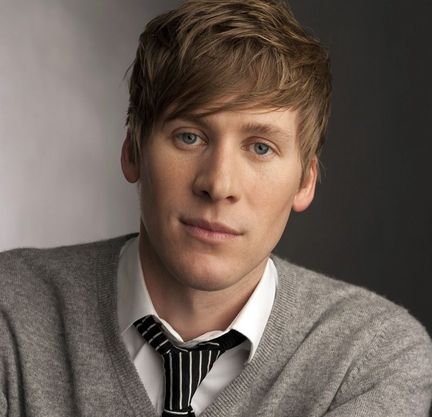 Dustin Lance Black
2009: Perez Hilton posted a video of the Milk screenwriter having unprotected sex with an unidentified man.
More about Dustin Lance Black:
Dustin Lance Black (born June 10, 1974) is an American screenwriter, director, film and television producer and LGBT rights activist. He has won a Writers Guild of America Award and an Academy Award for the 2008 film Milk.
Black is a founding board member of the American Foundation for Equal Rights and writer of 8, a staged reenactment of the federal trial that led to a federal court's overturn of California's Proposition 8.
---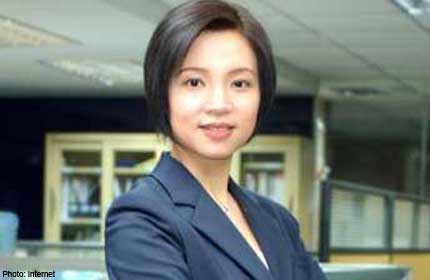 Mei-feng Chu
2001: A camera secretly captured the Taipei City Councilwoman having sex with a married man. After the tape was released by local paparazzi, Mei-feng quit her job and left the country.
More about Mei-feng Chu:
Chu Mei-feng (born August 5, 1966) is a Taiwanese TV journalist, former Taipei City councillor and the former director of Hsinchu City's Bureau of Cultural Affairs.

---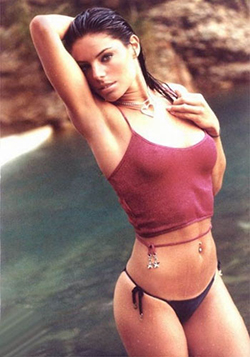 Daniela Cicarelli
2006: A video of the MTV Brasil host and her boyfriend having sex on the beach was shown on the TV show Dolce Vita before making its way to the internet.
More about Daniela Cicarelli:
Daniella Cicarelli Lemos (born November 6, 1978) is a former TV show hostess for MTV Brasil and fashion model. She was engaged to Brazilian footballer Ronaldo for three months in 2005.

---
Tulisa Contostavlos
2012: In a video, supposedly leaked by her ex-boyfriend Justin Edwards showed the X Factor judge giving a blow job to rapper.
About Tulisa Contostavlos:
Tula Paulinea "Tulisa" Contostavlos (born 13 July 1988), known mononymously as Tulisa, is an English singer-songwriter, actress, and television personality. She is known for being a member of the defunct Camden-based hip hop group N-Dubz, with her cousin Dappy and their friend Fazer. N-Dubz was formed in 2000 and released three studio albums before announcing an indefinite hiatus in 2011.
During 2011 to 2012, Contostavlos participated as a judge on the The X Factor. She mentored the "Groups" category in her first year, including Little Mix, the first ever group to win the competition. On 16 March 2012, during a Twitter dispute with Dappy, Contostavlos announced that N-Dubz had split up, and were not taking a break as stated in 2011. Contostavlos released her debut solo album, The Female Boss, on 3 December 2012. It received unfavorable reviews from contemporary music critics and poor first-week sales. However, its lead single "Young" managed to top the UK Singles Chart.
---
Dustin Diamond
2006: The Saved By The Bell star released his own, authorized sex tape in an effort to boost his career.
More about Dustin Diamond:
Dustin Neil Diamond (born January 7, 1977) is an American actor, musician, director, and stand-up comedian best known for his role as Samuel "Screech" Powers in the television shows Saved by the Bell, Good Morning, Miss Bliss, Saved by the Bell: The College Years and Saved by the Bell: The New Class.
---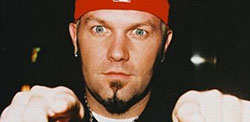 Fred Durst
2005: A video of the Limp Bizkit frontman and a woman having sex made its way to the internet after it was stolen off his computer by a repairman.
More about Fred Durst:
Has a smaller penis than Screech from Saved by the Bell. William Frederick "Fred" Durst (born August 20, 1970) is an American musician and film director from Jacksonville, Florida. He spent his formative years playing in a number of local bands in Jacksonville, Florida while mowing lawns and working as a tattoo artist for financial support. Durst is best known as the vocalist of the multi-platinum nu metal band Limp Bizkit, formed in 1994, with whom he has released six studio albums.
Since 2006, Durst has also become known for his work in independent films. He costarred in the film Population 436, and made his directorial debut in 2007 with the film The Education of Charlie Banks. Durst directed a second film, The Longshots, in 2008. Durst has been ranked in the Top 100 Heavy Metal Vocalists by Hit Parader (#71).
---
John Edwards
2010: The former Senator and Presidential candidate filmed himself having sex with his mistress Rielle Hunter, who was reportedly pregnant with his child at the time. The tape was discovered by a former aide and led to the fallout of his political career.
About John Edwards:
Johnny Reid "John" Edwards (born June 10, 1953) is an American politician, who served as a U.S. Senator from North Carolina. He was the Democratic nominee for Vice President in 2004, and was a candidate for the Democratic presidential nomination in 2004 and 2008.
Edwards defeated incumbent Republican Lauch Faircloth in North Carolina's 1998 Senate election. Towards the end of his single six-year term, he sought the Democratic Party's nomination in the 2004 presidential election. He eventually became the 2004 Democratic candidate for vice president, the running mate of presidential nominee Senator John Kerry of Massachusetts.
Following Kerry's loss to incumbent President George W. Bush, Edwards began working full-time at the One America Committee, a political action committee he established in 2001, and was appointed director of the Center on Poverty, Work and Opportunity at the University of North Carolina at Chapel Hill School of Law. He was also a consultant for Fortress Investment Group LLC.
A federal grand jury in North Carolina indicted Edwards in 2011 on six felony charges of violating multiple federal campaign contribution laws to cover up an extramarital affair to which he admitted following his 2008 campaign. Edwards was found not guilty on one count, and the judge declared a mistrial on the remaining five charges, as the jury was unable to come to an agreement. The Justice Department dropped the remaining charges and did not attempt to retry Edwards.
---
Colin Farrell
2006: Even though he tried to block the distribution of a 13-minute sex tape of him and Nicole Narain, it leaked online.
More about Colin Farrell:
Colin James Farrell (born 31 May 1976) is an Irish actor. He first appeared on the BBC's TV drama Ballykissangel in 1998, made his film debut in the Tim Roth-directed drama The War Zone a year later and was discovered by Hollywood when Joel Schumacher cast him in the lead in his war drama Tigerland (2000). He then starred in Schumacher's psychological thriller Phone Booth (2002) and the American thrillers S.W.A.T. and The Recruit (both 2003), establishing his international box-office appeal. During that time, he also appeared in Steven Spielberg's science fiction thriller Minority Report (2002) and as the villain Bullseye in the Daredevil superhero film (2003). After starring in the independent films Intermission (2003) and A Home at the End of the World (2004) he headed Oliver Stone's biopic Alexander (2004) and the Terrence Malick's The New World (2005).

Work in Michael Mann's Miami Vice, the adaptation of John Fante's Ask the Dust (both 2006) and Woody Allen's Cassandra's Dream (2007) followed, underscoring Farrell's popularity among Hollywood writers and directors; however, it was for his role in Martin McDonagh's In Bruges (2008) that he received a Golden Globe Award. In recent years, he co-starred in the comedy-horror film Fright Night (2011) and the sci-fi action film Total Recall (2012), both remakes, and McDonagh's second feature, the black comedy crime film Seven Psychopaths (2012). Farrell also starred with Noomi Rapace in the Niels Arden Oplev-directed action film Dead Man Down, and as Travers Goff in the period drama Saving Mr. Banks (both in 2013) about the author of Mary Poppins. In 2014, Farrell starred as Peter Lake in the supernatural fable Winter's Tale (2014), an adaptation of the novel of the same name by Mark Helprin. In 2015, he starred as Detective Ray Velcoro in the second season of HBO's True Detective, alongside Vince Vaughn and Rachel McAdams.
A favourite with film critics like Peter Bradshaw, Manohla Dargis and Roger Ebert in the 2000s, Farrell developed a reputation as a lothario and dated numerous famous women for a time. And also, he has jungle fever.
---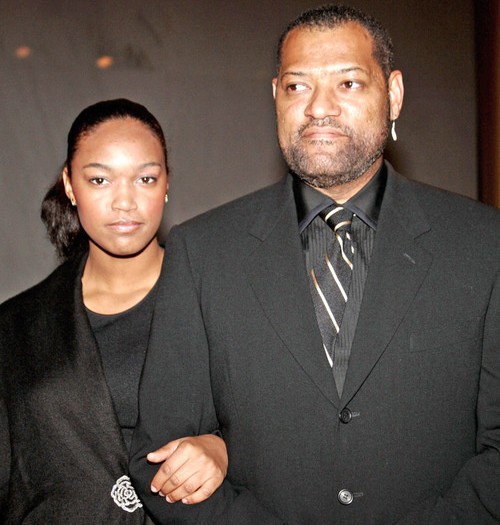 Montana Fishburne
2010: The daughter of Laurence Fishburne was the subject of a sex tape leaked by Freaky Empire. It showed her and porn star Brian Pumper having sex. It's a bizarre one because Montana is also a porn star.
About Montana Fishburne:
Montana Fishburne, a.k.a. Chippy D, is the daughter of CSI star Laurence Fishburne. At 19 years old she became a porn star. The Chippy D sex tape (that's her nickname) was released in August 2010. She may or may not have done work prior to that. On tape, that is. She was definitely a prostitute. Pretty disturbing stuff, but at least she's up front about wanting to be in porn. Other stars claim their sex tapes were leaked. Montana Fishburne made one and pitched it to Vivid. Entrepreneurial spirit!
---
Tonya Harding
1994: Penthouse released the sex tape of former Olympic ice skater and her ex-husband Jeff Gillooly that allegedly took place on their wedding night. It didn't. It was a Halloween costume.
More about Tonya Harding:
Tonya Maxene Harding (born November 12, 1970) is an American former figure skating champion, a two-time Olympian, and a two-time Skate America Champion. In 1991, she won the U.S. Figure Skating Championships and placed second in the World Championships. Known for strong athleticism, Harding was the second woman, and the first American woman, to complete a triple Axel jump in competition. She is also noted for her involvement in the assault on her skating rival Nancy Kerrigan.

---
Keeley Hazell
2007: The British Page Three model made a sex tape with her ex-boyfriend Lloyd Miller that was later leaked online.
About Keeley Hazell:
Keeley Rebecca M. Hazell (born 18 September 1986) is an English model and actress.
Hazell has become one of Britain's most successful models working with brands such as FHM, and has also made numerous television appearances. More recently, she has focused more on an acting career, appearing in films such as Horrible Bosses 2.
---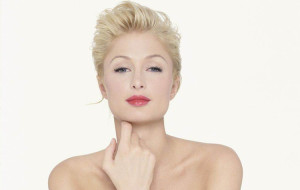 Paris Hilton
2004: The 1 Night In Paris everyone remembers and tries hard to forget. Hilton and Rick Salomon recorded themselves having sex using the night vision setting on the camera. The film helped catapult Hilton into worldwide fame and she not receives profits from the video.
About Paris Hilton:
Paris Whitney Hilton (born February 17, 1981) is an American socialite, television personality, model, actress, singer, DJ, businesswoman, and author. She is the great-granddaughter of Conrad Hilton, the founder of Hilton Hotels. Born in New York City and raised there and in Beverly Hills, California, Hilton began her modeling career as a teenager when she signed with Donald Trump's agency, Trump Model Management. Her lifestyle and rumored short-lived relationships made her a feature of entertainment news, and Hilton was proclaimed "New York's leading It Girl" in 2001. In 2003, a sex tape with Hilton and her then-boyfriend Rick Salomon, later released as 1 Night in Paris, was made public. Released only three weeks before the premiere of the reality television series The Simple Life, in which she starred alongside her long-time friend Nicole Richie, the sex tape became a media sensation. The Simple Life continued for five seasons and gave both women international recognition.

---
Hulk Hogan
2012: A low quality film surfaced on the internet showing the professional and his ex-wife going at it.
About Hulk Hogan:
Terry Gene Bollea (born August 11, 1953), better known by his ring name Hulk Hogan, is an American professional wrestler, actor, television personality, entrepreneur and rock bassist.
Bollea enjoyed mainstream popularity in the 1980s and 1990s as the all-American character Hulk Hogan in the World Wrestling Federation (WWF, now WWE), and as "Hollywood" Hulk Hogan, the villainous nWo leader, in World Championship Wrestling (WCW). A regular pay-per-view headliner in both organizations, Hogan closed the respective premier annual events of the WWF and WCW, WrestleMania and Starrcade, on multiple occasions. He was inducted into the WWE Hall of Fame in 2005. He was signed with Total Nonstop Action Wrestling (TNA) from 2009 until 2013, where he was the on-screen General Manager. IGN described Hogan as "the most recognized wrestling star worldwide and the most popular wrestler of the '80s".
Hogan is a 12-time world champion; a six-time WWF/E (World Heavyweight) Champion and six-time WCW World Heavyweight Champion. He was the first wrestler to win consecutive Royal Rumbles, in 1990 and 1991.
In July 2015, Hogan was fired from and blacklisted by WWE, coinciding with media scrutiny of scandalous remarks he made in 2007.
---
Nazril aka Ariel Ihram
2011: After two videos surfaced showing the Indonesian pop star and his girlfriends at the time, the singer was sentenced to 3 1/2 years in prison for violating an anti-pornography law.
More about Nazril aka Ariel Ihram:
Nazril Irham, more popularly known as Ariel (born September 16, 1981), is an Indonesian rock star. He is the lead singer of Indonesian band Noah (former name Peterpan).  Ariel is of Minangkabau ancestry. He has appeared in advertisements. He was arrested in 2010 on charges relating to celebrity sex tapes found circulating on the internet after his laptop was stolen.

---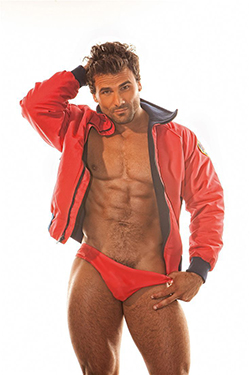 Jeremy Jackson
2008: The Baywatch star and porn actress Sky Lopez were the subjects of a sex tape that was made for sale.
More about Jeremy Jackson:
Jeremy Dunn Jackson (born October 16, 1980) is an American actor and singer. He is best known for his role as Hobie Buchannon on the television show Baywatch.

Jackson was featured in Vanity Fair's Hollywood Issue in March 2006. He has been referred to as "Mr. MySpace" and was a guest on The Tyra Banks Show. Jackson has been performing in clubs from London to Las Vegas. Jackson endorses Ed Hardy Clothing, and hosts fashion shows around the world for the fashion house.
He appeared on VH1's Confessions of a Teen Idol, a reality show in which former teen idols attempt to revitalize their careers. In one episode he claimed he beat out Leonardo DiCaprio for the part of Hobie Buchannon; this was later verified by David Hasselhoff. The show is co-produced by Scott Baio and Jason Hervey.
---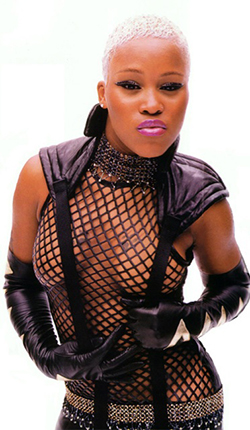 Eve Jeffers
2001: The question of the leaked video of the rapper and former boyfriend Stevie J is who was behind it. Stevie was longed believe to have leaked it out of spite but the theory is one of the rapper's friends put it out there.
More about Eve Jeffers:
Eve Jihan Jeffers-Cooper (born November 10, 1978) is an American hip hop recording artist and actress from Philadelphia, Pennsylvania. She is also the inaugural winner of the Grammy Award for Best Rap/Sung Collaboration in 2002, for the song "Let Me Blow Ya Mind", with American singer Gwen Stefani. Eve was number 48 on VH1's "50 Greatest Women of the Video Era" list.
As an actress, Eve is known for her roles as Terri Jones in the films Barbershop and Barbershop 2: Back in Business, and as Shelley Williams on the UPN television sitcom Eve. She has also achieved success in fashion, with her clothing line, Fetish.
---
Kim Kardashian
2007: Kardashian has the sex tape with Ray J to thank for putting her on the map. It's among the more infamous tapes to turn a socialite into a media darling / reality star. She sued Vivid Entertainment for ownership of the tape but ended up settling for a cool $5 million.
More about Kim Kardashian:
Kim married music producer Damon Thomas, divorced him, then she made a sex tape with Ray J (first), then dated Nick Lachey after Nick broke up with Jessica Simpson, then she dated Nick Cannon before he married Mariah Carey, then she dated NFL Running Back Reggie Bush, then she dated NFL Wide Receiver Miles Austin, then she dated Gabriel Aubry right after he split with Halle Berry, then she dated and married NBA player Kris Humphries, then she divorced him and married Kayne West and had his children.  I am sure we missed plenty of names here, but I think you get the picture.
Kim Kardashian's Sex Tape Review
---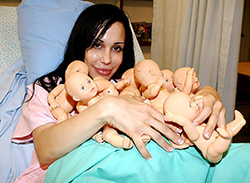 Nadya Suleman
More about Nadya Suleman:
Nadya Denise Doud-Suleman (born Natalie Denise Suleman; July 11, 1975), known as Octomom in the media, is an American woman who came to international attention when she gave birth to octuplets in January 2009. The Suleman octuplets are only the second full set of octuplets to be born alive in the United States. One week after their birth, they surpassed the previous worldwide survival rate for a complete set of octuplets set by the Chukwu octuplets in 1998. The circumstances of their high order multiple birth have led to controversy in the field of assisted reproductive technology as well as an investigation by the Medical Board of California of the fertility specialist involved.
Public reaction turned negative when it was discovered that Suleman already had six other young children and was unemployed and on public assistance programs. Suleman conceived the octuplets and her six older children via in vitro fertilization (IVF). Although she initially denied ever having used public assistance, she confirmed in April 2012 on NBC's Today show that she was indeed on public assistance.
---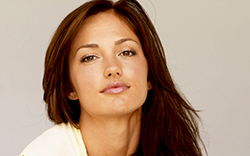 Minka Kelly
2012: The ex-boyfriend of the former Friday Nights Lights star tried to sell a tape of the two made in New Mexico.
More about Minka Kelly:
Minka Dumont Kelly (born on June 24, 1980) is an American actress. She is most known for her roles in the TV series Friday Night Lights (2006), Parenthood (2010) and Charlie's Angels (2011). She is also known for her role in The Roommate (2011). She appeared in the 2013 film The Butler as Jackie Kennedy and in the Fox science fiction/crime drama Almost Human.

---
Jayne Kennedy
The actress, model and former Miss Ohio is believed to be the first subject of a celebrity sex tape scandal. While Pamela Anderson's was the first of the online era, Jayne's is the first of any kind when the homemade video was stolen from her house. Apparently the video involved fisting.
More about Jayne Kennedy:
Jayne Kennedy (October 27, 1951) is an American actress, beauty pageant titleholder, and sportscaster. She won a 1982 NAACP Image Award for Outstanding Actress in a Motion Picture award for her performance in the 1981's film Body and Soul co-starring alongside her then-husband Leon Issac Kennedy.

---
Joan aka Chyna Laurer
2004: The professional wrestler solicited the home sex tape of her and Sean Waltman (X-Pac). The video was eventually distributed as 1 Night In China.
About Joan aka Chyna Laurer:

Chyna (born Joan Marie Laurer; December 27, 1970) is an American former professional wrestler, actress, bodybuilder, and pornographic film actress.
Laurer first rose to prominence in the professional wrestling promotion the World Wrestling Federation (WWF) in 1997, where she performed under the ring name Chyna and was billed as the "Ninth Wonder of the World" (André the Giant was already billed as the eighth). A founding member of the stable D-Generation X, she held the WWF Intercontinental Championship (the only female performer to do so) twice and the WWF Women's Championship once. She is also the first woman to participate in the Royal Rumble and King of the Ring events, as well as to become number one contender to the WWF Championship. With pinfall victories over several prominent male wrestlers – including multiple-time world champions Triple H, Chris Jericho and Jeff Jarrett – Chyna has left "a lasting legacy as the most dominant female competitor of all time". Since leaving the WWF in 2001, Chyna has wrestled sporadically, most notably with New Japan Pro Wrestling in 2002 and Total Nonstop Action Wrestling in 2011.
Outside of wrestling, Laurer has appeared in Playboy magazine twice, as well as numerous television shows and films. In 2005, Laurer was a cast member on VH1's The Surreal Life, which led to several other celebrity reality appearances on the network, including The Surreal Life: Fame Games in 2007 and Celebrity Rehab with Dr. Drew in 2008. She is also known for her tumultuous relationship with fellow wrestler Sean Waltman, with whom she made a sex tape released commercially in 2004 as 1 Night in China. She has since starred in a further five pornographic titles, and is a two-time AVN Award winner.
---
Jenna Lewis
2004: A 42-minute video of the Survivor contestant and husband model Travis Wolfe on their wedding night was leaked.
More about Jenna Lewis:
Jenna Lewis (born July 16, 1977) is an American reality show contestant and occasional television personality. She is best known from her time as a contestant on Survivor: Borneo (season one), finishing eighth, and Survivor: All-Stars (season eight), finishing third. She later gained further fame for her 2004 sex tape which circulated on the Internet.

---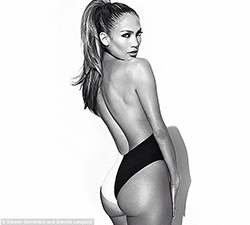 Jennifer Lopez
1997: One of the few tapes that didn't actually make its way online. The video is of Jennifer and her former husband Ojani Noa. Jennifer prevented its release in 2009 but the case was dismissed in 2011.
More about Jennifer Lopez:
Jennifer Lynn Lopez (born July 24, 1969), also known as J. Lo, is an American actress, author, fashion designer, dancer, producer, and singer.[2][3] She became interested in pursuing a career in the entertainment industry following a minor role in the 1986 film My Little Girl, to the dismay of her Puerto Rican parents, who believed that it was an unrealistic career route for a Hispanic. Lopez gained her first regular high-profile job as a Fly Girl dancer on In Living Color in 1991, where she remained a regular until she decided to pursue an acting career in 1993. She received her first leading role in the Selena biopic of the same name in 1997. Lopez became the first Latina actress to earn over US$1 million for a role the following year, with the film Out of Sight. She ventured into the music industry in 1999 with her debut studio album, On the 6.

Beyond entertainment, Lopez enjoys a highly successful business career, consisting of various clothing lines, accessories, fragrances, a production company, television shows and a charitable foundation among other business interests. Lopez's personal relationships have attracted worldwide media attention; she has been married three times. Following the breakdown of her first marriage, Lopez dated rapper and entertainment mogul Sean Combs. Following the breakdown of her second marriage to husband Cris Judd, she dated actor Ben Affleck. Their relationship was the subject of much media interest; their planned wedding was cancelled four days before the ceremony. Lopez then wed longtime friend Marc Anthony; they separated after seven years of marriage. Lopez gave birth to their twins, Emme and Maximilian, in 2008.
---
Rob Lowe
1988: Rob's career was almost destroyed when a tape leaked showing the actor having sex with two unidentified women, one of whom was underage at the time. The sex was filmed the night before the Democratic National Convention in Atlanta, GA. 1988: The same tape also contained another night of sex with his friend Justin Moritt and a model named Jennifer. This video was one of the first commercially available sex tapes.
About Rob Lowe:
Robert Hepler Rob Lowe (born March 17, 1964) is an American actor. He garnered fame after appearing in such films as The Outsiders, Oxford Blues, About Last Night…, St. Elmo's Fire, Wayne's World, Tommy Boy, and Austin Powers The Spy Who Shagged Me.
On television, Lowe played Sam Seaborn on The West Wing, Senator Robert McCallister on Brothers & Sisters, and Chris Traeger in Parks and Recreation. He played President John F. Kennedy in Killing Kennedy, a 2013 television film that premiered on National Geographic Channel. In 2014, he began appearing in a series of DirecTV commercials. As of 2015, he stars alongside Fred Savage in The Grinder on FOX.
---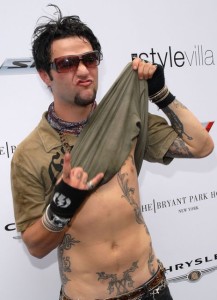 Bam Margera
2011: While there were rumors of a sex tape with Bam and Lynn Smigo it wasn't until years later that a real one came out with the MTV personality and his former fiancé Jenn Rivell.
About Bam Margera:
Brandon Cole "Bam" Margera (born September 28, 1979) is an American professional skateboarder, stunt performer, actor, musician, filmmaker, and television personality. He came to prominence after appearing in MTV's Jackass crew. He has since appeared in MTV's Viva La Bam and Bam's Unholy Union, all three Jackass movies, and Haggard and Minghags, both of which he co-wrote and directed.

---
Carolyn Murphy
2006: Despite the man in the tape with Carolyn Murphy getting arrested while trying to sell the sex tape of him and the Project Runway All Stars host, the video still leaked to the internet.
More about Carolyn Murphy:
In 1998, Murphy was named VH1/Vogue‍ '​s "Model of the Year". She played "Dubbie" in Barry Levinson's film Liberty Heights. She was one of the "Modern Muses" on the November 1999 millennium cover of American Vogue and was chosen to represent Calvin Klein's perfume "Contradiction". In 1998, during a photo shoot for Elle, the photographer noticed her resemblance to the actress Gene Tierney and dubbed her "The blonde Gene Tierney".

---
Vince Neil
1999: Even though the video was made in 1993, it found its way online when the same company responsible for Pamela's sex tape released a copy. The video featured the former Motley Crue singer and porn star Janine Lindemulder having a threesome with another woman.
More about Vince Neil:
Nothing more to add here.
---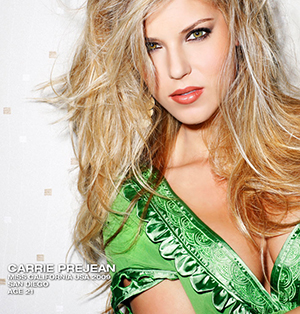 Carrie Prejean
2009: The former Miss USA contestant who became the subject of a media controversy when she answered a question about same-sex marriage had a sex tape of hers stolen. The video may or may not be a true sex tape since she was alone on screen.
More about Carrie Prejean:
Caroline Michelle "Carrie" Prejean Boller (born May 13, 1987) is an American model, former Miss California USA 2009, and Miss USA 2009 first runner-up. Later, Prejean was stripped of her Miss California USA crown for alleged breaches of contract. Contentious litigation between Prejean and the Miss California organization was settled in November 2009. Later that month, Prejean released a book relating the story from her point of view.

---
Kid Rock
2006: Kid Rock and Scott Stapp recorded themselves engaged in sexual acts with four female groupies. The two singers were successfully able to stop the distribution of the sex tape.
More about Kid Rock:
Robert James Ritchie (born January 17, 1971), known by his stage name Kid Rock, is an American singer, rapper, songwriter, multi-instrumentalist, producer, and actor. His 1998 studio album Devil Without a Cause sold 13 million copies worldwide. He is a five-time Grammy Award nominee and has sold 25 million albums in the U.S. according to Nielsen SoundScan. The RIAA certified him selling 23.5 million albums. He was Soundscan's number one selling male solo musician of the 2000s, selling 17.6 million albums; he was 17th overall for the decade.

---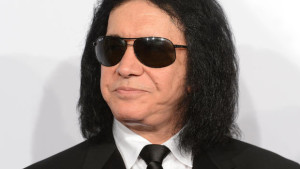 Gene Simmons
2008: The publicity stunt sex tape featured the aging rock star and a blonde beauty who was not his wife.
More about Gene Simmons:
Chaim Witz (born August 25, 1949), better known by his stage name Gene Simmons, is an Israeli-American rock bass guitarist, singer-songwriter, record producer, entrepreneur, actor, and television personality. Known by his stage persona The Demon, he is the bass guitarist and co-lead singer of Kiss, the rock band he co-founded in the early 1970s.
---
Tom Sizemore
2005: The actor, who has become more famous for his struggles with drugs and alcohol than his work, released his own DVD of hardcore footage.
More about Tom Sizemore:
Thomas Edward "Tom" Sizemore, Jr. (born November 29, 1961) is an American film and television actor and producer. He is known for his supporting roles in films such as True Romance (1993), Natural Born Killers (1994), Strange Days (1995), Heat (1995), Saving Private Ryan (1998), Black Hawk Down (2001), Pearl Harbor (2001), and for voicing Sonny Forelli in the video game Grand Theft Auto: Vice City.
---
Tila Tequila
2014: When the reality star wasn't busy denying the Holocaust or donning Nazi uniforms, Tequila apparently had time to film multiple sex tapes. One was an official porn while the other was done with her boyfriend as a "sequel."
More about Tila Tequila:
Thien Thanh Thi Nguyen (born October 24, 1981), better known by her stage names Tila Tequila, Tila Nguyen and Miss Tila, is an American model, television personality, singer, songwriter, actress, writer and blogger. Born in Singapore and raised in Houston, Texas, she first moved to California in 2001 to pursue her modeling career. After being featured in Playboy, she began appearing in numerous men's magazines, including Stuff and Maxim. She made her reality television debut on the VH1 show Surviving Nugent (2003). Her active presence on the social networking websites made her the most popular artist on Myspace and Nguyen was soon offered by MTV to star in her own reality television show. Her bisexual-themed dating show, A Shot at Love with Tila Tequila (2007), aired for two seasons and became MTV's second highest-rated series premiere of that year. In 2015, Tequila became one of the housemates on the sixteenth season of Channel 5 reality series Celebrity Big Brother.
---
Verne Troyer
2008: Ranae Shrider leaked the footage of her and the actor to TMZ but was unable to cut a deal for a longer DVD version.
More about Verne Troyer:
Verne Troyer (born January 1, 1969) is an American actor and comedian. He is notable for his height of 2 ft 8 in (0.81 m), the result of cartilage–hair hypoplasia dwarfism, making him one of the shortest men in the world. He is best known for playing Mini-Me in the Austin Powers series of comedy films.
Since 2014, Troyer has appeared as 'The Boss' in adverts for gambling site Bgo.com
---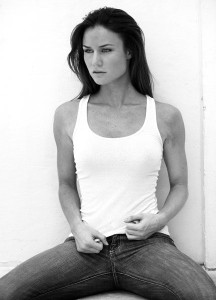 Catalina White
2009: The former WWE, Maxim model filmed a sex tape with porn star Justice Young.
More about Catalina White: 
Model Catalina White is the wife of WWE wrestler Jacob "Jake" Hager, Jr. better known by his ring name Jack Swagger.
Catalina White ( born January 22, 1986) is from Fort Lauderdale, Florida, is a Glamour model who appeared in the pages of Maxim, FHM, and Complex Magazine. According to her Model Mayhem profile her modeling skills include: Acting, Dance, Editorial, Fashion, Fit Modeling, Fitness, Glamour, Hair/Makeup, Lifestyle, Lingerie, Parts Modeling, Spokesperson / Host, Sports, Swimwear and Underwater.
White became a Diva in the WWE and she made her wrestling debut in 2008 in WWE's developmental territory, Florida Championship Wrestling, where she took part in a limbo contest under the name Veronica Blaze.
---
Kendra Wilkinson
2010: A video filmed of the Playboy model when she was just 18 leaked to the internet despite attempts by Kendra to block its release.
More about Kendra Wilkinson:
Kendra Leigh Baskett (née Wilkinson; born June 12, 1985) is an American television personality, businesswoman, glamour model and author. She is known for being one of Hugh Hefner's three girlfriends and for her role on the E! reality television series The Girls Next Door, on which her life in the Playboy Mansion was documented. Although not a Playboy Playmate, she has appeared in three nude pictorials with her Girls Next Door co-stars and fellow Hefner girlfriends Holly Madison and Bridget Marquardt. Her first reality series, Kendra, debuted in June 2009.
For those of you who were hoping for links (or video!) of these incidents, our sincerest apologies. If you really want to see them, most of them are just a Google search away.
---
On August 31, 2014, a collection of almost 500 private pictures of various celebrities, mostly women, and with many containing nudity, were posted on the imageboard 4chan, and later disseminated by other users on websites and social networks such as Imgur and Reddit. The images were believed to have been obtained via a breach of Apple's cloud services suite iCloud. Apple later confirmed that the hackers responsible for the leak had obtained the images by phishing and brute force guessing iCloud usernames and passwords.
The event, which media outlets and Internet users referred to under names such as "Celebgate" and "The Fappening" (a portmanteau of the words "fap"—a slang term for male masturbation—and 4chan's "It's Happening" meme), was met with a varied reaction from the media and fellow celebrities. Critics felt that the distribution of the images was a major invasion of privacy for their subjects, while some of the allegedly depicted subjects questioned their authenticity. The leak also prompted increased concern from analysts surrounding the privacy and security of cloud computing services such as iCloud—with a particular emphasis on their use to store sensitive, private information.