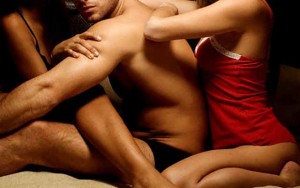 There are three things I love: Ryan's cum, face-fucking, and threesomes. I was lucky enough to experience all three at the same time. You may ask, "Doesn't every face-fucking end with Ryan cumming in my throat? Yes, sometimes even twice." But it has never happened during a threesomes, and not every intimate moment ends in him orgasming. You may also ask, "Doesn't every threesome end in you or Ryan having an orgasm?" No, definitely not.
Ryan and I made a promise to have intimate time with each other every morning and evening (to start and end our days — the circle). This doesn't mean that I have to orgasm or that he has to orgasm. The decision on whether or not we will orgasm can be just as uncertain as to how we decide to spend our intimate time with together. Ryan can let me know which of my holes he is currently obsessed on, but I control whether or not we wait for later to orgasm or end our intimacy with a bang (literally). Sometimes we will fuck until my body and vagina feel raw and if he hasn't came, I will let him know the clock is ticking. "If it doesn't happen in the next few minutes, you'll have to wait until tonight," I'll tell him. Or tomorrow. Whatever I feel like telling him. I work hard to empty his balls. Very hard. And I take a lot of pride in what I do. I like knowing that I can bring him to climax quickly, intensely, or in multiple amounts. I love it all. It makes me feel like a woman and it makes me feel like I've done my job as a wife.
Ryan: Intimacy is just as special when it doesn't end in an orgasm. I have said this a lot on the blog, but I figured I would add my comment here to clarify, her asking me to cum in 5 minutes or suggesting we stop is not a bad thing. I can probably orgasm within minutes while having sex (on cue), so in essence, what she is asking me is, enjoy us for about 5 more minutes and we can orgasm together later. The other night, she came 3 times during sex and after she was done, I stopped. In fact, we kept being intimate for the next few days and for whatever reason, I held off my orgasm. When I finally did release, it was worth it. The build up is there, later will be more intense, and the amount of cum will be greater. We both enjoy this. I find it satisfying to be intimate with my wife, in the most physical ways, but not have sex to orgasm. I do enjoy just being inside her body. I like knowing I am not using her to orgasm or masturbate, but instead, enjoying her body because I love her. We are very weird like that.
I've stated many times that my favorite position is a good old fashion face-fucking position: on my back with Ryan's dick slamming down my throat, balls smashing against nose, eyes, and forehead, and seeing his taint/guiche and ass hole twitch while he orgasms inches away from me eyes. Although Ryan hates the fact that there's no intimacy in face-fucking, he's been known to orgasm down my esophagus in one breath – one breath meaning a straight 40-second up-and-down movement on my face, where I cannot breath until he pulls his penis out of my throat and lets me. At this point, my body is fine. Every 30 to 40 seconds, I will have to gasp for air and Ryan's hard dick will drip over my face until I am ready for him to use my throat some more. Sometimes Ryan will force me to hold my breath too long and as my lungs run out of oxygen, it becomes my body's instinct to force itself to propel whatever is blocking its windpipe (a.k.a. a long, hard dick). This motion also causes my vagina walls to contract outwards causing juices inside to spill out of my body and drench my inner thighs. I have even squirted while in this position. Ryan's face and the wall were the not so innocent bystanders.
Now he knows what it feels like to get a facial.
Ryan: Face fucking, although in porn is amazing, is the least intimate thing we do. It's actually extremely aggressive and you almost feel like you are murdering someone with your cock, choking them, smashing against them, and using their face and mouth until you please yourself and orgasm. There is no eye contact, no seeing each others' facial expressions, no hugging or kissing, no smelling her hair or neck, and other than me looking at her dripping pussy or her feet, I orgasm by myself with my face in the other direction. As far as dominance, control, bdsm, totally using a person for your pleasure, and probably the closest thing to caveman oral sex, face fucking is probably on top of the list. This is one of Venice's favorite positions.
Now, take these things I've said about Ryan ejaculating and face-fucking, and do them both during a threesome and it's perfect. Probably the single most exhilarating thing I've ever done. It doesn't feel different from any other face-fucking Ryan and I do alone, but watching his body and another female take over while I catch my breath, was sexy as hell. The perfect trifecta.
We were meeting up with a girl we had been with a few times so we knew what to expect. The night started out as usual. She arrived at our house late in the evening, in fact, a little later than usual. I had already taken several shots of rum and was feeling really good. I knew she had other obligations, work or otherwise, before heading over, but it was this extreme lateness combined with my inebriation that may have contributed to my blase attitude at first. I asked her if she wanted something to drink. After she said no, I excused myself to run the water in our jacuzzi bath. At this point she knew the routine of us sitting in the jacuzzi bath beforehand and she was more than happy to do so. After watching half of an episode of "The Walking Dead," we rinsed off in the shower. I couldn't wait to dive into her pussy.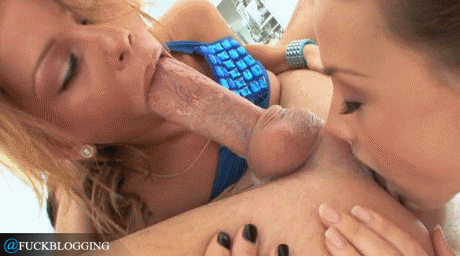 As I walked out of the room Ryan was sitting on the couch sipping his drink. I walked over to him and unzipped his jeans so I could pull his cock out. He started stroking his dick as I pulled his pants down and off his body. I started to fondle his balls. I pulled her down toward me so that we could work together. She went straight for his balls as I took his dick in my mouth. I told her how sexy she looked sucking on his balls and it only made her try harder. I watched her disappear below his balls as she went to lick his taint and ass. I reached for her again, but this time it's to tell her that I want her on the bed. "Let me taste you," I said.
She climbed up on the bed slowly and opened her legs. She was shaved nice, no bumps or stray hairs. I spread her lips apart and went for it. I moved her lips to the side – oh, man! This was going to be fantastic! – and exposed her clit. I moved in closer and let my tongue explore. Ryan moved behind me and licked my pussy and ass. He drove his dick into my body and I moaned with her clit in my mouth.
After a few minutes I could tell she was getting antsy to taste me. I told Ryan to take his dick and let her get a taste of my pussy off his cock. As he moved over next to her face, she reached out for his dick and started licking up and down his shaft, cleaning his dick of all my juices. I could tell this wasn't enough, she really wanted the real thing. She has always been more of a giver than receiver, and literally can spend hours eating my pussy if I let her.
After sucking Ryan's dick for a few minutes, she motioned for me to come lay down. She wanted to bury her face in my pussy. We switched positions and I laid with my legs spread and with Ryan's dick in my mouth. She dove into my pussy immediately, darting her tongue in and out of my hole. She did have a great tongue, and that's what I told myself. She told me many times before that she missed my pussy. I could tell when she wanted me by the way she always texts saying how much she missed it and wanted it in her mouth. She was patient and had a gentle touch. Unlike a man, no whiskers and much softer. Although I enjoy both, I definitely love the variation. She told me that she licked me the way she wanted to be licked. I wet Ryan's dick and asked him to go fuck her. Ryan got behind her and slid his dick in her pussy. I felt her mouth relax as she let out a moan when Ryan started to fuck her. Like me, she liked getting fucked while having a pussy in her mouth to suck. I demanded that Ryan fuck her harder. Her face slammed into my crotch and she moaned even louder.
Ryan decided to switch positions so I could watch his dick go in and out of her body. He put my head over the edge of the bed and the other girl was bent over me in the 69 position. Ryan slowly slid his dick inside her pussy as I watched every movement. As his dick disappeared inside her body, I could feel her tongue sliding in and out of mine.
After he pulled out his dick from her, his cock fell down onto my face. Instinctively, I slurped his dick down my throat as I reached down and held her face between my legs. I then stroked his cock in my hand as I put his balls in my mouth. I started to finger his ass and he started talking dirty and moaning. He dropped his body down over me and started pumping his cock in my throat. The girl was still in his way, as her body was in between us, and I can tell he wanted to bury his dick as deep in my throat as much as he could. He told the girl to go back there with me and help her while he fucked my face. She got up from in between us and came back around to where my head was still on the edge of the bed. She went straight for his balls and ass. As his body buried his cock deep in my throat, her tongue would go inside his ass. As he slowly came back up, her tongue would slide over his balls and down his shaft. Ryan reached down and pulled his dick out of my mouth and held it over both of our faces, backwards from his body. We licked eagerly. His dick was rock hard and my body reacted by writhing beneath him. He drove it back into my mouth and throat and she went back and forth between his ass hole, balls, and my mouth. When he would pull out every 30 to 40 seconds, so I could catch my breath, he would hold his dick backwards over my face, soaked with my saliva, and I would watch our sexy friend suck on his wet cock, cleaning off my saliva and keeping his dick hungry for more mouth.
As I gasped for air and Ryan said, "She's never seen you face-fuck before, has she?"
"No," I breathed. "So fucking hot. Put your dick back in my mouth!" She continued licking his balls and ass as he pumped up and down powerfully. I could see every detail and had a front row seat to his shaft disappearing in my mouth, while her tongue licked whatever slid past it. I felt Ryan's little hairs on his inner thighs stand up and goosebumps started to form. I knew it he was getting close to feeding me. I squirmed and squeezed his thighs as I felt his dick expand to an almost unbearable 100% hardness. Just as I couldn't handle it any longer, his balls tightened up and I felt his semen pipe throb on my lips as she continued to lick his balls and ass. I could see his taint throbbing and his ass hole tightening with each release of cum in my throat, and I could see her cleaning his whole crack like a good girl.
After he finished, I gasped for air, holding my breath extra long to make sure he could finish inside me. Ryan lifted himself off of me and laid next to me. We were both breathing hard.
My girl friend was still nicely kissing around my face and lips and asked, "Are you guys okay?"
"Damn you guys are sexy as fuck," he said.
TAGS: face fucking, face fucking, face fucking, face fucked, i love my face fucked