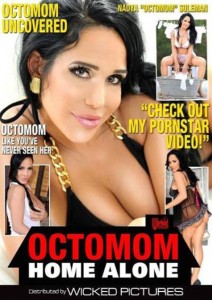 Octomom Home Alone is a pornographic film featuring prominent American mother Nadya Suleman, also known as "Octomom," masturbating. The DVD was released on 16 July 2012 by Wicked Pictures and drew media attention given Suleman's celebrity and recognition from the AVN Awards.
In 2009, Suleman gave birth to the Suleman octuplets. News of the octuplets caused an international media sensation. Public response was largely negative, including death threats.
Although under severe financial pressure raising 14 children, Suleman had publicly stated she would not do pornography. She explained that stance, saying "I've been celibate for 14 years and I'm a regular church-goer." She also claimed she had never masturbated. However, in 2012 Suleman filed for bankruptcy in federal court, claiming a $1 million debt. She thus reversed her earlier position, saying "If it's a job, and it's a well-paying job, and it's going to allow me to get out of here and move in a very safe, huge home that they deserve, I'm going to do it." She was paid a five-figure amount and monthly royalties.
Under director Brad Armstrong, Suleman filmed her scenes in a San Fernando Valley mansion. She was reportedly nervous upon her arrival, but calmed after speaking with other adult performers. The producers also showed Suleman pornographic films to prepare her and gave her advice on her performance. Suleman also credited her manager Gina Rodriguez for producing and marketing the video.
Suleman later said of the video, "It was such a positive experience for me and helped me embrace my sexuality." She also described the scenes as "empowering and liberating."
1 poor, 2 fair, 3 average, 4 good, 5 excellent
Venice's Review:
Quality: 5
Entertainment Value: 3
Star Factor: 2
Skill Level: 1
The Woman: 3.5
Sexual Value: 2.5
Kudos to the Octomom for putting herself out there for people to see.  I remembered how Kate Gosselin of the TLC channel's "Jon and Kate Plus Eight" showed her post-pregnancy belly after her sextuplets, but before her tummy tuck.  I remember how her skin was more loose than the average new mom, and with stretchmarks.  Of course this was understandable.  I also remembered how ballsy it was to do that.  Did I expect her to have a flawless body? No. Did I expect Nadya Suleman to look good for being a mother of 14? Of course. She wouldn't make an adult film if she didn't.  Did she meet my expectations physically?  She sure did.  To be honest, she looks fabulous.
Nadya Suleman is no different.  After a woman has a baby, her body does not bounce back,  no matter how good her genetics and eating/exercise diet are while pregnant.  A woman has no control over the amount of stretchmarks she gets, how pronounced they are, or even if she gets them at all, regardless of how much cocoa butter you use. Fact. (see NY Times Article ).
Since this was a professionally made video, I expected the quality to be more than a camera mounted on a tripod with her walking into the scene after hitting the record button.  It reminded me of something you'd see on the Playboy channel: mellow jazz or imitation techno music in the background, the camera panning left to right (and vice versa) or top to bottom (and vice versa), and of course, no hardcore sex (yet), just a woman rubbing her vagina and tits in an exotic location.  My oh my – they sure pulled out all the stops, didn't they? Excellent fodder for someone who's never seen a naked woman.  However, for the rest of us, this type of video serves merely as curiosity.
I can't say I was entertained though.  If all she wanted to do was show how good she looked as a MILF while making money on the side, mission accomplished.  But to say that this is an ideal adult film to use as masturbation material or to turn a couple on prior to sex, I wouldn't suggest it.  On a hardcore scale, 1 being "Edward and Bella finally getting to first base" and 10 being "John #17 in the Indy 500 gangbang," I would rate this as a 3. When the novelty of finally seeing Octomom's vagina wore off, I found I was more interested in her outfits than anything else.  Even the scenes which the vibrator was in got tiresome.
In the first scene, she is very stiff.  Like a virgin on her wedding night trying to give her husband an erotic dance like how she saw Jamie Lee Curtis do it in "True Lies."  It was awkward to watch, no matter how scintillating the lip biting appeared.  I hoped that she would relax a little, get into the moment.  The kitchen prancing provided no reprieve; in fact, she seemed to be even more out of place.  At least she wouldn't have to explain to her kids why she let a bunch of random guys fuck her.  Well, she's got another problem she's dealing with, Octomom's Child Watches Her Porn and Octomom Checks Herself Into Rehab
Ryan's Review:
Quality: 4
Entertainment Value: 1
Star Factor: 2
Skill Level: 1
The Woman: 3
Sexual Value: 1
What does a woman's vagina look like after having octuplets?  It looks exactly like a woman's vagina who has had no babies, because Nadya Suleman had a Caesarean section for those eight children.  I guess the most entertaining thing I've seen regarding this film is peoples attitudes towards Nadya Suleman and her vagina after having octuplets.  From the crude  comments of her vagina looks disgusting and used, to rumors of her having plastic surgery to remove her flappy labias they felt she should have had.  It seems that most men, especially the young and sexually uneducated, feel that a woman having a baby magically ruins their vaginas or makes them extremely loose and disgusting.  The fact she had a Caesarean section makes all those comments that much more entertaining.
As far as the film itself, Nadya Suleman looks amazing for a woman that has had 14 children.  Her body looks great, whether it be the implants, tummy tucks, or working out each day watching over her kids, her vagina looks normal, her breasts look amazing, and her face is attractive.   The only other times I have seen her prior to this video was in the tabloids holding her huge stomach during her pregnancy or after she gave birth.  She cleaned up very well.
The entertainment value for me was extremely low.  Personally, I do not get turned on by solo videos.  To those guys, girls, or couples that prefer a nice solo masturbation video, this is one of those.  The fact that she barely moves, does not show her butt at all, doesn't turn around, and is pretty much stationary other than opening her legs in one scene or dancing funny as hell in the kitchen in another, really takes away from any excitement for me.  The video is filmed very professionally, almost giving all of her nude scenes the old slightly hazed glamour shot look, but I assume that is to cover up the stretch marks or blemishes in her stomach skin.
Hopefully she never does hardcore, because that is a lot of children she'll have to explain things to later in their lives.  Also, I just don't think it's safe for her to be around sperm at all.   She may get pregnant with twins for just walking by a porn set.
Okay, that was a bad joke.
Below is a preview that we did not upload, do not host, and have nothing to do with other than a simple Google search and embed.