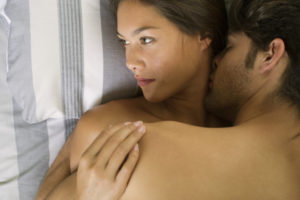 Last night I found some old naughty polaroids Venice sent me for the Valentine's Day before we got married. As I looked through the pictures I began to think about how much has changed since she stood in front of that camera excited to share her body with me. Back then, these pictures were almost like a marriage license before you were married. You didn't send anyone polaroids of yourself unless you really trusted them. In fact, I remember one huge argument we got into that ended with her saying, "Whatever, you don't have to ever talk to me again but please send back my photos." I suppose the photos became divorce papers when a boyfriend and girlfriend argue. Hearing her say that meant this wasn't just a back and forth argument a new couple goes through, she was seriously considering ending our relationship. I immediately apologized and let her know I loved her more than anything in the world.
Anyway, seeing the photos reminded me of how beautiful she was. How lucky I was. How skinny she looked. How young she looked. And yes, how different her body looked seeing her with pubic hair. I remember in college and throughout the first few years of our marriage I would secretly pull out these pictures and study the details of her body. Then, as cell phones became more popular and every phone had a camera, I put the polaroids away and had my own hidden stash of naughty pictures she would send me or I would take of her on my phone. The need for the polaroids became obsolete and the memories of what she used to look like faded away.
Until last night.
After seeing the photos I started to think to myself about different things Venice had done with me over the years that I hadn't thought about in a while. As I remembered some things I immediately thought to myself that I should write blogs about these random memories. That was the true intentions of this blog to begin with.
So, that's what I will do.
The first time I saw Venice cry.
I felt so vulnerable. I had never been in a girl's bedroom before. I can remember looking around at Venice's Sailor Moon poster on her wall, her bulky tv, her mirror, and even her stereo system. I was scared, but happy. Growing up in different locations, including living in the Philippines for 3 years, I was always extremely attracted to Asian girls. Unfortunately, I never really had an opportunity to date one. You could say, an Asian girl was my ultimate fantasy and I knew one day I would marry a Filipino woman.
Anyway, back to the bedroom.
I saw Venice's nude body on top of me and I remember looking down and seeing our contrasting skin tones. I couldn't believe I was naked with her. I couldn't believe she liked me enough to let me feel inside her. I was young, and the idea of someone opening themselves up for another person to take them was something I didn't understand yet. I couldn't believe that she seemed so happy and excited to be dating me. And even more excited to be able to fuck me. Me?
I watched her smooth brown skin grind against me. I remember seeing our crotches rub together, her black pubic hair blending into my dark brown hair. I couldn't see my dick or the details of her pussy, but I could feel the tight sensation of her vagina around my cock. As she moved back and forth I could feel each of her ass cheeks touching my balls. I literally could feel the split of her butt cheeks rubbing back and forth, forcing my balls to smash against her ass as she pressed herself against me. I could also feel this weird feeling of my penis hurting and bending inside her. Her shallow vagina was forced to stretch as her body weight forced us totally together. I could feel my dick being pushed back into my own prostate. As she grinded, she circled her hips creating a stirring motion inside her. My penis literally stirred and I could feel all the different textures inside her pussy. I could feel her cervix bumping against my shaft. As she moved her body I could feel the head of my dick almost snag against the inside of her pussy walls and then a quickly release back into the stirring motion.
I remember reaching up and grabbing her breasts, feeling like I was in a movie. I felt like an adult. I felt like every PG 13 love scene I had ever seen in my life and I was living it. She was so soft, so warm, and inside her body felt so tight and hot. I understood why babies would cry when they were born. Who the fuck would want to live outside of a woman's body?
It felt amazing. The endorphins of sex had me high and I remember my eyes rolling back in my head and being lost in the moment. Then I heard sniffling. I wasn't really expecting this reaction so I was confused and scared. I hope I didn't do anything wrong.
I reached up and grabbed Venice behind her neck and pulled her closer to me so I could see her face. She wouldn't look at me. I asked her if she was okay and she responded with two words, "fuck me."
As I pulled her closer and held her tight to my body, she laid her face on the side of my neck. My instincts kicked in and I began fucking her hard from the bottom rather than letting her circle her hips on top of me. As I fucked her, I moved her hair from the side of her cheek and saw tears on her face. I kiss her tears and remember tasting a salty flavor. I grabbed the back of her head and held her face hard to the side of my neck. I reached with my other hand and squeezed and clawed her ass cheeks and rammed my dick inside her as hard as I could. My body moved with so much force I could feel my balls banging against her ass cheeks. My balls were slamming so hard it felt painful and I could even feel my stomach begin to hurt like I was kicking myself in the nuts.
I didn't care.
I heard Venice quietly moaning and sniffling. If my dick hit certain spots a little too hard she would yelp loudly and try to crawl her body up and get away from me. I'd grab her neck and hold her tight against me so no matter how much she tried to move, she was pushed back down onto my dick.
I felt the pressure of my orgasm growing. I squeezed Venice as hard as I could and used my arm to push her shoulders and body down on my dick as much as possible so I could cum deep inside her. The pressure against my head was so rough, I could feel Venice's back walls holding my cum inside my own shaft. I felt a pain in my urethra like my cum ballooning inside me and being forced back into my own body. I let go of Venice shoulders and slid my dick out of her just enough so that my cum could be released and explode inside her.
When I quit moving, Venice stayed laying on top of me and continued to cry. I asked her if she was okay, she just looked at me and nodded. I asked her if I did anything wrong and she shook her head no. "I just really love you."
TAGS: crying during sex, making her cry, crying during sex, cock so big it makes her cry,