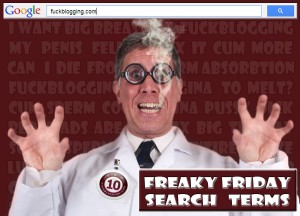 Each week we will post our most outrageous search terms that people used to find our website that week.  Ryan and I will then share our own thoughts and hopefully entertain you guys or at least make the search term make a little less sense.
Each search term was gathered by wordpress and/or google statistics and they are all very real search terms.   Each search term was used by some person in the world that ended up on our page.
10. dont cum in my wife
Ryan: Or have sex with her.
Venice: Or kiss her.
Ryan: Or think about her.
Venice: At least he had some boundaries though.
Ryan: That's true.  It could have been worse I guess.   Don't walk up to my wife while she is in the shower after you came inside her and stick your finger up her vagina to hold the cum in like a cork.   
Venice: Now that's a husband making a stand.
9. his n her butt plugs
Venice: Ohhhhh, amazon.com here I come.
Ryan: Ohhhh, so which hole do you consider the man, your vagina or your ass?
Venice: Real cute Ryan.
Ryan:  Whatever, just know, you'll be wearing both.
Venice: Just know, that leaves no holes for you.
Ryan: Unless you're also buying a matching pacifier, I still have a hole.
Venice: … and that hole has teeth smart guy.
Ryan: That is NOT funny.  In fact, I am editing out that comment just so other women who read this don't get the wrong idea.
Venice: Uh huh, we'll see.
8. why guys don't taste their cum
Ryan: We do, we just don't talk about it. 
Venice: You shouldn't give your man a choice.  Scoop it out and push it in. 
Ryan: Nice.  I imagine 100s of very straight, never taste my own cum alpha husbands, will enjoy their wives new technique you taught them tonight. 
Venice: You didn't mind.
Ryan: Oh, so we're having one of these days huh?
Venice: What?  I'm just saying, you didn't mind, Mr. "Oh God, feed me my own juices and make me your bitch, Venice!"
Ryan: Wow.   I'll be editing that one for sure.
Venice: Uh huh, we'll see.
7. 69 techniques with ball sucking
Ryan: You know at least a couple 100.
Venice: I don't think he meant that.
Ryan: That's funny because just last night…
Venice: That is kind of funny.   I was just doing this.
Ryan: Well, this one won't make any sense to anyone but us, but that's okay. 
Venice: I'll explain.  Last night I was on top of Ryan 69ing, and I started sucking his balls while he ate my ass and vagina.   True story. 
Ryan: True story.
6. how to swallow his cum
Venice: Open your mouth and let him cum inside there.  Close mouth and swallow.
Ryan: Might be a bit too complex, can you simplify it more?
Venice: Open, close, gulp!
Ryan: Seriously, I think this person may still have trouble understanding, maybe you can just show them visually and demonstrate on me?
Venice: Okay (Link).
5. dental dam porn
Venice:  So I just googled dental dam.
Ryan: Yea, me too.
Venice: Bucket list?
Ryan: Added.
4. my buddy made me suck his huge dick
Ryan: Talk about bad luck.  Not only did he end up with a horrible friend that forces him to  suck cock, but he also happens to be  fucking huge.  
Venice: Bad luck? Luckiest friend ever!
Ryan: Ugh, you're such a size queen.
Venice: Listen, us ladies gamble when we choose our men, okay?  We see a guy that we like and walk up to play him.  He is firm, colorful, and lights up the room, so we get excited and reach for the handle on our slot machines.  Hopefully we don't end up at a nickle machine, you know?
Ryan: No, I don't know.  I didn't realize you thought of me as a damn slot machine either. 
Venice: No, you're my jackpot.
Ryan:  Awwwwww….
Venice: I bet you won't edit that shit out, huh.
3. how i got my man to suck cock for me
Ryan: Apparently you find him an aggressive friend with a huge cock.
Venice: Ha! 
2. how long does it take for sperm to come out of butthole
Ryan: Venice?
Venice: Depends really. 
Ryan: Oh man, she is about to make Bill Nye the Science Guy proud right now.
Venice: Well, there are so many variables.  The tightness of your sphincter muscles in your anus and the amount of times the penis thrust inside you to loosen those sphinter muscles.  Also, the quantity of the semen itself.  If the man has a huge load, gravity will take effect much faster. 
Ryan: Interesting stuff here.
Venice: I personally like to lay on my tummy after anal so gravity pushes the semen deeper into my colon and I  absorbs the nutrients.  I will also stay in this position a few minutes and check my twitter and E-mails.  I like to stay connected.
Ryan: She likes to absorb her jackpot.
Venice: Then finally I will rinse off, but as I do, I squeeze my sphinter muscles in my ass the entire time.  This keeps Ryan's semen in my body, which is where I want it.  
Ryan: She likes to keep that jackpot inside her.
Venice:  I really regret that compliment now.
Ryan: Cha Ching…. jackpot baby!
Venice: Anyway, to answer your question, it stays in your colon until you use the bathroom.
1. how to give a blow job without getting juices inside the mouth
Venice: Ryan?
Ryan: Ha! 
Venice: Care to share your advice or experience with us, Bill Nye?
Ryan: Too funny.  I don't give blow jobs, and seriously, other than that jackpot comment, I am pretty much going to edit out all your comments this week.  The new working title will be, "Ryan's Opinion on Freaky Friday Search Terms" 
Venice: Uh huh.