Naughty Selfies – For My Daddy
Sharing a few selfies I took for my daddy. I'll try to keep these selfies limited to new outfits, panties, and ideas, rather than the exact same poses and panties every day. Thankfully, I do change my panties! Unfortunately, until I learn how to stretch and morph my body into alien-like positions, I am a bit limited at what I can do with my camera!
Dear Naughty Selfie Diary: Daddy Dearest
After a long 2 year hiatus, I started actively tweeting again on my naughty twitter account this October. This was one of the first sets of naughty selfies. I haven't done that in ages. Not that I do not take selfies for my husband, but usually I just take nudes. You know, all out with my balls out. For the blog and social media, I am going to try and keep it classy, but still naughty in a fun way.
Why do I call my husband my daddy? Because he is my daddy. He is the father of my kids, so naturally I refer to him as dad or daddy, even when talking to my children, because it's how they know him. This is a point that is never really brought up in articles about women that call their husband's daddy. Well, when I ask my daughter to tell her father dinner is done, I say, "Tell daddy his dinner is ready." I naturally refer to him as daddy around the house even when I am not talking to him. But that isn't the only reason. I never really had a father figure that made me feel like his little princess, or gave me the attention I thought little girls got. From stories or movies. My father was abusive. So what my daddy gives me has nothing to do with my biological father. At all. It's more lack thereof.
My daddy protects me, takes care of me, never abuses me, and makes me feel like his little girl. And a husband's love can end, a boyfriend's love can end, but a father's love? A father forgives his little girl if she makes mistakes. A father is there forever, beyond being married. He has talked to me about him passing away, and he is okay with whatever happens in my life next, but always remember he was my daddy. He has told me that if I cheated, he wouldn't leave me or divorce me, because daddy's don't abandon their little girls just because they fuck up. Mind you, I would never cheat. And it's true, a father doesn't turn his back on his little girls. And that's our relationship. No matter how bad my day, I want to come home and be his little girl. Be taken care of. I'm naturally submissive so I have no issues with him being in charge and even threatening to spank me if I sass off. I love it.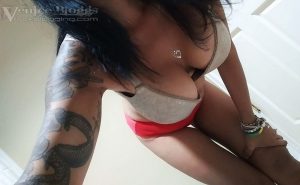 With all that said, my husband's response after he got these photos was, "Girl, if you are going to take photos with panties and bras, you have to get your coordination game back. You can't go to work all willy-nilly with a cream bra and red panties."
Gawwd, the things I have to do to post selfies on the internet. SHOP. I guess I can try harder to match my undergarments.
We have started compiling my selfies and putting them in one section of our blog. Check out all my naughty selfies here!