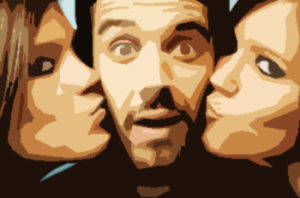 On Friday night my husband asked for an open marriage. He says that before he met me he was in a 6 year relationship (even though previously he denied that it was an actual relationship), and then a week later he met me and then we got married 2 years later.
We have only been married since March.
So his reason for wanting an open marriage is that he never got to play the field, so to speak.
He says that it's good for me as I can sleep with women again, as prior to us meeting I had only been with women for a number of years, but with these new arrangements I am not allowed to sleep with men. Apparently if there is something I can get from sleeping with men I should be able to get it from him.  So why can't he get what he wants from a woman from me? Well he said that because it's not something missing from our relationship it's just that he never got to do it.
The rules he set down were:
No sleepovers
Always use protection
We stop if anyone doesn't feel comfortable with it anymore
No being out past 10pm
No partners in our house
No telling people we know 
No men for me
Only sex no emotional attachments
People you see must know you're in an open marriage
I'm not too sure how I feel about it, I did say yes on Saturday after he kept asking what I thought, and to be honest I do miss being with women but I don't want to actually sleep with any while I'm with my husband.
He already has some women lined up that he has been chatting to and he might even be hooking up with one next weekend.
I kind of feel numb inside, almost like i don't care, but then I feel like my heart has been ripped out at the same time.  How can I say no to him? If I say no then I will have to sit there knowing that he feels like he is missing out on something and that he isn't completely happy. And he is happy now, he is smiling and telling me he loves me and he's laughing more and more outgoing than usual, he says he even loves me more.
I feel like I wish he had never married me if he had just wanted to play around in the first place.
My problem now is that I can't stand him touching me, my skin crawls. And when he kisses me I feel empty inside, and i don't know if that will change if we call off the open marriage policy.
I just don't know what to do.
Venice's Response:  Although he is commendable for at least telling you in advance that he wanted to fuck other women, the feeling I have right now is disgust. Disgust in a way that he didn't discuss his feelings of wanting to sow his oats beforehand. If he says he was in a six year relationship before he met you, what is it exactly that he claims that he "never got to do"? Did he not have sex in that six year relationship? Did he never get his dick sucked in that six year relationship? Did they never do anal in that six year relationship? What did he "never [get] to do"?  Does he just want to fuck other women and hide it by giving you a generic excuse like, "It's just that I never got to do it." What a bitch thing to say.
Some of his rules I agree with, and some are complete bullshit.
1. No sleepovers
Agree.  You can add, "No moving in with the other girl" as well if you wanted.
2. Always use protection
Absolutely.
3. We stop if anyone doesn't feel comfortable with it anymore
You are already uncomfortable so you are breaking rule 3.
4. No being out past 10 pm
So the freedom of an open relationship means you are back to curfews.
5. No partners in our house
A rule for him.  Probably a preemptive move on his part, not allowing you to see who he fucks, as it could make you jealous. Not to mention, unless he adds a new rule, he could sleep with any of your friends.  I'm sure he doesn't mind your female partners being over, in fact he'd probably prefer it.
6. No telling people we know 
This avoids being friends judging your lifestyle, I get it. It also avoids people he may respect suggesting his reasons for wanting an open marriage are stupid and insulting. His dirty secret is similar to when an abusive husband suggests he is sorry and hopes you won't tell anyone he physically hurt you.   He saves face, you hide that you're feeling victimized.
7. No men for me
Bullshit alert!
8. Only sex no emotional attachments 
Have you ever been in love with a woman or wanted to marry one?  He has.  This rule is again, for him.  He isn't worried about your emotional attachments to women,  you are of the same sex and probably have various women you are friends with and have an emotional attachment. Unless you aren't allowed to be friends with woman anymore, just meet them in  dark parking lots and fist each other?
9. People you see must know you're in an open marriage
Preemptive move again, making sure you feel better about him sleeping with women he cares nothing about.  They will all know he is married, for now, until he realizes his chances of getting laid go up exponentially as a single man.
Rule #6: No men for you. Um, why the fuck not? Is this a TRUE open marriage, or a "My husband wants to fuck other bitches, but I'm only allowed to have sex with women." You're the bisexual one in your relationship. Why can't you have sex with whomever you want, if this were a real open marriage? Your husband is using your sexuality to fuck other women. "Baby, let's try being in an open marriage where both you and I can fuck other women. You like being with a women, right?" Hmm, you obviously like being with both men AND women, so why not let you be with both sexes? It's not your fault he's straight and only wants women. He put limitations on this "open marriage." The rules were meant for you, specifically #6. The others are just filler rules that won't get HIM in trouble. But theses rules that made were created to keep him the only man that you'll ever fuck.
As a bi woman who just recently got to explore women with my husband (and love it!), I will never know if I have an urge to be with a woman one-on-one because it's something that I never got to do, whether it was before getting married or during our marriage. To me, having sex with someone without him around wouldn't be as fun, not to mention it is selfish. How is it selfish? Because I want to experience something WITHOUT my soulmate there with me. Doing sexual acts separate means having your own experiences, which in my opinion, could ultimately lead to having your own secrets and even breaking his own rule of "Only sex, no emotional attachments." And if that happens, it's not an open marriage anymore, it becomes him cheating on you, and it won't be anyone's fault but your own because you agreed to the open marriage in the first place.
It appears as if you were completely content with being with your just husband as a sexual partner, even suppressing the urges and feelings you have for being with a woman again. I would be going through the same emotions you are: the numbness and feelings of not caring as a way to distance yourself from feeling betrayal. I say betrayal because when he says he wants to have an open marriage and fuck other women, I would feel betrayed, like I weren't enough to please him, that he needs others to be fulfilled, like I'm just a body who's there because he married me first. Also your feelings of your heart being ripped out because you're torn between not saying no to him. It's either say no to him, which you don't want to do, or agree to do it and hurt yourself.
I can see him being more affectionate to you because you're basically giving him fuck passes. What guy wouldn't be happy? But the feelings you're having of wishing that he didn't marry you until he was done playing around, the feelings that you can't stand him touching you – it's as if his life has changed for the better now that he's gotten your permission. And that hurts you because the giddiness and lovey feelings should have been there before he asked you. It hurts you because you were loyal to him – emotionally and physically – and when he hit you with this new proposal, it was like a slap in the face. What makes it worse is that you said he already had plans to fuck that weekend. WHAT?! What would've happened if you didn't agree? Would he have fucked them anyway and not tell you? That, to me, is just sickening. He could have at least been talking to you the whole time, keeping you in the loop with his feelings, maybe then it would have warmed you up to the idea. But throwing the news to you like he did and saying, "Thanks, honey, I already have some pussies lined up" is flat out disrespectful to you, your marriage, and the rules he set for supposedly the both of you, is a complete sham.
Just because he gave you permission to fuck other people doesn't mean you have to. If you don't feel comfortable having sex with anyone outside your marriage (male or female, as if you had a choice), don't do it. Tell him that. Tell him that you don't think the affection he gives you is sincere. It's like when a kid asks his parents if he can use the car on Friday to take a girl out on a date. When they give him the keys, the first thing he does is give them a hug and tell him he loves them. Your situation was planned awfully from the beginning, and if he goes through with his part and sticks his dick in every vagina that will give it to him, this story won't end well.
Ryan's Response: This question is interesting for so many reasons. I want to start with giving a direct answer to the main question before I give my opinion on the entire situation.  One of the rules is, you stop if someone doesn't feel comfortable.  Well, your story is pretty descriptive on how uncomfortable you are.  From no longer wanting him to touch you or feeling empty inside, to having thoughts about him wishing he no longer married you, I'd put a halt to this idea immediately.  Will he be hurt?  Sure.  Right now he thinks he has the greatest wife in the world that he can manipulate into opening their relationship.  Putting a stop to this fantasy, after he is building it up in his mind he can fuck other women, will absolutely disappoint him.
Too bad. You're disappointed he brought it up in the first place.
Why is he happy and saying how much he loves you?  He is controlling you.  Of course he is going to tell you how happy he is and how much in love with you he is, it's his way to manipulate you into feeling guilty if you try to "close" the relationship back into monogamy.  He'll kiss you longer, fuck you better, lick and suck on things he has never sucked before, all because he wants to make sure you know how happy and in love he is.  Meanwhile, in a few weeks, he will be doing the same to another woman.
Does this mean I am against an open marriage?  Absolutely not. Venice and I have our own variation of an open relationship, except everything we do, we do together.  It may be open to the women we decide, together, we want to experience, but it is not open to dating or hooking up on our own.   This type of relationship will always set off red flags for me.  Not that I am judging them, but because I just don't feel experiencing things on your own will make you a stronger couple.
I am against one person manipulating the other to get what they want though.  I am also against doing anything spontaneous and not totally talking through all the issues to make sure each person is comfortable. For your husband to already have girls lined up, is insensitive and shows he has an agenda.  I know all couples aren't the same, but Venice and I had to talk about every detail and make sure it was something we both wanted.  Maybe she did feel the same as you felt the first day after we discussed it, but she knew I didn't have women lined up and ready to fuck.  There also was never an issue of playing alone without the other.  It took us a very long time, documented on this blog, to actually go through with opening up our bedroom.
I'm not saying shut down the idea totally if it is something that you want to experience.  However, I would shut down the idea for now until you can sort through all the different emotions you are feeling.  I just don't see how it will get "easier" with him out fucking women while you sort it out.  You can also test the waters and see how he will react when you "stop" the open marriage now.  Because later, after he has fucked various women and has dates lined up, his reaction to you stopping the situation will be much worse.
What's funny is, my answer feels like a huge contradiction to my own relationship.  It isn't though.  I preach and believe with all of my heart that a couple should do everything together, including sexual experiences.  This is my belief, not something I judge others by.  This situation you are facing, deals totally in the concept of two people doing everything totally separate from one another.  I just don't see how that could ever end well.
If you play together you stay together, if you play apart you break their heart.
 TAGS: open marriage, open relationship, play together stay together, play apart break their heart, love hurts, threesome problems, open marriages don't work, open marriages do work, good marriage, bad marriage, inequality in a relationship