Ah yes, the nipple clamps.  We enjoyed using this product and it does exactly what you think it does:  pinch both of your nipples while the chain can be tugged and played with during sex.  It can be used on a male or female and the build quality is actually pretty good considering the price.  For under $10.00, you really can't ask for much more.  I personally like to have my nipples played with until I orgasm, so putting these on during sex or oral sex mimics the sensation of having your nipples nicely pinched with someones fingers.  The tips are a soft plastic and you can loosen or tighten the clamps so they are comfortable and fit your nipples.  These can also be used to torture your man if that is something you both enjoy doing.  The clamps stay put and as long as you do not tug too hard they seem to stay on well.  I'd recommend this product to anyone looking to add a little nipple play to their bedroom.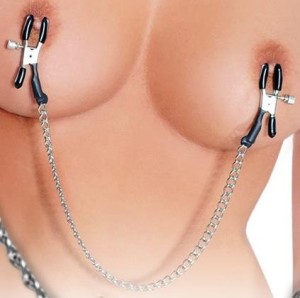 Ryan: It's fun to gently tug on the chain during sex.  If you want to make her squirm, tighten the clamps around her nipples so the pinch is snug.  During oral sex, these clamps help free up the hands (sometimes while down on Venice I will have my face in her vagina and both my hands nicely pinching or playing with her nipples) so I can focuson everything below.  As much as Venice likes her nipples played with, she also likes to have a finger inside both of her holes during oral sex.  These nipple clamps help those of us who just need more hands during sex.
The photo to the right is @bootylovinbitch on twitter.  She is a long time blog reader and friend.  Check her out and follow.
California Exotic Nipples Clamps (Silver)
Cost:
$9.11
Selling Points:
Totally adjustable, comfortable, non-tarnishing, rubber-coated nipple clamps
Steel (chain) ABS (beads) PVC (tips)
16?/41 cm (chain)
2?/5 cm (length- clamp)
Product Description:
Totally adjustable, comfortable, non-tarnishing, rubber-coated nipple clamps.
Amazon Reviews: 4.1 out of 5 (Examples Below)
Amazon User: Nacirema (5 stars) on September 3, 2011
will work with puffy nipples
Contrary to what others have said, this product does work on large puffy nipples (DD breasts of the natural variety). However, it takes some effort and contorting to make it work. Try grasping the aureola and gently twisting the nipple/aureola in the clockwise or counterclockwise direction of your choice. Twisting it compresses the puffiness of the nipple/aureola and will make it easier to get the clamp around it. While still holding it in the twisted position, gently slip the clamp around the aureola. While it's around the aureola but without completely releasing the hold on the clamp, carefully allow the nipple to untwist, and close the clamp.

I had to make sure that the clamp was around the aureola and not the actual tip of the nipple in order for the clamp to stay on (and to make the clamp more comfortable).

It took me awhile to figure out the screw mechanism (i.e. which way was looser and which was tighter). Basically, the farther the tip of the screw (not the knob, but the end facing the other arm of the clamp) is toward the opposite arm of the clamp, the looser the clamp will hold. Essentially, it's the non-head end of the screw that keeps the jaws from clamping shut. If you want it tighter, screw the screw *out* as much as desired.

YMMV. Please use safely.
Amazon User: D "D" (5 stars) on June 8, 2010
Surprise
Add this item on to an order just for fun. It is the most used out of all the new toys. The wife never had clamps before and was weary of trying them. But after using them once, she ask for them whenever she is in the mood for lots of stimulation. The adjustable tension is perfect, and a must for any clamp. The rubber will slide if the surface as already been moisten, so make sure to put clamps on, before you go licking anything.
Amazon User: John D. (5 stars) on November 4, 2012
Love these nipple clamps!!
I love these nipple clamps. I had previously purchased 2 different clamps, trying to find some that worked. These are perfect for a couple reasons: They have curved jaws that wrap around the wife's nipples, gripping them better (my wife has about average sized nipples), and they are large enough to actually fit around a woman's nipple. The other clamps we had purchased would not fit around her nipples, they were too small. These on the other hand can fit around the nipple and grip it securely. The adjustment screw allows you to set the grip pressure. These clamps are not high quality, they could be better made, but they do work and that is the main thing. My wife loves the feel and I love how they make her nipples look!
Amazon User: L. Lamberton (3 stars) on August 15, 2010
Nipple clamps work — sort of
These clamps do exactly what they are held out to do. However, the rubber tip that makes them a little more comfortable also causes them to slip off with even the tiniest amount of moisture present. That's an important bit of information when you consider when and where you will be using this thing.
We are not affiliated with any of the products we review and get no revenue from anything we support or promote.  Most of our products will have links to Amazon.com without any sort of referral.  Our goal isn't to make money promoting things in hopes you buy it, rather we are just sharing our review on products we have tried and want to share with our readers.