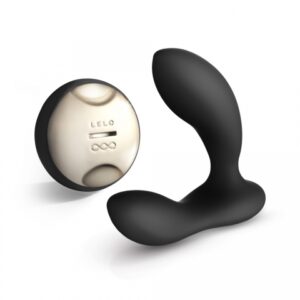 Oh how I hate to do a mediocre review to a product that seems so well thought out, nicely packaged, and almost like a sex toy for royalty. However, my anus seems to be that of a common man, made only for a lady's tongue or the tip of her finger.   The Hugo by LELO just wasn't for me.
So yesterday we received a lovely package from LELO. Although we have never tried a LELO product, we definitely will in the future. Their mailing packaging is discrete, and their product packaging is classy and sexy.  In fact, seeing the box wrapped in a cute cloth bag made me want to do an "unboxing" for YouTube.  It really is nice.  Almost like a Samsung Galaxy unboxing for your anus.
So before I start, here is a little bit of "too much information" about me. I have a very sensitive prostate and have had prostatitis in the past. My prostatitis (an inflammation of the prostate) was onset by riding a dirt bike through a rough field for hours.  This irritated my prostate and I had to be on antibiotics for months. Since then, I have been especially careful with anything that I feel can be harmful to my prostate area.  A powerful vibrator on the prostate can possibly cause inflammation, especially if you have a sensitive prostate.  However, it works both ways, because a prostate massage can actually be helpful when the prostate is full (clogged).  So I guess this is a case of having to pick your poison carefully. Being that it feels so good and I have always enjoyed a finger, I will risk it.
Not that the HUGO is equivalent to a dirt bike riding through a rocky field, but none the less, I have to be careful.  The HUGO is powerful. Which for most men, seems to be an absolute plus.  I can agree with the majority here, because while the HUGO was inside me I felt an immediate bliss.  The powerful sensations of the vibrations in my anus and on my prostate sent goosebumps up my spine.  I believe our first erogenous zone are our anuses, and this toy definitely hit that sweet spot.   With the way it is shaped, it also has a second vibrator that massages the taint/guiche area under the balls.  That is probably my favorite area to put pressure on while I orgasm.
I'm jumping forward too much here.  Let's get into how the night started.  Venice and I pulled the HUGO and it's remote control out so we could test it.  We added the batteries (included) to the remote control and we were both blown away by the motion activated control feature.  If you shake the remote control, the vibrator vibrates based on the intensity of how much you shake it.  As you stop shaking the remote control, the vibrator slowly turns off.  Pretty damn cool.  If you hit the mode button on the remote control it switches to the automatic patterns.  I believe there are 6 patterns total that you can cycle through.  It's also really neat that the remote control itself vibrates, although I have no idea why. If you have a partner, they could possibly place the vibrating control on the nipples or clitoris, so as she teases you, she teases herself.  This is an awesome feature.
And those exact thoughts gave me an idea for my night with the HUGO.  Oh yea…
Don't ever give a man with a sexual addiction a weird shaped device that goes in his ass with a remote control that also vibrates but has no real vibrating purpose (at least that I could find through other reviews).
My idea was, I am not going to lay there and just let the vibrator do its thing.  I am sure some guys who are more experienced won't like my idea, but like I said, my prostate is sensitive and susceptible to infections, so I am not just going to just lay there not touching my penis and let the vibrator pound on my prostate until I orgasm.   That's not really my thing.  Instead, I am going to insert (easier said than done) the vibrator and sit up and have sex with Venice.  I will place the remote on her clit and pound her vagina, causing the remote to shake, which will trigger the vibrator in my ass to pound on my prostate, making me cum more than I have ever came in my life.
So that's the plan.
Venice oiled up my penis and started off giving me a handjob.  As my penis grew in her hands, she started reaching down with her hand and inserting the tip of her oiled finger into my anus.  Slowly she lathered me up, making sure the HUGO and my ass was properly lubricated. The HUGO is about 3 inches of inserted length, maybe a "finger and a half" of width, but apparently I am a total wuss.  As she would get the tip in, I would squirm and ask her to put on more lube. Although she has inserted fingers into my anus before, this was the first time I have felt this type of texture. The soft material on the HUGO reminds me of the same texture that is on the bottom of a mouse pad.  You know, the type of rubber matte material that keeps the mousepad in place.  

This doesn't seem like it will just glllliiiiiiide right in.
With that being said, no matter how much lube Venice added, the insertion still felt a bit rough.  Not rough as in the size was too much, but rough as in the material seemed to be pulling my skin and causing discomfort.  It really isn't that big.  After about 5 to 10 minutes of Venice slowly working the HUGO inside me, I decided to take over the insertion duties.  Venice now focused on stroking my penis so I could take my mind off the discomfort I was feeling.  I knew, once it was inside, I would get comfortable and the fun would begin.
I was right.  After slowly getting it all the way in, Venice smiled and asked how I liked it.  She grabbed the remote control and turned it on.  I quickly asked to hold the remote because I felt a bit jumpy giving Venice this type of power, especially since I needed her to go slow.
"Don't worry Ryan, this won't hurt…I will take it slow and be gentle."
Ah yes, the famous last words a man hears before he loses his manginity to his anxious wife ready to pay him back for whispering those same sweet lies in her ears years ago.
I reach over quickly and snagged the remote from her anxious hands…which unknowingly created an explosive vibration in my ass because it was on "motion sensing" mode.  Oh God.  I jumped and tried to escape the vibration but it was inside me. There was no escape.  Startled, I fumbled the remote control around, only making the vibrations worse, as I looked for the button to turn it off.  No such button exists.  Instead I hit the button that changes the pattern cycle from motion sensing to the automatic vibrations (6 patterns).  This means, like it or not, the Hugo is using my prostate as a punching bag.  I can't sit still.  The sensation is so intense and sexy that it's almost paralyzing.   I still want it to stop though…for now.   I want to be mentally prepared.  Unfortunately you have to cycle through these patterns before it goes back to the motion sensor, which was the only pattern that didn't just vibrate automatically. Venice laughed hysterically as she figured out what was going on.  I clicked each one, scared the next would be more intense. Although this was not how I wanted to "warm up",  I did realize why this type of product is so popular for men.  It feels amazing.
However, I have no interest in laying on my back while the vibrator was inside me.  Although I have no doubt this could do a wonderful job if that was my goal, it's not.  I like to find ways and toys to heighten our sexual experiences as a couple.
So I sit up in bed and immediately the HUGO slides out of my anus. Not good.   I slowly slide the HUGO back inside my ass and hold it there with one hand while I use the other hand to guide my penis into Venice.  She is ready to be fucked.   As I move in and out of her, I have to leave one hand behind me so I can hold the HUGO in place. Again, not good.  It's not like I have this huge gaping sphincter that spits out anything inside it.  I feel like the shape of the HUGO is just too thin and sleek, when the tip should be more bulbous so it stays in place.  Also, if possible, the base should be smaller so the anus can tighten around it, keeping the vibrator inside hands free.   I can fuck Venice no holds barred with her anal plug in and it stays in place.
After a few minutes of holding the HUGO inside my ass, I try to move my hand so I can get myself into a better position for sex. Immediately, the HUGO slides out. Frustrated, Venice asks me to lay on my back so she can ride me while the HUGO is inside me.  We both assume the bed being underneath me will keep the HUGO inside me.  Again, while she is on top, if one of us isn't holding the HUGO in place, the vibrations gradually push it out of the anus.
We give up.
Maybe it was just me or my anus being too big, or maybe I just don't understand how to enjoy a prostate massager.  I wish I had the patience to hold the toy in place while Venice gives me a blow job (maybe in the future), but for now we will give up on the idea of massaging the prostate with anything other than a finger.  I appreciate LELO giving us the opportunity to try this toy, and I would recommend it to anyone looking for a powerful vibrator that seems to hit all the right spots. For a hands on experience, this toy seems to be perfect.  For a hands off experience, the HUGO isn't your massager.   I honestly don't know if a hands off experience even exists.
Let me know in the comments section?!
---
Price:
$219.00
Description: 
HUGO™ is a remote-controlled prostate massager that represents an entirely new way to think of men's pleasure, whether it's part of coupled or solo play. With two powerful motors in the base and tip, HUGO™ has sleek and smooth form that is perfectly formed for bigger, better and even hands-free orgasms.
More Power for More Pleasure
Featuring 2 vibrating motors in base and tip for double the targeted pleasure
Waterproof, Rechargeable & Remote-Controlled
More options for play than ever before, including Motion-Controls
Medium-Sized for All Levels of Adventure
Perfect for your first time or being worn during intercourse
---
We are not affiliated with LELO and get no revenue from this review.  Our goal isn't to make money promoting things in hopes you buy it, rather we are just sharing our reviews on products we have tried and want to share with our readers. We review items we buy ourselves or get sent to us as promotional products.   All reviews are just our opinions and experiences.
---
Good article on prostate taboos: Breaking Prostate Taboos