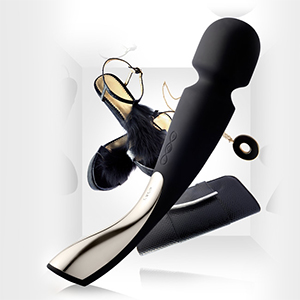 Is there any vibrator that can match the Hitachi Magic Wand? This is probably the biggest challenge known to vibrators. No matter what design the sex industry comes up with, nothing can really come close to the vibrator that changed dresser drawers forever. Instead of the double AA battery powered, vanilla colored, tiny penis shaped vibrator that every woman used to hide in her panties drawer (you are lucky if you didn't live this era of vibratordom), women have now added a back massager named Hitachi to their bedrooms. No longer did our vibrators have to be hidden in dressers, because the Hitachi Wand was a double agent, and could also pose as a simple back massager. Although everyone knew what it was really for, the idea that there is a small possibility that it could be used for a bad back, kept everyone happy and quiet. It also wasn't shaped like a small penis. And as we all know, nothing shaped like a small penis, including a small penis, is any good.
So has LELO found a replacement for our double agent? I guess that depends on if your friends will believe you own a back massager that looks like it was designed for a queen. The Smart Wand ™ is gorgeous. The problem is, I'd be pissed off if I caught Ryan in the room trying to massage his back with it!
<Back Massager Nazi> NO BACK MASSAGER FOR YOU!
The Good:
It's waterproof! Shower, bubble bath, or even the ocean if that's what you are in to. There are a lot of angry faucets out there now, thanks to the waterproof Smart Wand ™.
Power. This wand is as powerful as they come. When you use the word wand, most of us want power. Nothing cute, nothing delicate, nothing that "packs a punch". We want raw vibrating power so we can slip in a quickie orgasm any time we want. This has it.
Portability. You can use it plugged in if you like, or you can charge it and take it on the move. It has a pretty good battery life, but like every portable device, you better make sure it has enough juice before you start, or you may end up blue labia. The upside is, you no longer have to stay 4 feet from a power plug.
Authenticity. What exactly does this mean? Well, unfortunately the Hitachi Magic Wand is so popular that it really is hard to find an authentic one at this point. There are blogs dedicated to the small differences between a real Hitachi Wand and a fake. And with all the fakes out there, no doubt, more people end up with cheap imitation wands that break quickly. When dealing with LELO, this is just something you will never have to worry about.
Adjustable settings. Although this is in the good option for some women, for me it is totally useless. I just need one setting, Earthquake. If I am using my Smart Wand ™, I am not fooling around here. This is my trusty tool that I use when all else fails. However, for some, the different pattern settings may be a huge plus. It's definitely added to "The Good" simply because we all enjoy variety and options.
Variety. You can buy it in multiple colors (pink or black), we chose black. And you can get it in two different sizes (medium or large), we chose large. Black and large, no pun intended.
The Bad:
My hands are numb! This biggest problem I have with the Smart Wand ™ is that it doesn't just shake the head of the vibrator, like a Hitachi Magic Wand. Instead, because of it's design (maybe to make it waterproof), the entire wand shakes. Unlike your Hitachi, which separates the body from the head, the Smart Wand ™ doesn't have that separation. In other words, after a morning session, I feel like I have been holding a jack hammer. This is probably the only major negative I have regarding this massager.
The cost. I hate to add this here, because you really do get what you pay for. However, being that the original Hitachi Magic Wand still easily sells under the $100 price point (if you can find an authentic one), it would be wrong of me to not mention the cost. The price you pay for the beautiful design, waterproof ability, and all the extras, will cost you. You will be happy with your investment, but it just can't compete with the Hitachi's price point. However, with the Hitachi, there are so many fakes out there now, you really never know what you are getting. With LELO, you always know you are getting high quality products that come with a good guarantee and great customer service.
---
Price:
$199.00
Description:
For sheer, concentrated power and unparalleled relaxation, no other cordless massager even comes close to the best-selling and world-famous LELO SMART WAND™ Large
Waterproof and Rechargeable
Comes in 2 different sizes.
---
We are not affiliated with LELO and get no revenue from this review. Our goal isn't to make money promoting things in hopes you buy it, rather we are just sharing our reviews on products we have tried and want to share with our readers. We review items we buy ourselves or get sent to us as promotional products. All reviews are just our opinions and experiences.