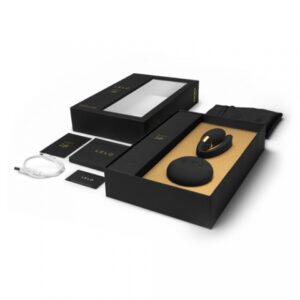 Well, LELO and it's customer service are bar none, the best we've worked with. Their items? The best we've played with. The Tiani™ 24K is no exception. Now, the 24K edition of this toy is not yet released (it should be released after this review has been published). It's absolutely stunning. Truthfully, sex toys really shouldn't be this beautiful, because it really only takes Ryan and I just a few minutes to get our cum all over them.  But let's get to the Tiani™.  You've probably seen a very popular design that resembles the Tiani™. Yes, I am talking about the We-Vibe, which we personally didn't have a great experience with. So you're probably wondering why we would review a toy very similar in design. Because  you should buy the Tiani™ rather than the We-Vibe. Well let me say, We-Vibe had a great idea, with mediocre implementation.  LELO fixed what was my biggest issue with the We-Vibe, comfort.
Being familiar with the design meant we needed very little prep time for this review session. I came out of the shower and looked at Ryan already on the bed slowly stroking his semi erect penis. He was already lubed up so we were ready to go. I came over to the bed and grabbed his penis and started stroking it for him. As I would switch hands, I would rub the free hand, now moist with lubrication from Ryan's dick, on my own vagina to make sure the Tiani™ could easily slide inside me. The only problem? Ryan felt too erect.  Yes, too erect. We have been together for over 17 years and if his dick is too hard, it can be extremely uncomfortable for me. You'd think after all these years my insides would have morphed to match with his penis like a puzzle, but a majority of the time Ryan is at about 85%, where his penis still has flexibility. This slight give in his penis is what feels the most comfortable for me. However, when I orgasm through penetration, it's usually due to the deep pain and rough sensations I need when I am horny. Sometimes I love the punishment, sometimes I don't. Tonight, it has me a bit tensed up because I'm not in the mood to have my insides destroyed. I getmy penetration orgasms are always due to the stabbing deep pain. Why does sex have to be so complex? so it has some give while inside my body. When he has his high school erection, it's like being fucked by a large wooden stick that just destroys my insides no matter how much we lubricate. Not that sex is overrated, but sex with a penis that has no give is extremely overrated for me, especially from certain angles.
So, I am going to use this toy that slides inside my vagina and vibrates my G-Spot, while the other end rests on top my clitoris.  At the same time, Ryan is going to stick his overly erect penis inside the same hole, and fuck it.  OUCH.
Thankfully, unlike the We-Vibe, the Tiani™ was designed with the woman's body and vagina in mind.  Rather than a bulky insertion side that feels like a large spoon taking up too much room inside your vagina, the Tiani™ is slender and slim and doesn't take up too much room (but still has a powerful punch).  The inner shape also has a curved outside (facing towards the penis/not the G-Spot) which contours to a penis. Talk about, FINALLY…a toy made for the smaller women in mind. I understand some toy makers feel like the vagina is limitless and the size of the toy doesn't matter, but they couldn't be more wrong.
For the first time using a dual vibrator I was able to relax and enjoy it. With the toy inside me, I stayed in a heightened state of euphoria and counted 4 mini extended orgasms before I couldn't take it anymore. To explain the word mini, these are orgasms are where my cervix twitches and I get an intense sex high, but rather than this huge release that lasts 10 – 15 seconds, I get this slow plateaued that can last up to 3 to 4 minutes. I usually get these types of orgasms from pure penetration because of the penis rubbing over the G-Spot and pushing against my cervix. As a woman, I'd argue that a mini extended orgasm is more desirable than a huge release orgasm I get using a wand.  As a woman with a small vagina, I'd argue I would rather feel comfortable and enjoy myself, than feel stretched out because a penis is fighting for room inside me.
The only downside to our experience was Ryan's upper side of his shaft was a bit raw when we were done. Even properly lubricated, even with a great design, his penis still rubs non stop against the rubber inside my vagina. After 30 minutes of sex and sharing space inside my vagina with a foreign object, his penis got a bit raw. I don't know how this could ever be prevented, but I wouldn't be surprised if LELO one day figures it out.
---
More Information and Price:
TIANTI™ 24K by LELO
Description:
Immerse yourself in an ecstasy of gold with TIANI™ 24k. Worn by women when making love, this award-winning design features a decadent ring of 24 karat gold, marking it out as the most luxurious remote-controlled couples' massager in the world today. With 8 stimulation modes – two controlled via movement alone – the dual motors, one for internal stimulation and the other for external, deliver a fusion of luxury and pleasure that only gets stronger with time.
THE ULTIMATE LUXURY COUPLES' MASSAGER


Designed with 2 motors to maximize the sensations for both partners

SEALED WITH A 24 KARAT GOLD KISS


Features a 24 karat gold ring stamped for ultimate intimate luxury

8 VIBRATION PATTERNS WITH ADJUSTABLE SPEEDS


Adjust Sensations via Wireless Remote from up to 12 meters

A WORLD FIRST IN SENSEMOTION™ TECHNOLOGY


Create Unique Stimulation Patterns with Movements of Remote

100% WATERPROOF & USB-RECHARGEABLE


Offers hours of satisfying pleasure from a single 2-hour charge

SAFETY, COMFORT AND ABSOLUTE HYGIENE


Made from smooth body-safe silicone with 1-year warranty
---
We are not affiliated with LELO and get no revenue from this review.  Our goal isn't to make money promoting things in hopes you buy it, rather we are just sharing our reviews on products we have tried and want to share with our readers. We review items we buy ourselves or get sent to us as promotional products.   All reviews are just our opinions and experiences.