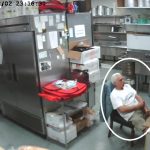 SAN DIEGO — A real jerk job.
The owner of Jersey Joe's Pizzeria told Huffington Post today that he's not the guy in a photo circulating around the Internet, showing a white-haired man masturbating in a pizzeria kitchen — nor is it anyone working at his establishment.
In Jersey Joe's storefront window, the humble eatery proudly displays an "A" rating from San Diego's Department of Environmental Health, with a score of 98 on its recent June 3 inspection.
Reporters at the shop showed Giusepp "Jersey Joe" Scire the photo, which was posted on the photo-sharing website 4Chan, and then Yelp.
"It is not me [in the photo] and that's not my pizzeria," Scire told the Huffington Post.
Scire said that he "fired two guys recently" and suggested that he might be the victim of a disgruntled ex-employee.
The bombshell dropped on Wednesday, when 4Chan users posted links to several random, unsecured webcams. That's when, those users claim, they found Scire jerking his Joe, and took screenshots. The photo shows a man in a white T-shirt and shorts sitting at a desk with his pepperoni in his hand. The backdrop is a kitchen, complete with a fridge, sink and containers that are used to keep pizzas warm.
Later in the day, a man live-streamed his experience (partial video below) confronting an employee of Jersey Joe's about the photo. The man in one of the the videos — which doesn't show any lewd acts — appeared to show Scire serving pizza and then becoming irate when the customer asked him about the masturbation photo.
Critics on Yelp immediately took to Jersey Joe's restaurant page to poke fun at the business.
"The white cheese pizza had an odd taste," one user wrote. "Five stars for such a relaxed gentleman assisting me."
Another user added, "So I just watched one of their employees masturbate in the back on their unsecured camera feed."  That user added a link to the circulating photo.
 As Reported by Buck Wolf of the Huffington Post