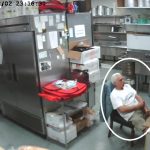 SAN DIEGO — A real jerk job.
The owner of Jersey Joe's Pizzeria told Huffington Post today that he's not the guy in a photo circulating around the Internet, showing a white-haired man masturbating in a pizzeria kitchen — nor is it anyone working at his establishment.
In Jersey Joe's storefront window, the humble eatery proudly displays an "A" rating from San Diego's Department of Environmental Health, with a score of 98 on its recent June 3 inspection.
Reporters at the shop showed Giusepp "Jersey Joe" Scire the photo, which was posted on the photo-sharing website 4Chan, and then Yelp.
"It is not me [in the photo] and that's not my pizzeria," Scire told the Huffington Post.
Continue Reading Jerkin' Jersey Joe's Pizzeria and His Special Pizza Sauce