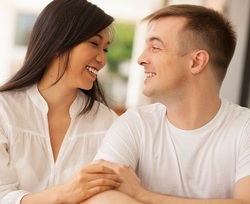 1. No money? No problem! Like many couples, we didn't have the luxury of spending money. In fact, we scrimped and saved so much that we had very, very few date nights. So one day, we went to Toys R Us and bought a coloring book and a box of crayons. The Crayola 64-pack, to be exact. We splurged. That night, Mr. Smith and I colored, he on the left pages and I on the right. Then we played a game of "let's see who can name the most crayon colors without looking at the label." I don't remember who won. It was probably me though.
2. Record Hunting. Who would have thought I'd see another Fleetwood Mac record after I moved out of my parents' house? Digging for records is something we enjoy doing together. We look for imperfections, scratches on the record, dented cover art – these were made 20-30 years ago, and finding them in the best condition is very difficult. We find it relaxing.
3. Blockbuster Night. Or a Netflix night, even a Redbox night. I could watch a zombie movie or a comedy, or one of each. Nothing like finding an excuse to squeeze Mr. Smith's hand or have him cover my eyes. Another idea is to have a theme, like a Russell Crowe-a-thon or movies from the 80s. Have your remote controls ready and don't forget your popcorn.
4. Bookworming. Another relaxing date is hanging out at the bookstore. It doesn't matter if it's Books-a-Million or a used book store. We usually don't end up buying any books, maybe a magazine and a coffee.
5. Level up. We can spend an entire night playing video games. Revisit your childhood together by playing a video game. If it's a one-player game you'll have to pass the paddle; two-player games are even better.
6. Free events. The calendar on our city's website has a list of free events: poetry readings, recitals, exhibitions, etc. You can plan them several months in advance so if you don't feel like spending a ton of money or you're looking for a change from the ordinary,
7. Thrift shopping. One year we decided to wear cheesy Christmas sweaters to our holiday parties. We just knew that it wouldn't be a problem finding them. But believe it or not, they ranged between $20-$60 that year on eBay. Umm…no. Our local Goodwill had them, of course. And for $3. I wouldn't really consider this a date night, but it's still something fun to do without spending a lot of money.
8. Turn up the heat. In the kitchen, that is. The Food Network has a lot of meals that are inexpensive, quick, with ingredients that are available at your local grocery store. I've used the Food Network website to come up with appetizers, meals, and desserts. It's a trial and error thing, but it's a great way to put variety in your dinner dates.
9. Go camping. Tents can be pricey. Before we bought our own, we rented one and pitched it in our yard. The next morning we were awaken by ants. Lesson: don't bring Cheese Puffs into your tent because even if they're unopened they'll find them.
10. The new place. Try a new restaurant that neither of you have been to. It doesn't have to be a $40 a plate joint. Go to the new Indian restaurant or that place that makes oven-baked subs. You'll both be experiencing something new, and therefore creating a new memory together.
11. Say cheese! We may forego our Friday night date if we're too tired. But the next day we'll walk around downtown or along the river and take pictures. Not with a photo app, but with a Nikon.
12. Re-enact your first date. Remember your first date together? Make a play list of music from that year, wear the same outfit, and go back to that theater where you first saw that movie.date nights we've had. Here are some of my favorites:
This blog post is a work in progress.
Last updated:    10/30/2012