SHD King 3 Double-Head Stimulation Dildo

It's 2022 and a double-head dildo is no longer a lesbian toy, it isn't made for just women, and it definitely isn't something any couple should be ashamed of. However, some things never change.
Toxic Masculinity
Being on social media and tuning in to different communities, I have noticed that some circles still bully others for their sexual preferences or kinks. This behavior online is equivalent to the simpleton mindset of being back in high school again. The masculine hive mind of the internet can be extremely toxic. I do not want to get too much into urban Twitter (this isn't a race thing, there are white, Hispanic, and black people all apart of urban social media), or urban YouTube, but there are a lot of people who sit in front of a webcam gossiping with others about the latest things going on in urban culture and neighborhoods. In doing so, they create their own little following and end up harassing other similiar personalities and digging up skeletons (through ex-girlfriends or rumors). If they find out your ex-woman used a vibrator on you, or fingered you during a blow job, you are "canceled". Imagine that? It's interesting because this is a sneak peek into the pressures of urban neighborhoods, toxic masculinity, and being ashamed of your kinks and what you really enjoy behind closed doors. Remember, a lot of people in this urban masculine culture still deny masturbating, which is absolutely ridiculous.
I can't imagine a life where you have to hide kinks such as enjoying a finger in your ass while getting a blow job, using a toy with your girl, and just being sexually open minded in general. Never again. In fact, let's just save this rant for another blog!
So how did we like the

SHD King 3 Double-Head Stimulation Dildo?
We loved it. Masturbating together is always fun. Masturbating stuck together with a double-headed dildo is even more fun. This toy is perfect for a woman that sits in her man's lap and enjoys giving him a hand job. The dildo is soft in the center so you can bend it in whatever positions you like. It is also slim on both ends so it isn't too overwhelming on the body. The vibrations feel amazing and there are so many different frequencies and patterns to choose from.
For us, it is the first time in a long time that my wife was able to orgasm immediately. We had an adult themed video playing on a tablet off to the side of us while she sat in my lap with one end of the dildo resting between her labia. The other end of the dildo was near my taint, resting directly on my anus. The vibration frequency was on high and steady (no pulsating). While she stroked me and watched the video, we put imagine ourselves being the actors in the porn video and talk dirty to each other. After a few minutes, my wife shocked me and started moaning. She leaned back holding herself up by my dick like a bull rider. It seemed like an intense orgasm. She could no sit up straight and was leaning her body so far back that she would have fell off the bed if she didn't have my penis in her hand. She could not sit up straight until the sensation subsided because the vibrations were making her clit sensitive.
I could barely sit up during my orgasm. Much like a man gets weak while he cums and tries to keep going, I tried to control my orgasm and stay focused on stroking my husband's dick. Impossible. I fell back and would have fallen off the bed if I didn't squeeze his dick and hold myself up with it. Think cliffhanger.

I loved this toy! It nearly killed me. – Venice Bloggs
Once she was able to sit back up she slid the head of the double-head dildo into my anus. It was so comfortable that I couldn't tell it was even in me. It felt more like she just placed it directly over my rim so I could feel the vibrations better. As I felt the orgasm building, I noticed my wife was rotating her hips more aggressively as if she was going to cum again. My orgasm hit me at the same time her second orgasm hit her. She again leaned back which forced my dick to shoot cum all over her stomach. I had to quickly sit up and snatch my dick away from her grips because she couldn't stroke me while she came. I held her up by grabbing one of her arms and stroking myself with my other hand. I had to do this because while she cums she becomes a zombie and would have just held my dick and ruined my orgasm. I finished on myself and waited for her to finish so she could support her own weight again. I let go of her arm and flopped back down onto the bed. We both couldn't move for a few minutes.
So I guess we both approve the double-head Stimulation Dildo.
---
The

SHD King 3 Double-Head Stimulation Dildo

Pros and Cons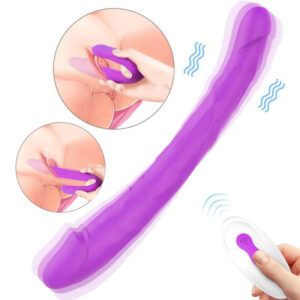 Pros:
The dildo is flexible so a woman could use this toy all to herself. She could place the dildo in her vagina and bend it so the other side is touching her clit. Or she could place the other side in her anus.
It has two different vibrating parts so it can pleasure you in various ways.
Good for lesbians in the tribbing position.
A Great way for a couple to scissor and place both ends inside their bodies and masturbate together. This could be done with a gay couple, lesbian couple, or a female / male couple.
It is sized perfectly for a couple that do not want to be overwhelmed with girth. Both ends are slim (1.18″ & 1.35″). This helps
Cons:
The double-head dildo could be a bit longer so you do not have to move so close to your partner. The longer, the better.
---
More Information and Price:

$57.99
Buy SHD King 3 Double-Head Stimulation Dildo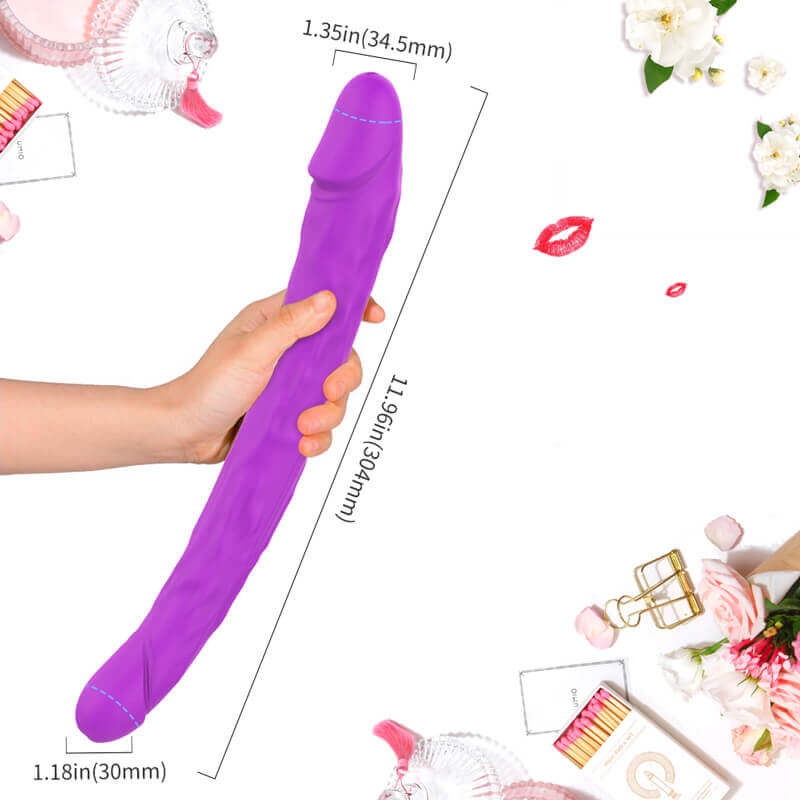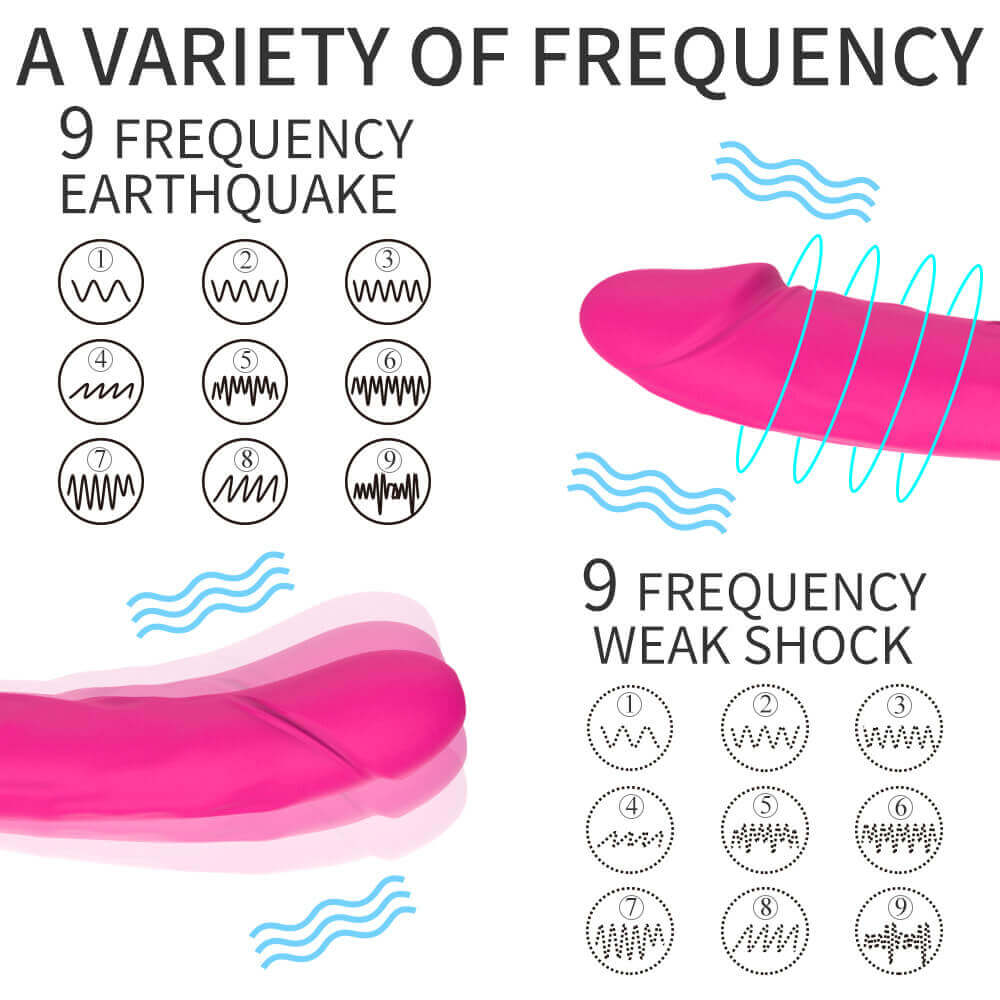 Website product Description:
This dual-ended dildo vibrator by S-hande is designed for confidential play between partners or couples. This is made ideal for those couples who are always in search of more and more pleasure and fun. The huge realistic women's dildo vibrator is the perfect sex tool for couples and lesbians as it is shaped in a way that will give superb ejaculation to both partners. Its pliable and real angle also matters a lot. This vibrator has a design of 2 motors to bring stimulation. It has a unique function to offer 9 variable modes of vibrations. It will give 9 different earthquake frequencies and 9 variable weak shock frequencies. These variations of frequencies give a variation of pleasure ways.
This product is composed of safe pliable silicone material that is easily bendable or pliable for stimulation of the G spot. This is done from a good angle. This dildo vibrator is available in two beautiful colors including purple and magenta. It is made up of ABS and soft medical-grade silicone material. This material used is skin-friendly and will give a soft realistic touch. It has got a mute design as it produces less noise which is negligible. It produces a sound that is less than 40 decibels during its use. You can use it with comfort as it is friendly and lovely to use without producing any kind of disturbance or noise.
The S-hande vibrator has a magnetic suction of charging and after it is fully charged you can enjoy its prolonged pleasure for a continuous 0.5 or 1.5 hours. It requires 3 hours for being fully charged. With a power capacity of 420mAh or 3.7v, it is made totally USB rechargeable. It is charged by a PC, charging treasure, wall charger, or car charger. Its design is IPX7 waterproof. You can explore more fun by using it underwater.
Specification
Material: Medical Soft Silicone, Medical silicone+ABS
Power: Rechargeable, 3.7V/420mAh
Weight: 234g
Size: 304mm*38mm*35mm
Function: 2*9 modes vibration
Charging Time: 3 hours
Work Time: 0.5-1.5 hours
Noise: <40db
Waterproof: IPX7
---
We are not affiliated with Honeysx and get no revenue from this review. Our goal isn't to make money promoting things in hopes you buy it, rather we are just sharing our reviews on products we have tried and want to share with our readers. This item was sent to us as a promotional product under the terms and condition that if we did not enjoy the product, we are not obligated to write or publish a review. All reviews are just our opinions and experiences.