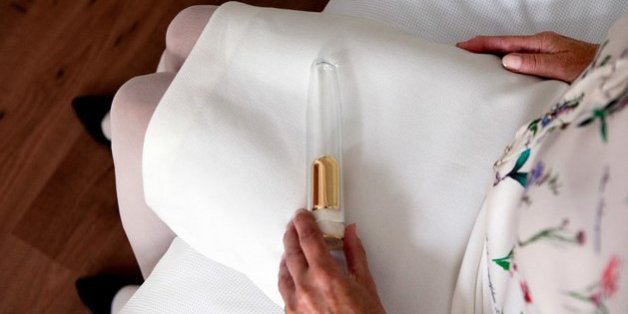 It's a sex toy that someone — maybe you — will be dying to use.

Dutch designer Mark Sturkenboom has just created a sex toy that includes a mini-urn to hold the cremated remains of that special someone.

The erotically-shaped urn is part of "21 Grams," a memory box devised by Sturkenboom to help grieving people feel the presence of their loved ones.

The title refers to the purported weight of the human soul based on a now-discredited study by Dr. Douglas MacDougall, an early 20th century physician who weighed patients before and after death to see if there was a change in weight, according to Snopes.com.

Besides the death-oriented dildo, Sturkenboom's memory boxes come with a perfume diffuser that can hold the departed's signature scent, and an iPod amplifier so the bereaved can play songs that remind them of the deceased, Dezeen.com reports.

The box can also hold other keepsakes related to the dead loved one, and comes with a brass key that can be worn as a pendant, Yahoo! News reports.

Sturkenboom said an elderly neighbor inspired him to create the memory box.

"I sometimes help an elderly lady with her groceries and she has an urn standing near the window with the remains of her husband," he said, according to the Metro. "She always speaks with so much love about him but the jar he was in didn't reflect that at all.

"In that same period I read an article about widows, taboos and sex and intimacy and then I thought to myself 'Can I combine these themes and make an object that is about love and missing and intimacy?'"

Sturkenboom hasn't officially marketed the boxes yet. He told The Huffington Post that the price hasn't been determined.

He also hopes that people focus on the reasoning behind the concept and not the sex aspect.

"I would much appreciate if the term 'sex toy' or 'dildo' are not the headlines," he told HuffPost by email. "It's a conversational piece. A metaphor."

Source: RSS Feed Huffingtonpost
Sexlifeandeverything.com: We used a Clone-A-Willy to make clones of Ryan's penis. If he passes away, maybe I can put his ashes inside his own penis clone. I have no problem with this idea and think its absolutely wonderful!