If Every Straight Hook Up Site Was Like Grindr The World Would Be A Better Place
I was browsing through Reddit and I saw a question regarding a guy who had decided to let his girl experiment with another girl while he experimented with another guy. It was an interesting post and a few things about it really piqued my interest.
My girlfriend recently came out and said she wants to have sex with women but no other man. As a result it got me to thinking, and I would like to have experiment with the same sex as well. However, we are very unsure of how to find people to experiment with. How do people find patient, understanding lovers to learn the ropes with when they're the same sex? We're at a loss as to how to proceed into the territory of homosexuality."
The Difference Between Men and Women Hooking Up
I immediately thought to myself that there was a few things that was going to happen. First, his girlfriend would have to spend a lot of time looking for what she wanted. She would have to sort through girls that really just want threesomes with their husband (admittedly, she'll be sorting through us), catfish/men pretending to be women hoping to pick up some stray and confused pussy, curious females that will never actually meet you, stud females that act like men and want to pound your guts in with 10 inch dildos, and various other things that will be obstacles for her and her bisexual journey. I'm not saying this is how it always is, but in our experience, it's exactly how it was. However, his experience will be quite the opposite. By the time she hooks up with another female, he may have an anus that will appear visually similar to the grand canyon. I am not joking either. Men will be lined up ready to suck, fuck, and rearrange his back in ways a chiropractor could only dream of.
Which is why the following comments were hilarious to me…because it's true.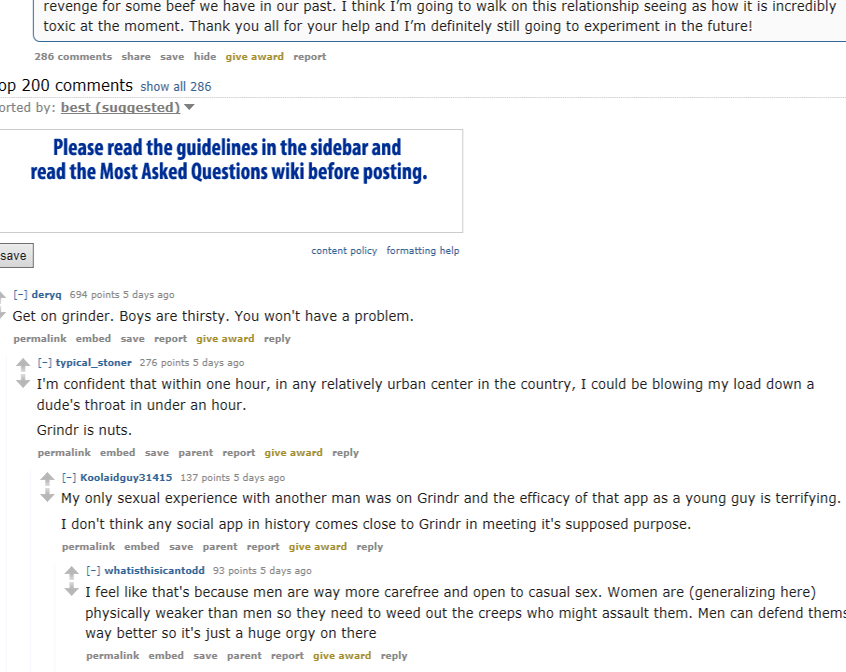 After getting through the comments I noticed the original author edited his question and added that she wasn't being serious. More specifically, she was not okay with him having sex with another man.
Update: So the gf is no longer comfortable with me seeking men and it seems like she's using this whole thing as revenge for some beef we have in our past. I think I'm going to walk on this relationship seeing as how it is incredibly toxic at the moment. Thank you all for your help and I'm definitely still going to experiment in the future!
Continue Reading If Every Straight Hook Up Site Was Like Grindr The World Would Be A Better Place