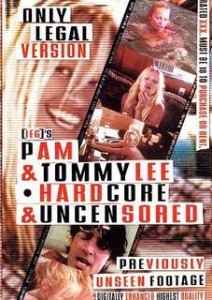 I suppose you are wondering why anyone would review the Pamela Anderson and Tommy Lee sex tape 18 years later. Damn, 18 years later?!    Well, first of all, our entire site is based off real couples and real sex.  This video is a bit of both.  Also, it doesn't feel right reviewing sex tapes or future sex tapes without at least writing our opinions about the godfather of them all. Yes, it's a bit outdated but it has to be done.  The fun part is we have never really watched these videos so for us it's still our first impressions.
 A bit of background for those of you that may have been underage or under a rock when this tape leaked.  Pamela Anderson and Tommy Lee had a sex tape of them on their honeymoon leak in 1995 after it was stolen from their home.  Anderson sued the video distribution company, Internet Entertainment Group. Ultimately, the Lees entered into a confidential settlement agreement with IEG. Thereafter, the company began making the tape available to subscribers to its web sites again, resulting in triple the normal traffic on the sites.
Another tape, which was made before the Tommy Lee tape, involving Anderson and musician Bret Michaels from Poison, was later announced, and an abridged version of less than 60 seconds appeared on the internet. Frames of the video first appeared in Penthouse magazine in March 1998. The tape was successfully blocked by Michaels, but a four-minute sex tape is still available on the Internet.
 1 poor, 2 fair, 3 average, 4 good, 5 excellent
Venice's Review:
Quality: 2
Entertainment Value: 2
Star Factor: 5
Skill Level: 3
The Woman: 4
The Man: 4
Sexual Value: 1.5
I think we can all pretty much agree that Pamela Anderson & Tommy Lee have inadvertently created the first major internet celebrity sex tape. The biggest difference, though, is that I believe the tape really was stolen and distributed unbeknownst to the two. I say this because what became a celebrity couple's vacation video sprinkled with some sex scenes became one of the most infamous sex tape since "Deepthroat." Yes, I believe it caused THAT much controversy. Since it was "released" in 1995, it seems it has garnered more attention for them as a couple than their actual marriage. Separate, the Baywatch babe and the Motley Crue drummer had their own fame. Together, they would make a great couple and the envy of many. Once their sex tape, I mean private home video, was reported stolen and put online, they seemed to be truly devastated. The reporters followed Pam around asking her about how she felt about it as she pushed through the paparazzi with her huge sunglasses as if she were ashamed. Guess what, Pam and Tommy: you've unwittingly created a trend which other celebrities have shamelessly used as a publicity stunt to further their stagnant careers.
Her body is firm and tight and leaves nothing to the imagination. Having never seen this sex tape until just yesterday, I was more surprised to see Pam without her make-up than to see her nude. She's known for her knockout body, but I was expecting to see little angels swinging from her lips singing the most gorgeous tune I've ever heard.  Instead, I saw a cute little vagina with nothing much else going on.  I guess I was let down.  Nevertheless, their fame helped to fuel the popularity and made men and women alike want to scramble to their computers and watch it. I thought there would be some hardcore fucking going on, but it's actually one of the most least sexually entertaining "sex tapes" out there. I do give her credit for sucking her man's dick on camera and using her hands well, but with little to no eye contact and no real enthusiasm, her blow jobs left a little to be desired.
I wouldn't consider this a real sex tape because there is sooo much vacation footage (car rides, boat rides, etc.) in between blow jobs and fucking. Even the best video camera (for the time) is just as good, if not worse, than today's cell phone camera. Not only was the quality shoddy, but for most of the time there was a water spot on the lens that served as a blur spot – their very own censor. With all the "I love you, baby" talk, it was obvious that they loved each other. What can you expect? They were newlyweds. And with this being unplanned and unrehearsed, I figured it would be more playful than sexual. But that's probably what is so unique about the Pam & Tommy tape – their genuine feelings come off as real. She strokes his ego while stroking his dick, telling the camera that their kids would be glad to know their dad has a big dick. She is proud of her man, proud of his size, proud to be called his woman.
Ryan's Review:
Quality: 2.5
Entertainment Value: 2.5
Star Factor: 5
Skill Level: 3.5
The Woman: 4.5
The Man: 5
Sexual Value: 1
The video that really started the sex tape phenomenon on the internet.   Prior to Pamela Anderson and Tommy Lee, what really existed in the "leaked" sex tape world?  Rob Lowe?   The internet changed the world, Pam and Tommy changed our perceptions of how celebrities fuck in their bedrooms.  One thing is for certain, money and fame doesn't mean your sex is better.  For me, watching this sex tape, I realized that I may never have millions of fans screaming when I twiddle a drum stick in my hand, but I can have a wife who treats me better than a rock star.
Now, don't get me wrong, Pamela knows how to handle a cock, and she's had plenty of experience with past boyfriends, on and off camera, to know how to do it right.  However, hand and head movements doesn't change her total lack of enthusiasm, especially on their honeymoon.  I can't imagine it getting much better than honeymoon head, but who knows, she wasn't sucking dick for us to unfairly critic.
This sex tape didn't really turn me on but watching it I felt like these two were bigger than the tape itself.  Some couples need a sex tape, some sex tapes need a couple.  This is a case of the latter.  Had this been any other couple but Pam and Tommy, it would have maybe got 20 views on some porn site and been forgotten forever.
I'd say this tape is two people making love, not really having freaky sex and trying to impress the world.  The fact they both are in great shape and have all the proper assets makes this watchable, but the obvious is obvious.  This wasn't made for our eyes.
Below is a preview that we did not upload, do not host, and have nothing to do with other than a simple google search and embed.