Deepthroating While He Urinates (part 1)
Ryan: The next day after failing to urinate while Venice was deepthroating me, Venice sent text messages and teased me for not being able to follow through with our plan. For instance, before she left for work she would make the peeing sound as she talked, "Have a good day at work Ryan, last night was so ssssssssssssspecial." Of course she was just teasing me but I knew I was going to pull it off the next time we tried. The conditions had to be right though. I had to make sure my bladder was empty in the afternoon so the flavor wouldn't be so potent that night. I was going to start drinking a lot of water around mid day to make sure I felt the urine sensation as my work day ended. I also thought about the position we previously tried, her flat on her back being face fucked, and knew it wouldn't work. I'd want to be able to pee and know the stream could go down her throat, rather than pool back up into her mouth and possibly choke her. Mainly, I had to be mentally prepared. I needed to tell myself that I would pull out quick if anything happened, Venice wasn't going to choke, and I knew I had to relax.
As my work day came to an end I felt the pressure from my urine in my bladder growing. I knew by the time I got home I would be able to pee whether I wanted to or not. I called Venice on my drive home and let her know I wanted to try again but in the bathtub. I also needed her to help set up the camera so everything would be ready. I am unsure if I could set up the phone, put in the memory card, and do a bunch of technical things all while holding in my urine like a three-year-old child who didn't have a potty near.
Venice: The first time I was disappointed that we didn't get to finish the deepthroat urination. Although I was nervous, I was more excited. Experiencing these "firsts" with each other is what bonds us even closer, not to mention the memories we get to make with each other and the talks following. I was excited to get a second chance. I get home a few minutes before Ryan, so I was already undressed and ready to get started. I stood there, giddy, excited to get him hard.
Ryan: As soon as I got home, Venice was in the bedroom smiling, knowing what we were going to try again for the second time. We took off our clothes and went walked into the bathroom. I finished setting up the camera as she got into the tub and got down on her knees. I already felt the urination feeling so intense it was burning the base of my crotch. I climbed into the shower and stuck my dick in Venice's mouth to get some relief. As soon as I stuck my dick in her mouth, I felt the urination feeling immediately subside. For whatever reason, the warmth of her mouth and the sexual stimulation or oral sex, helps control the urge to urinate.
Venice: We started with about minute of simple deepthroating. Like yesterday, his dick was already thick before his first thrust in my mouth, most likely from the excitement building throughout the day and leading to that moment. I was on my knees and felt his cock get harder as he moved up and down my throat.
Ryan: As my dick grew and got hard enough to start penetrating the back of her throat, I knew that would be all I needed to finally pee. I wanted to be in the back of her throat, enough so that it closed off her windpipe and she could not breath. The camera was rolling and I pushed her face against my crotch. I relaxed my muscles and felt the urine sensation growing. I looked down at Venice and said, "Here it comes."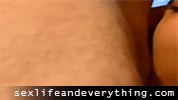 I felt my urine stream flow through my penis and down my shaft. I could feel the urine splashing against the walls of her throat. I held her face tightly against my body as I urinated for about 3 or 4 seconds. The warm feeling of urinating while a her lips are wrapped around the base of my cock where my stream from my bladder meets my urethra, the warmth of her mouth and tongue massaging the underside of my shaft, and her tight throat hugging my upper shaft and head, is indescribable. I slowly pulled my dick out of her throat and mouth, all while the stream of my urine was still filling her up. As my dick came out of her mouth, the gush of the tail end of my urine would come out with it. In the gif above, that is the actual moment I am talking about. Although some of the urine naturally goes down her throat, the rest comes out with the penis. The flow of urine is much greater than her throat can swallow, especially with her mouth open. As she closes her mouth for the first time to be able to breath, my pee spills all over her chin and body.
Venice: As soon as his dick was thick and long enough to submerge itself in my throat, I looked up at him and asked him to please piss in my throat. I took a long, deep breath and he held his dick in place deep past my soft palate. Suddenly I felt a true gushing vibrating in my throat, the undeniable sensation of water filling up very quickly in a shallow container, like when a waitress fills up your glass with a pitcher water, the water flows so quickly that it makes a high pitched sound at the end. I could feel urine building up very fast and can sense when it's getting higher in my throat. I want to panic but I trust Ryan wouldn't hurt me. I close my eyes and wait for him to pull his draining cock out of my throat.
As he pulls out, his stream and the urine that wasn't able to funnel down into my stomach quick enough followed his penis out of my body, and spills all over my chest and thighs. I could smell the undeniable smell of urine, which, to me, smells like lightly salted roasted peanuts and grilled steak that hasn't been marinaded.
Ryan: After I pulled out, I noticed that the smell and sight of my urine all over her face helped turn me on even more. If my dick wasn't totally erect, it was now. Not only did I start getting much more harder, I was also able to stop my urine flow with no real problems. After I let some of my stream soak her mouth and face, I would purposely squeeze the muscle that stops my urine flow, and stick my wet dick back in her mouth. Venice would swallow my juices and ask me to please give her more.
With my cock still dripping with piss, I would put my dick up to her mouth and let her drive her face into the base of my pissy crotch. After about 10 seconds of face fucking, I would stop again, relax, and piss as deep as I could down her throat. Each time, I would slowly pull out as I peed, and Venice would spit up whatever didn't naturally go down her to her stomach. We did this 5 or 6 times until I no longer had any urine left. On the last time I pulled out, I finished my stream off by peeing on her face, in her hair, on her breasts, and all over her thighs and stomach.
As she sits on her knees soaked in my urine, I am so turned on I can already feel my balls about to explode. I grabbed my dick and started stroking my cock in her face. She smelled like warm urine, which reminds me of the smell of popcorn from the movie theater. Or at least that is what my urine smells like, I am unsure what the rest of the world's resembles. The smell turns me on, as it has a feeling of dirty wet sex. Venice tries to move my hand and put mouth around my soaked dick. I grab her by the back of her hair and pull her about a foot away from my cock so she can watch my cum shot. I explode. My cum goes everywhere. In her hair. In her face. Over her shoulder. And all over her chest and chin. Before I could finish shooting, I grab her head and force her face onto my cock so I can finish in her mouth and throat. Venice hungrily snatches up my dick and forces it down her throat while my shaft still spasms from my erupting orgasm.
Venice: I was hoping for Ryan's semen after my golden shower / golden flushing. I wanted to take all of his cock in my mouth and drove my head into his body forcing my way onto his dick. He grabbed my urine soaked hair and pulled me me away from his cock, forcing me to watch his dick from a distance. I hate it. I wanted to taste his urine and cum together, I wanted to feel him fuck my throat until he finished inside me.
His cum flew everywhere and I held my mouth open trying to catch semen in the air like when you are young and you throw candy in the sky and try to catch it in your mouth. Disappointed, I press my head forward so hard that Ryan finally gives in and shoved my face onto his cock. I love it. I love that I got to end that deepthroat urination session with a cum shot. My face and body were wet with urine and semen. I sucked on his dick and shoved it down my throat, still feeling it twitch as he releases inside me. I rubbed his juices into my skin like lotion. Squeezing my breasts and pinching my nipples. Although Ryan had already orgasmed, he moaned in excitement.
Ryan: I made a gif of the cumshot itself, but Venice felt too much of her face was showing, so we can't share it on the blog. So you will have to leave that up to your imagination.
Venice: Another challenge conquered. I admit I was scared at first, but anything is scary if I don't have anything to reference or anyone to show me it can be done. All I knew was that deepthroating wasn't going to be an issue and the fear of "drowning" wouldn't be as bad if I could safely push Ryan away from me as fast as I could.
Ryan: So, what did I learn? I learned that it is possible to urinate down a person's throat and not choke them. Some of the urine goes to the stomach, but whatever doesn't, comes back out with the cock as the urine stream is much quicker and powerful than the back of the throat can naturally take (while her mouth is open and unable to swallow rapidly). This is something I really didn't know.
Venice: What did I learn? Don't be afraid to do anything at least once. Even if you're not into "watersports," experiencing it with your lover may give you a new sense of adventure that neither of you thought you could have with each other again. Also, I didn't "drown" and I didn't bite down on Ryan's dick even when I felt like my throat was filling with liquid. Pee is not going to kill you, no matter how much you take in.
TAGS: deepthroat while peeing, deepthroating while peeing, deepthroat while urinate, deepthroating while urinating, can you pee as you are deepthroated, urine and pee, deep throat, deep throating, deep throated, deepthroating while he urinates, deepthroat urine, deepthroat, urine, deepthroat and urine, deepthroat and urine, deepthroat and urine, deep throat and urine