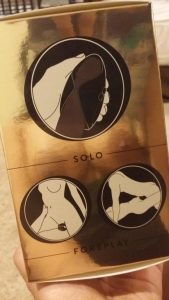 When we got this item in the mail, the presentation really impressed us. The boxing of the Pulse II almost feels like you are opening fine jewelry. The outside of the box has a nice mirror like effect, and the item is packaged with a small cloth pouch. It feels soft and looks almost like a toy built for royalty. The creators really took time in developing this tool. First impressions are everything, and this item looks so classy that I felt like I needed to go wash my penis before I dared put it around my cock.
Using the Pulse II Duo was an interesting experience. The website claims it is a tool to help with foreplay, and I agree. It is a great tool for foreplay. Imagine laying on your back and taking a Hitachi Wand and resting it across your penis/frenulum (the sensitive area underneath your head on the underside of your shaft). As you lay there, your lady friend gets on top of you and nicely places her clit and vagina on the other side of the Hitachi Wand. You both lay together and move with each other, waiting to see if either of you orgasm. Obviously, with the Hitachi Wand, you'd have the wand in the way, as well as the cord. With the Pulse II Duo, that isn't an issue. It's hands free. Literally, imagine just the head of the Hitachi Wand wrapped around your penis, with a vibrating pulse on the underside of your shaft, and a second vibrating pulse on the outside (for the vagina). No cord, no wand, no need for hands. It feels great and I experienced some things I had never experienced before, which is why this truly is a great tool for foreplay.

On the first night we did the position from the photo above, "ON TOP." This is the first time I've ever had Venice lay on top of me, moaning in my ear, and gradually moving her body back and forth. I almost felt like I was listening in on her masturbating alone. We didn't really talk much or do more than lay there and wait to see if possibly this toy could bring us both to an orgasm. In essence, we were both laying there together masturbating. The good thing is I could keep my hands free and rub Venice down her back and grab her ass. We could also kiss and look each other in the eyes as the toy did what it does best, vibrates our erogenous zones. Venice slid her pussy and clitoris back and forth over the Pulse, with the setting on high. I believe there are 3 speeds for the Pulse on the outside, and 5 speeds for the pulse on the inside. There are also multiple different pulsating patterns, but for us, we just use the constant vibrate. Anything else just really throws us both off.
The battery lasts a long time, as Venice and I laid together for maybe 30 minutes, breathing in each others' ear and waiting to see who would orgasm first. We did not use lubrication and my penis went from erect to flaccid throughout the 30 minutes. This toy is advertised as something men can use to orgasm with, even while flaccid.
Venice plateaued multiple times. When Venice plateaus, this is almost like mini orgasms without having the big release. It satisfies her sexual urges, but it isn't as intense as her normal orgasms where she loses total control. None the less, the battery lasted longer than our patience as we both were fatigued from using the toy and staying in that position. Although I loved hearing her quiet moans of her playing with herself on top of my body, the rubbing back and forth of her hips started to stimulate my cock. Knowing I wanted to cum using the toy, I closed my eyes and concentrated on the sensations. These type of orgasms aren't usually good, but I still wanted to see what it would be like. As I felt the pulsating in my frenulum, with Venice grinding her body into the toy forcing it to massage my shaft. I felt my orgasm grow. As it got to the point where I knew my body was going to release, I grabbed Venice by the back of her head and we kissed deeply and I sucked on her tongue as I ejaculated. We didn't look down and Venice didn't stop grinding the toy. I felt the sensation of what it would feel like lubricated, because now my semen had lubricated the insides and the more Venice moved, the more the toy stroked my cock. Although I didn't cum again and Venice eventually gave up and asked for me to please fuck her, the toy itself lived up to its billing. It was neat foreplay, and by the time I slide my cum soaked cock inside Venice's wet vagina, we both came again with each other fairly quickly. The build up from the toy almost left us frustrated and ready to release. This is in essence, what good foreplay should do to a couple.
We used the item a few times since, without either of us really being able to cum. Venice had a few plateaus, and when she used it once to stroke me off (with lubrication), I came close, but each time we gave up the toy and decided to move to old fashion penetration. As a solo item, I'd say this product is amazing, especially with lubrication. It really is a good stroking tool. If I was lonely and didn't have a willing partner, I'd probably rank this tool as top 3 as a male masturbator. However, the Fleshlight still leads the pack.
Cost:
Pulse II Solo: $99.99
Pulse II Duo: $139.00
Product Description:
Worn by him, enjoyed by both, the PULSE II DUO is a revolution in couples' sex toys. Incredibly sexy and intimate, PULSE II DUO is a unique hands-free experience that leaves you free to focus completely on each other.
Enjoy the most amazing simultaneous orgasms: PULSE II DUO will turn foreplay into the main event. Fun, unique and incredibly sensual, PULSE II DUO, with its soft silicone underside and remote control, can be used from flaccid or erect, during foreplay and even during shallow penetration and in numerous positions.
We are not affiliated with Hot Octopus and get no revenue from this review. Our goal isn't to make money promoting things in hopes you buy it, rather we are just sharing our review on a product we have tried and want to share with our readers.