Sex Toy Review: Devil Eye – Triple Vibrator
When I first pulled the Devil Eye Triple Vibrator out the box, I couldn't figure out how I was going to eat with this thing. I also couldn't figure out why I had ordered a fork so oddly shaped. And then I realized, wait, this isn't a fork, this is my new best friend!
Paloqueth is quickly becoming one of the best Sex Toy makers in the industry. Not only do they have great designs, but in our opinion, they have some of the highest quality products for the most affordable prices in the sex toy industry.
So let me talk about my experience. As always, every review we do, we try to incorporate the sex toy into a couples' experience. You can probably get a better review from experienced sex toy reviewers out there, regarding what an item is made from or how long the battery lasts. For me, I don't care what it's made from, and as long as it lasts long enough for me to orgasm, I'm good!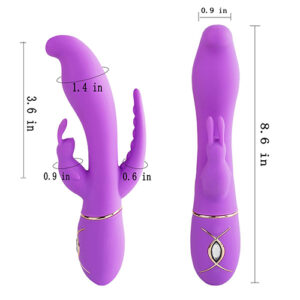 I started off the night with a few drinks and Ryan's dick in my mouth. In fact, most of the time I use any toy that I insert into my body, I prefer to have Ryan in my mouth. It helps me get turned on, it makes my orgasms more enjoyable, and it is truly a comfort thing. Much like a young child sucks on a pacifier to relax. I love gnawing on Ryan's soft dick. Ryan usually doesn't get erect until I start breathing heavy, gnaw and suck harder, moments before my orgasm releases. This is perfect for me. While he waits, he plays with my nipples and rubs my body down. When I do orgasm, he will shove his whole shaft down my throat. This causes me to not be able to breath, which makes my orgasm much more intense. An actual safe way to enjoy erotic asphyxiation.
The Devil Eye Triple Vibrator will tickle both my holes, my clit, and I'll have a dick in my throat. In some worlds they call that airtight. In my world, I call that a perfect evening with my husband!
The item worked as intended, with the results as intended. It feels amazing, it can vibrate your little bean until it's numb, or it can perfectly stimulate you until you have your release. On insertion, the vibrator is soft and almost feels like a plump semi erect penis, rather than a hard piece of plastic. For the record, I hate dildos, hate toys that have to be inserted, and usually only use a vibrator to massage my clit. Usually during sex. With that said, having something inside me while I toy my clit, always gives me better orgasms. This sex toy provides that experience. Great sex toy, great experience, great price.
---
More Information and Price:

$37.99
Website product Description:
Dual Density Silicone- PALOQUETH G-spot vibrator is made from velvety soft, hypoallergenic silicone that is incredibly gentle even on sensitive skin.

Curved head stimulation -The curved head which makes it ideal for finding sensitive spots that are tricky to reach. It will bring you to a very wet climax in a relatively short time.

7 vibration Modes- PALOQUETH vibrator is helped by a strong motor with seven patterns, the variety of vibration strength is unbelievable. They're guaranteed to send chills up your spine and cause your toes to tingle.

IPX7 Waterproof- PALOQUETH stimulator is fully waterproof, you can use it in the bath or shower, delivering wave after wave of pleasure any time you choose. No fear of getting any of the electronics wet.

Magnetic USB Charging – PALOQUETH g-spot vibrator is rechargeable, so you will never need to replace batteries. Simply plug it into any USB port to recharge with the included cord.
---
We are not affiliated with Paloqueth and get no revenue from this review. Our goal isn't to make money promoting things in hopes you buy it, rather we are just sharing our reviews on products we have tried and want to share with our readers. This item was sent to us as a promotional product under the terms and condition that if we did not enjoy the product, we are not obligated to write or publish a review. All reviews are just our opinions and experiences.